Knowledge + passion: Women's recipe in millet and sorghum production in Mali
From
Published on

26.07.19

Impact Area
Funders

United States of America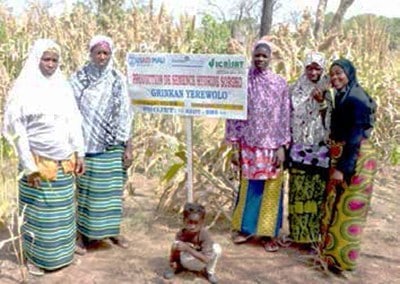 Two women's associations in Sikasso, Mali are changing the status of pearl millet and sorghum, using these crops to diversify and improve food and nutrition security. Sikasso is one of the most prosperous agricultural regions in southern Mali, where farming is dominated by maize, potatoes, peas and other crops while the nutritious millet and sorghum are less popular.
In 2014, the ARDT_SMS project was initiated in Sikasso. Both associations, Jigui Fa (based in Bougouni) and Benkadi (based in Sikasso district) showed interest in undergoing training conducted by project partners. The women farmers were provided with hybrid seeds of sorghum and improved millet seeds which they tested on their fields.
Members of both Jigui Fa and Benkadi had better access to sorghum and millet production technologies. Over the past four years now, Mrs Habi Marico and others from Jigui Fa have become sorghum hybrid seed producers. The women are also involved in its marketing.
When both associations joined the project in 2014, their members participated in trainings in integrated Striga management and soil fertility and pest management. "Those were the major challenges in our farming systems," says Mrs Marico. Then women groups were trained in seed production techniques by the national agricultural system, the Institut d'Economie Rurale (IER) and ICRISAT. The project also gave them Apron star seed care.
The next stage involved linking members of the women's cooperative to seed companies. They signed production contracts and it was agreed that CFA 500 (about US$ 1) would be paid to the cooperative for every kilo produced.
"Farming is my main activity. However, before the project, I used to produce some local varieties of sorghum for household consumption, though not quite sufficient for domestic consumption. Over the years, the yield of the local varieties dipped and the information on sound agricultural practices and technologies to enhance productivity eluded us," recalls Mrs Marico, adding "now we write our own destinies. We have better access to seeds, to technology packages, and we are marketing our own seeds."
The project interventions have benefited 261,197 farmers (among them 91,419 women) through 29,852 Farmer Field School facilitators (including 10,448 women). Training included modules on integrated Striga and soil fertility management, seed treatment and biological control of the millet head miner.
About 1,082 seed producers (including 378 women), have been trained in seed production techniques and post-harvest handling. These technologies were covered on 68,299 hectares. According to Dr John Nzungize, Coordinator of the ARDT_SMS project, "grain yields have increased by 51 percent in sorghum and by 72 percent in pearl millet".
What is remarkable is that together, both women associations produced 12 tons of sorghum and millet during a single cropping season. While part of the produce was used for domestic consumption, up to 10 tons were sold to locally authorized seed dealers at CFA 500 (about US$ 1) per kilo.
"The seeds we produce are deemed one of the best, which accounts for the enthusiastic buyers we get," says a beaming Mrs Rokia Koné. With this new knowledge, members of the cooperative are now producing surplus seed for local markets, with earnings being used to pay for the children's schooling and savings.
Proving the old proverb money begets money right, some women farmers have already invested in small businesses from their earnings. Mrs Habi Marico now plans to launch a second poultry business and is saving up to buy residential plots for her children.
For more success stories of the USAID Africa RISING's Large-scale Diffusion of Technologies for Millet and Sorghum Systems (ARDT_SMS), please click here
Project: USAID Africa RISING's Large-scale Diffusion of Technologies for Millet and Sorghum Systems (ARDT_SMS)
Funder: United States Agency for International Development
CRP: Grain Legumes and Dryland Cereals
The post Knowledge + passion: Women's recipe in millet and sorghum production in Mali appeared first on Grain Legumes and Dryland Cereals.