Join the PABRA Parallel session at Africa Plant Breeders Conference 2021
From
Published on

11.10.21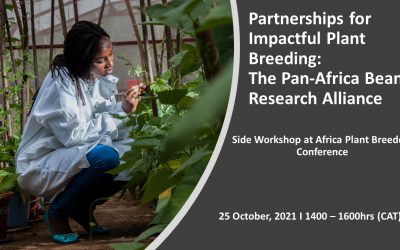 The Pan-Africa Bean Research Alliance (PABRA-Africa) is a great example of a successful CGIAR-NARES partnership model that has resulted in great impacts on the livelihoods of millions of people in Africa. PABRA focuses on common beans and is coordinated by the Alliance of Bioversity International and International Centre for Tropical Agriculture (The Alliance); one of the CGIAR centers working with more than 540 partners along the bean value chain across Africa.  These partners are organizations that support research for the development of national bean programs of 31 African countries and enable PABRA to achieve wide impacts.  PABRA's strengths lie in the strategic public-private partnerships that help to meet institutional, infrastructural, and technological changes needed to boost the bean sub-sector. Through a demand-driven breeding approach, the PABRA has developed and promoted over 700 marketable, nutritious, and resilient & high-yielding bean varieties across the 31-member countries over a period of 25 years. Promising breeding lines or new bean varieties developed in one country are shared with other countries where they may be suitable. In this way, countries that lack the capacity to undertake their own breeding programmes still benefit from the improved germplasm.
In addition to developing and releasing new farmer and consumer demanded varieties, PABRA aims to ensure that appropriate seed is available to farmers through demand-led seed systems. More than 35 million farmers (58.1% women) have accessed improved seed from the seed system actors. Average bean yields have increased by 36% where new varieties have been adopted by farmers e.g., In Burundi, Ethiopia, Rwanda, Uganda, and Zimbabwe, an additional USD 500-800 per hectare per season in rain-fed conditions have been generated. This increased production has translated into more bean business opportunities for over 250 small and medium enterprises commercializing various bean-based products and providing market opportunities to four million farmers (51% among them women). The PABRA's successes and lessons on food systems, demand-led breeding, responsive seed systems, and multi-disciplinary approaches are expanding to other legume crops among them chickpeas, pigeon pea, groundnut, and soybean.
PABRA awarded by the Al Sumait Prize for her contribution to food security in Africa in 2019.  PABRA's contribution in ensuring food, nutrition, and income security among farming households in Africa was showcased as one of the 'Golden egg' initiatives as a transformative innovation in the CGIAR.
PABRA will showcase its mode-operandi at the Africa Plant Breeders Association Conference to promote the adoption of this successful partnership model across African crops.
This event blog/campaign is originally published on PABRA Africa Blogs