Is food security possible without peace?
From
Published on

09.11.22

Impact Area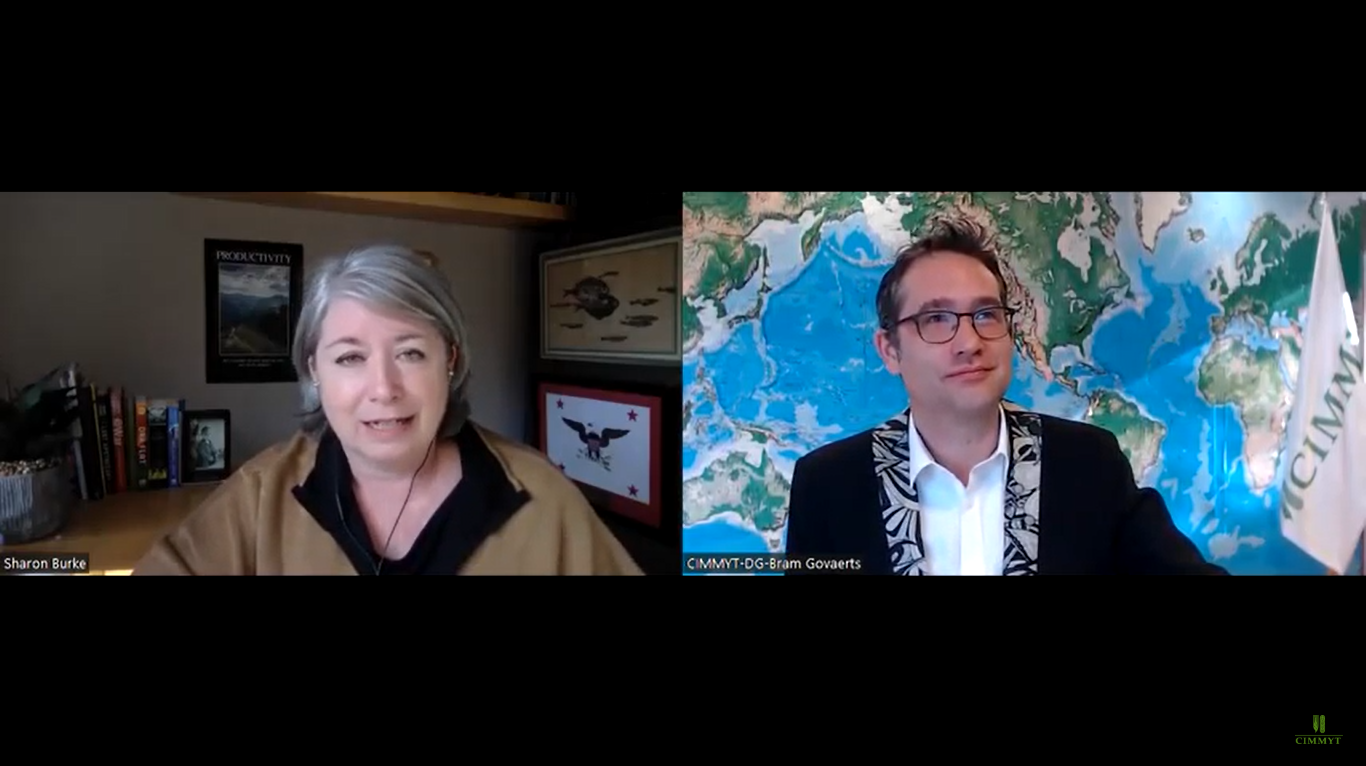 The intersection between agriculture and peace has been brought to the forefront of the news agenda this year due to the Ukraine crisis, which has caused widespread disruption to wheat supply chains – disruptions that are contributing to food insecurity for millions of people worldwide.
Agriculture was therefore a compulsory topic for the International Week of Science and Peace, and formed the main theme for an online fireside chat between Bram Govaerts, Director General of the International Maize and Wheat Improvement Center (CIMMYT), and the Hon. Sharon Burke on November 8.
Burke was the director of New America's Resource Security program and a senior advisor to New America's Future of War project in the Department of Defense. She served in the administrations of Barack Obama, George W. Bush, and Bill Clinton.
Futureproofing security and food
"[Food] is a foundational element of all security," explained Burke, when asked about the connection between the two. "We are facing global pressures. Everything that's made us successful has also made us vulnerable – with biodiversity loss, with climate change. The challenge of having that foundational element of food security has never been harder than it is right now."
This is a central vision of CIMMYT as a Wallace center, which Burke referenced to highlight how conflict and food insecurity drive one another: "It's this terrible knot where things are connected. But when we add in climate change, biodiversity loss and pollution and other elements of our modern life, it's more important than ever to understand how these elements fit together."
"Peace, prosperity, and equity… are more relevant than ever in the environment we are working in," agreed Govaerts.
Govaerts then invited Burke to offer recommendations for the development of CIMMYT's new strategy. She suggested three points to consider:
How is climate change going to shift what agricultural production and productivity means – 10 years from now, 20 years from now, 30 years from now?
In that world, how does that reflect through your research and development priorities?
How do you continue to have that dialogue with farmers, so that you affect them, and they affect you, and what are the ways to make sure that you deepen that and the equity that's inherent in that conversation?
Govaerts reflected on recent examples from history where conflict destabilized the global food system, such as the Arab Spring as provoked by consecutive droughts that heavily impacted wheat crops. Burke agreed that it was essential to build peace and secure food supplies simultaneously, always having peace as the end goal before any conflict even begins, and the importance of showing the systems effect to donors to encourage future investment.
"One of the reasons that I really love what CIMMYT does, is that you're talking about not just food security as some abstract concept but as the people and the places where it's created," shared Burke.
CIMMYT's role in peacebuilding
Burke highlighted the commitment from the United States Government to invest money in food security and food assistance, not just for necessary emergency aid but also for improving food production, farming, and last mile technology.
"How can we leverage this investment that is being made now in an emergency to be one that also builds resilience for this longer-term emergency that we are all facing?" she asked, encouraging research and development organizations to always evidence the impact of their work.
In her closing words, Burke expressed high levels of admiration for our scientists. "You get to actually touch the problem and deliver the solution and work in that two-way dialogue with farmers and that you get to bring that all together – how we think about a problem, how we come up with novel science and technology for solving the problem, and then you get to actually carry it to the field and make it work."
"You're not just thinking about peace or researching about peace – you're delivering it!"