IRRI scientist wins 2017 Japan International Award for Young Agricultural Researchers
From
Published on

22.11.17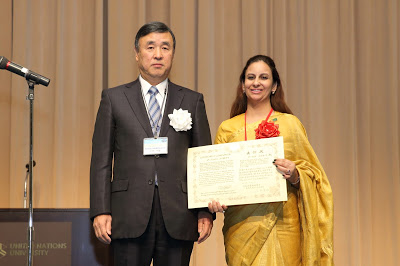 IRRI scientist Dr. Sheetal Sharma was chosen as one of the three winners of the 2017 Japan International Award for Young Agricultural Researchers. Every year, the Agriculture, Forestry and Fisheries Research Council (AFFRC) selects three young researchers who show outstanding research achievements that will lead to future technological innovation as awardees.
"The goal of my research program is to provide the farmers of India with information and tools that will enable them to become better stewards of healthy and sustainable ecosystems. Solutions to real-world natural resource problems typically require an understanding of basic scientific knowledge and processes. Thus, my research strives to combine studies of basic scientific principles with applied research," Dr. Sharma said.
The research focused on the development of innovative approaches to enable smallholder farmers of South Asia to achieve gains in productivity and profitability through use of cutting edge Information & Communication Technologies (ICT) to guide application of site-specific nutrient and crop management options.
Dr. Sharma has led initiatives in India to transform the provision of information to farmers and, for the first time, make site-specific recommendations available to smallholder farmers. Her major achievements have been to combine detailed information on crop performance with innovative knowledge transfer approaches and the development of ICT-based decision-support tools suited to extension workers and farmers using mobile applications or computers. These tools have been endorsed and adopted by the government. The applications are enabling farmers to improve the profitability of rice through more timely and accurate crop management.
The award aims to increase motivation among young researchers contributing to research and development in agriculture, forestry, fisheries, and related industries in developing countries. The commendation ceremony was held on November 2, 2017 at the U Thant International Conference Hall, United Nations University, Shibuya-ku, Tokyo.
Learn more about IRRI (www.irri.org) or follow us on social media and networks (all links down the right column).