IRRI and Vietnam's DCP-MARD launch the technical guideline on rice straw management
From
Published on

18.07.23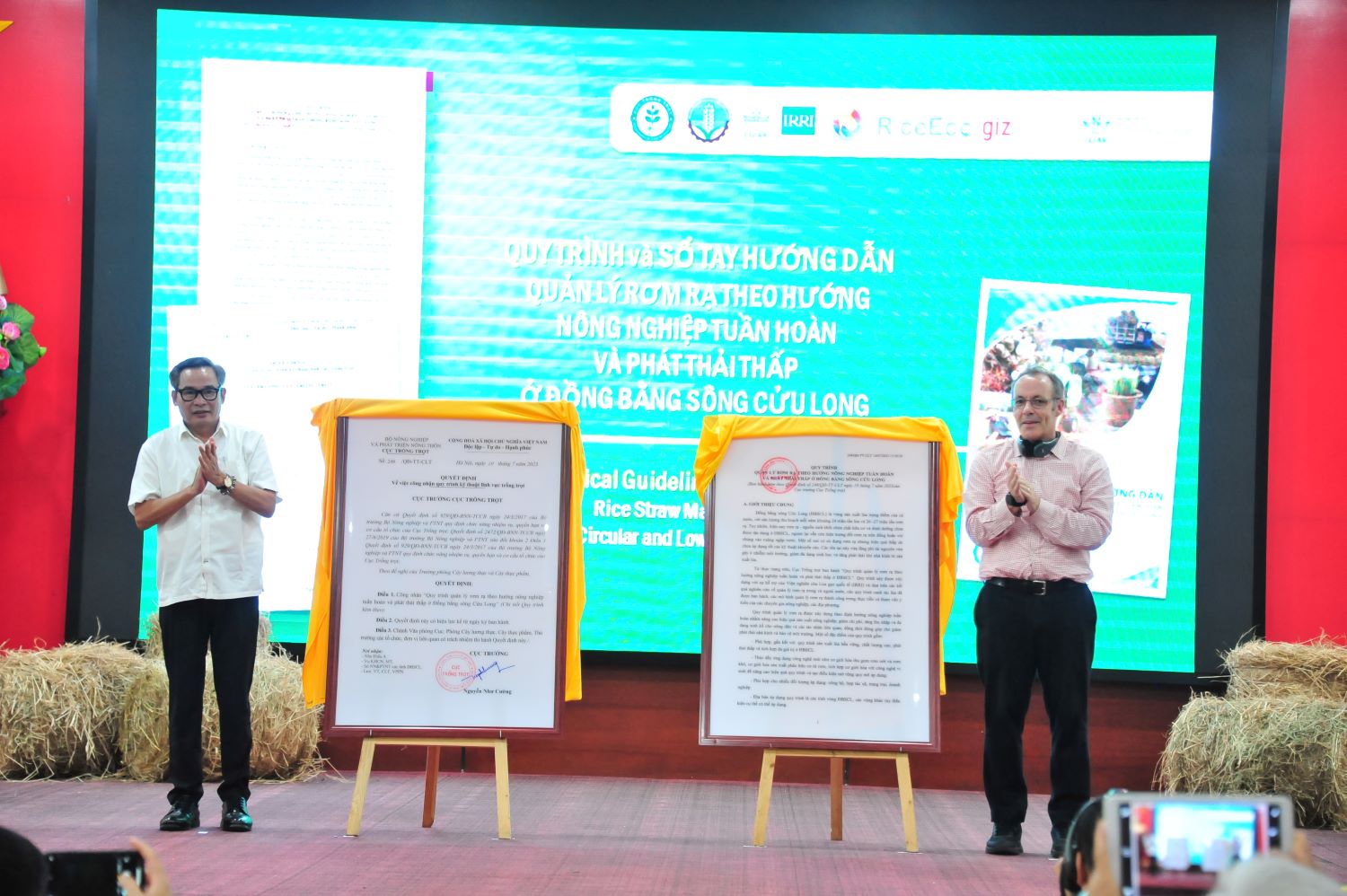 Vietnam's Department of Crop Production (DCP)-Ministry of Agriculture and Rural Development (MARD) and the International Rice Research Institute (IRRI) successfully developed a technical guideline on rice straw management for circular and low-emission agriculture. Through DCP Decision No. 248, the guideline will be implemented in the whole Mekong River Delta (MRD) Region, covering the protocols for rice straw collection, treatment of rice straw in the field, and utilization and processing of collected straw.
In the event held in Hau Giang Province, officials from MARD and MRD provinces, experts from IRRI, and representatives of farmers and other relevant stakeholder groups attended the launching of the technical guideline and the supporting publication developed by IRRI and DCP titled 'Handbook on Rice Straw Management towards Circular and Low Emission Agriculture in Mekong River Delta'.
In his opening remarks, Dr. Nguyen Nhu Cuong, director of DCP, shared the advancements and achievements of the rice sector in MRD. He stressed that in recent years the focus was on cropping and harvesting and little attention was given to processing agricultural waste such as rice straw. He highlighted that "the annual rice production of 24 million tons in MRD has equally produced 24 million tons of rice straw."
With the official publication of the technical guidelines, Dr. Cuong proudly shared that the MRD rice sector has now a blueprint for harnessing rice straw to improve productivity and increase income and at the same time contribute to greenhouse gas mitigation and environmental protection. He added that these efforts are intended to contribute to the Vietnam government's proposal for the "Sustainable Development of One Million Hectares of Specialized High Quality and Low Carbon Rice Production Areas under the Green Growth Agenda in the Mekong Delta Region up to 2030".
On behalf of…