IPRaDA: Transforming potato value chain in Ethiopia
From

CGIAR Initiative on National Policies and Strategies

Published on

18.10.23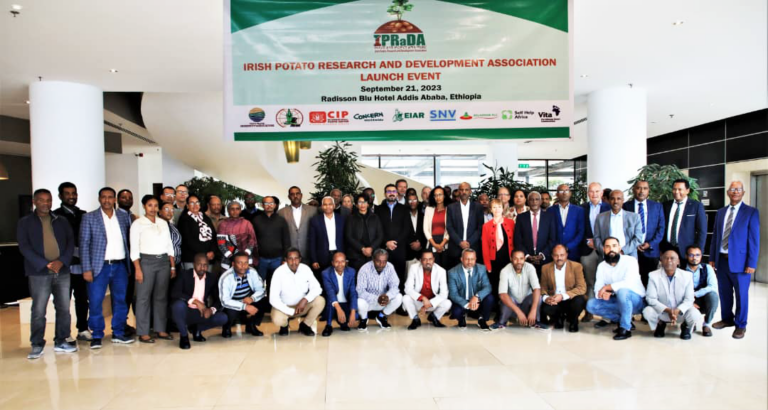 Ethiopia is on the cusp of a transformative shift in potato farming that promises sustainable growth and development. The Irish Potato Research and Development Association, or IPRaDA, leads this charge. In this blog, we delve into the origins, objectives, and aspirations of IPRaDA, a coalition poised to uplift the lives of potato farmers in Ethiopia.
Genesis of IPRaDA
IPRaDA's roots trace back to the inception of the National Irish Potato Coalition (IPC) in Ethiopia. IPC was a collaborative effort involving several prominent entities, including the Ethiopian Ministry of Agriculture (MoA), Ethiopian Institute of Agricultural Research (EIAR), Gamo Vegetable Cooperatives Union, International Potato Center (CIP), SOLAGROW, Action on Poverty, Vita, SNV, Self Help Africa, and the Irish embassy in Ethiopia. Initially a pre-formal group, IPC achieved commendable milestones, raising awareness about the paramount importance of potatoes in agriculture. IPC initiated tests for zonal potato committees to enhance coordination, organized national learning workshops, and facilitated the shift of seed multiplication from research centers to farmers. They also published crucial technical guidelines for Quality Declared Seed inspection, crafted a catalog of improved Ethiopian potato varieties, and mapped all stakeholders within the Ethiopian potato sector.  They launched the informative website IPC Ethiopia to enhance their presence further.
Read entire blog post on CIP website
---
This work is part of the CGIAR Research Initiative on National Policies and Strategies (NPS). CGIAR launched NPS with national and international partners to build policy coherence, respond to policy demands and crises, and integrate policy tools at national and subnational levels in countries in Africa, Asia, and Latin America. CGIAR centers participating in NPS are The Alliance of Bioversity International and the International Center for Tropical Agriculture (Alliance Bioversity-CIAT), International Food Policy Research Institute (IFPRI), International Livestock Research Institute (ILRI), International Water Management Institute (IWMI), International Potato Center (CIP), International Institute of Tropical Agriculture (IITA), and WorldFish. We would like to thank all funders who supported this research through their contributions to the CGIAR Trust Fund.