International Rice Informatics Consortium holds workshop to discuss new technological breakthroughs
From
Published on

26.01.18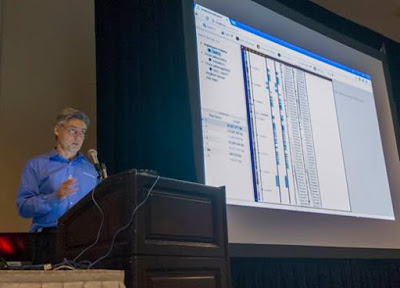 The International Rice Informatics Consortium (IRIC) is an organization that aims to give stakeholders access to comprehensive information about rice, and facilitate collaboration in the rice community. Early this year, it conducted its annual workshop that aims to provide researchers who share a common vision and passion for rice informatics, a platform to exchange their ideas and innovations. The workshop also seeks to further the interest of stakeholders in the consortium.

The workshop featured scientific talks that highlighted the achievements of IRIC, as well as new products and technologies that are expected to help achieve progress in the agricultural sector. Attended by leading genetic scientists and researchers in plant and animal research, the workshop was an effective platform to update stakeholders about innovations in their fields of specialization.
Nickolai Alexandrov, IRRI Senior Scientist and IRIC coordinator, deliberated on topics such as the support of IRIC to Rice Data Interoperability, improvements in the SNP-Seek database, and the results of large structural variation analyses of the 3K rice genomes. Other presenters in the workshop talked about highly interesting new technologies being applied in agriculture, which, when utilized, could help farmers increase yield.
Ryan Poplin, Machine Learning Technical Lead at Google Research, presented DeepVariant – a genome variant discovery program that uses deep neural networks and its application to the 3000 rice genomes dataset.
Zhang Zhang, Director of the Beijing Institute of Genomics (BIG) Data Center, talked about the re-annotation of the rice genome using new experimental evidence from high quality RNA-seq data.
Max Troukhan talked about Persephone, a next-generation web-based genome browser that can efficiently render images quickly and as needed. This innovation is helpful in viewing multiple genomes from different species and varieties and their annotations at the same time.
Another innovation is Knetminer, a web tool that uses knowledge graphs to integrate public and experimental data to discover genes potentially causative to traits of interest. This was discussed by Keywan Hassani-Pak of Rothamsted Research.
Finally, Matthieu Conte of Syngenta presented the Gene Information Network, an infrastructure that allows discovery of candidate genes from GWAS and QTL data that helps in prioritizing targets for use in rice breeding.
The workshop was coordinated by Kenneth McNally, IRRI Senior Scientist, and held was held last 17 January during the 26th Plant and Animal Genome Conference in San Diego, California, USA.
Learn more about IRRI (www.irri.org) or follow us on social media and networks (all links down the right column).