Initiative's first nature-positive farms are a community effort in Kenya
From

CGIAR Initiative on Nature-Positive Solutions

Published on

16.10.23

Impact Area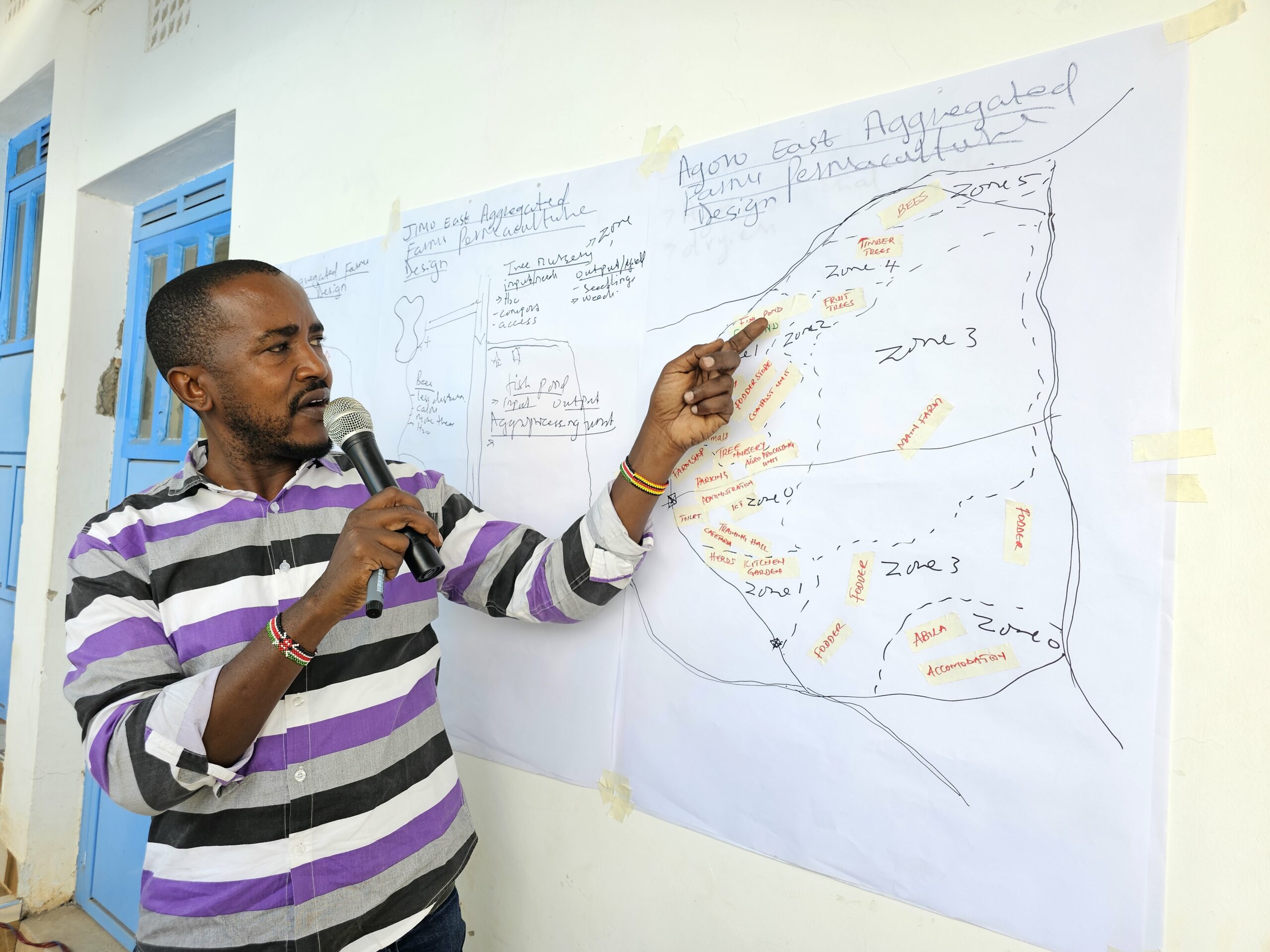 Farmers in Nyando, Kenya are converting degraded, fragmented communal land into nature-positive farms, the first under the CGIAR Initiative on Nature-Positive Solutions. The effort will greatly diversify food production, livelihoods and the environmental health of a declining landscape formerly dedicated to livestock.
By Rachel Kibui, Alliance of Bioversity International and CIAT
Special thanks to Dr. Gloria Otieno, Alliance, and Nicholas Syano, University of Nairobi
For generations, farmers in Nyando, Kisumu County, Kenya have maintained community-owned land. This cultural tradition largely focused on sharing resources to collectively support individual families since a family's wealth was partly determined by how many heads of livestock – cattle, sheep and goats – it owned. Herding was a bedrock economic activity.
Today, however, livestock rearing is declining on the shared land in the county of 1.2 million people on the shores of Lake Victoria, Africa's largest freshwater lake. Climate change, land fragmentation, and shifting economic dynamics related to livelihoods and labor availability are among the multiple causes of the decline.
Yet the tradition of passing community-owned land on through generations continues. Portions of the collective farming landscape are "owned" by families and passed on through inheritance. Today, the tradition is poised for a transformative revival with the establishment of the first nature-positive farms in collaboration with the CGIAR Initiative on Nature-Positive Solutions (NATURE+).
More than 100 communal landowners in Nyando recently dedicated 76 hectares of shared land to establish aggregated farms for permaculture. The aggregation will give farmers access to economies of scale for farm management, reducing costs for inputs like seeds, labor and mechanization. The permaculture implementation will greatly increase agrobiodiversity, restore natural ecosystem services, create diversified livelihood opportunities, and help rekindle a sense of community around shared resources. A modern facility to produce bio-inputs using agricultural waste will be integral, making these NATURE+ farms economically circular.
"In the olden days, the community land was used for grazing cattle, sheep and goats. Villagers would release their livestock to the land, freely all day, only to lead them back to homesteads in the evening," said Philip Atieno, a local farmer. "But we are now ready to set aside part of it for permaculture."
Permaculture is land management designed to harmoniously integrate natural landscapes with the people who depend on them for food, energy, shelter and livelihoods.
"Permaculture's philosophy is about working with nature rather than against it," said Nicholas Syano, a Ph.D. candidate at the University of Nairobi, who works with NATURE+ as a permaculture consultant. Syano is also the CEO and founder of the Drylands Natural Resources Centre (DNRC), based in Kenya.
Permaculture's application in Nyando is aimed at increasing agrobiodiversity, natural biodiversity and nature-based productivity. At its heart, Nyando's permaculture model has three ethics: Earth care; people care; and fair share.
"In spite of the decline in productivity in Nyando's shared agricultural land, there is still strong community interest in working and improving land together," said Dr. Gloria Otieno, a researcher with NATURE+ and the Alliance of Bioversity International and CIAT. "Cooperation will allow the community to diversify its agricultural output beyond livestock, contribute to restoring degraded parts of this landscape, and increase productivity to boost incomes."
"Through this process, we want to prove that it is possible to farm within planetary boundaries in a nutrition-sensitive way and without hampering food security," Dr. Carlo Fadda, who leads NATURE+ and the Alliance's agrobiodiversity research area. "We expect the farm to be biodiversity-friendly, act as a sink for greenhouse gases, and reduce the use of damaging inputs,"
The project is implemented in collaboration with Biovision Africa Trust, an NGO. Strategically located beside a highway and with access to the Nyando River, which flows into Lake Victoria, the nature-positive farms will be aggregated spatially, economically and socially to achieve:
Joint-use planning for the farms to allow for mechanization
Aggregation of production to improve efficiency and yields
Collaboration between farmer organizations for collective marketing
Development of farmer-led value addition and product development
Improved access to credit markets, technological innovation, extension services and collective/contract selling.
A facility for recycling waste to produce energy and bio-inputs
The creation of a learning platform for the dissemination of nature-positive technologies, practices and information for Nyando farmers and beyond
Farmers plan a diversified agricultural future
Farming in Kenya faces many economic challenges related to productivity and cost-effectiveness. Labor shortages, partly due to the depopulation of rural areas, are becoming more acute. Land fragmentation hinders agricultural practices, reduces technical and economic efficiency in production, contributes to environmental degradation, and complicates or inhibits the use of modern agricultural equipment. Farm aggregation has the potential to solve many of these problems and create positive outcomes for food and nutritional security and livelihoods.
After recent workshops in July in Nyando, farmers agreed to establish aggregated farms for permaculture in Nyakach in Agoro East and Jimo East. The farms run through two rivers, which makes them ideal for irrigation and fish farming. The locations have two community seedbanks established in 2019 and 2021 that conserve and produce more than 100 varieties of beans, traditional leafy vegetables, sorghum, groundnuts, maize, finger millet, cow peas and native trees.
[include a picture of nyando community seed bank and kabdi – agoro community seedbanks)
During the workshops, the farmers collaborated in the creation of the designs of their farms to include designated production areas for cereals, legumes, root crops and vegetables; an orchard; a compost for organic manure; an area for livestock management for biogas production; a forested area for beekeeping; and areas for fish farming.
The farmers also designated an area where they will build a warehouse. Basic amenities such as an office, nursing area, and toilet facilities, among others, will be included as part of the permaculture setup. The farm is set to operate within a circular economy where all agricultural waste will be recycled into byproducts that can be used elsewhere on the farm to increase its efficiency and reduce fertilizer costs. Soil regeneration will also be a key feature of the aggregated farms.

The inclusive farm will encourage women men and youth to participate in activities from production, post-harvest handling, value addition and marketing. Indigenous knowledge and cultural ethos will also inform the development and sustainable management of the aggregated nature-positive farms.
Next steps include project partners in collaboration with the Ministry of Agriculture in the county government of Kisumu to develop a memorandum of understanding between the farming communities, land owners and researchers on the modus operandi of the aggregated farms outlining the legal aspects, contract terms and the constitution and code of conduct for the farmers.
About NATURE+
NATURE+ is an initiative of CGIAR, led by of the Alliance of Bioversity International and CIAT, and co-led by the International Water Management Institute (IWMI). The aggregated farm project is co-funded and implemented by Biovision Africa Trust. The Initiative aims to re-imagine, co-create, and implement nature-positive solutions in agri-food systems that equitably support food production and livelihoods, while simultaneously ensuring that agriculture is a net positive contributor to nature.
About Kisumu County
Located in the western part of Kenya, Kisumu is among the 47 counties in Kenya, East Africa. The County boarders Homa Bay County to the south, Kericho County to the east, Nandi County to the northeast, Siaya County to the west and Vihiga County to the north.
Kisumu County covers a total land area of 2,009.5 KM2 and another 567 KM2 covered by water. According to 2019 National Census Kisumu County has a population of 1,155,574. The population density is 550 persons per Km2. The population distribution by sex is 556,942 male and ,594,609 female, intersex 23. (https://kisumuassembly.go.ke).
Its county headquarters is Kisumu City, the third-largest city in Kenya after Nairobi and Mombasa. Kisumu City sits on the shores of Lake Victoria, East Africa's largest freshwater lake. As the county's administrative and economic hub, Kisumu City serves as a major port city on Lake Victoria, facilitating trade and commerce with neighboring countries like Uganda and Tanzania.
The economy of Kisumu County is mainly based on agriculture. The county's diverse agroecological zones allow for a variety of agricultural activities. Kisumu's main crops include maize, sugarcane, rice, millet, sorghum and vegetables. Fishing is also a significant economic activity due to the county's proximity to Lake Victoria. Trade, manufacturing, and service sectors also contribute to the county's economic growth.
Unlike most parts of Kisumu County, lower Nyando receives low rainfall and has increased incidences of drought. Climate change has worsened the situation, contributing to low agricultural productivity and food insecurity.