Indo-Australia genomics project for chickpea drought tolerance gains momentum
From
Published on

10.02.20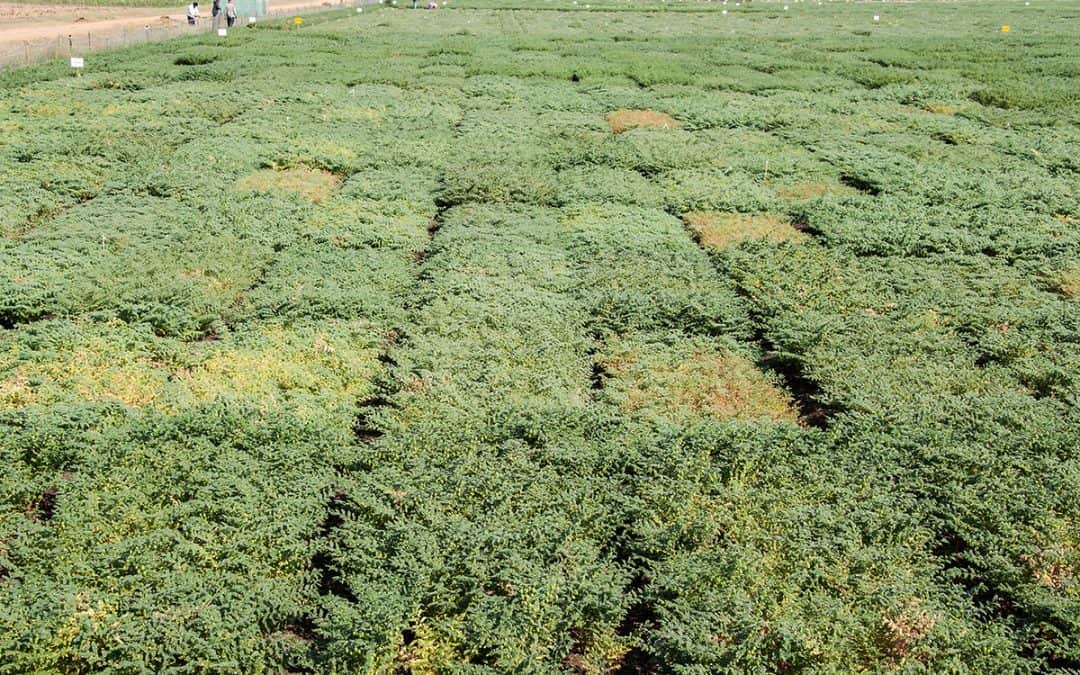 India and Australia have joined hands in a multi-institutional project to enhance drought tolerance in chickpea. The project, 'Functional Genomics of Chickpea to enhance drought tolerance', will see The University of Western Australia (UWA), ICAR-Indian Agricultural Research Institute (IARI), Jawaharlal Nehru University (JNU) and ICRISAT leverage their expertise in genomics.
Under the project, ICRISAT will undertake genome sequencing, setting up of drought tolerance experiments and phenotyping analysis as well as transcriptomics work. UWA is set to perform physiological analysis, proteomics and metabolomics analysis. Experiments on breeding cycles and yield trials will be conducted by IARI while JNU will analyze samples for metabolomics differences.
ICRISAT's Center of Excellence in Genomics & Systems Biology recently organized a meeting of partnering institutions to deliberate the way forward for the project. Prof Harvey Millar, Professor, University of Western Australia's School of Molecular Sciences and the project's Coordinator for Australia, spoke about the importance of such collaborations between research organizations for the benefit of farmers. Prof Millar is also the Director for Australian Research Council's Center of Excellence in Plant Energy Biology.
Highlighting the efforts underway to modernize breeding, Dr Peter Carberry, Director General, ICRISAT, said, "We need to integrate our upstream genomics research with downstream applications as part of efforts towards modernizing our breeding programs. I am sure outputs
of this project will feed in to deliver on this objective."
According to Drs KK Sharma, Deputy Director General-Research, and Rajeev K Varshney, Research Program Director, Genetic Gains, ICRISAT, the project will further ICRISAT's partnership with Australia and India through UWA and IARI. Such a collaboration is well poised to deliver outcomes, they said.
Dr Kadambot Siddique, Director, UWA Institute of Agriculture, and Co-PI of the project, said, "UWA and ICRISAT share a two-decade collaboration. This project is in continuation of that long-term relationship."
"We are also excited to have this new partnership with Jawaharlal Nehru University. Having partners from multidisciplinary expertise will allow us to deliver and deploy outcomes of this genomics project at scale and pace," added Dr Varshney, who is the project's India Coordinator and will be working alongside Dr Bharadwaj Chellapilla, Principal Scientist, Division of Genetics, IARI, and Prof Ashwani Pareek of the School of Life Sciences, JNU, and their teams.
Deliberations among partners at the meeting resulted in formulation of action items for each partner. The project aims to do transcriptomics, metabolomics and proteomic analysis on introgression of lines developed through integration of several QTL-hotspot in several genetic background.
Project: Functional Genomics of Chickpea to enhance drought tolerance
Donor: Department of Biotechnology, Govt. of India and Department of Industry, Innovation and Science, Australian Government through the Indo-Australia Biotechnology Fund (IABF) scheme
Partners: (In India and Australia): ICRISAT, ICAR – Indian Agricultural Research Institute, Jawaharlal Nehru University and The University of Western Australia, Australia
CGIAR Research Program: Grain Legumes and Dryland Cereals (GLDC)