In Kenya's Nandi county, stakeholders jointly reflect on a theory of change for low-emission food systems transformation
From

CGIAR Initiative on Low-Emission Food Systems

Published on

29.09.23

Impact Area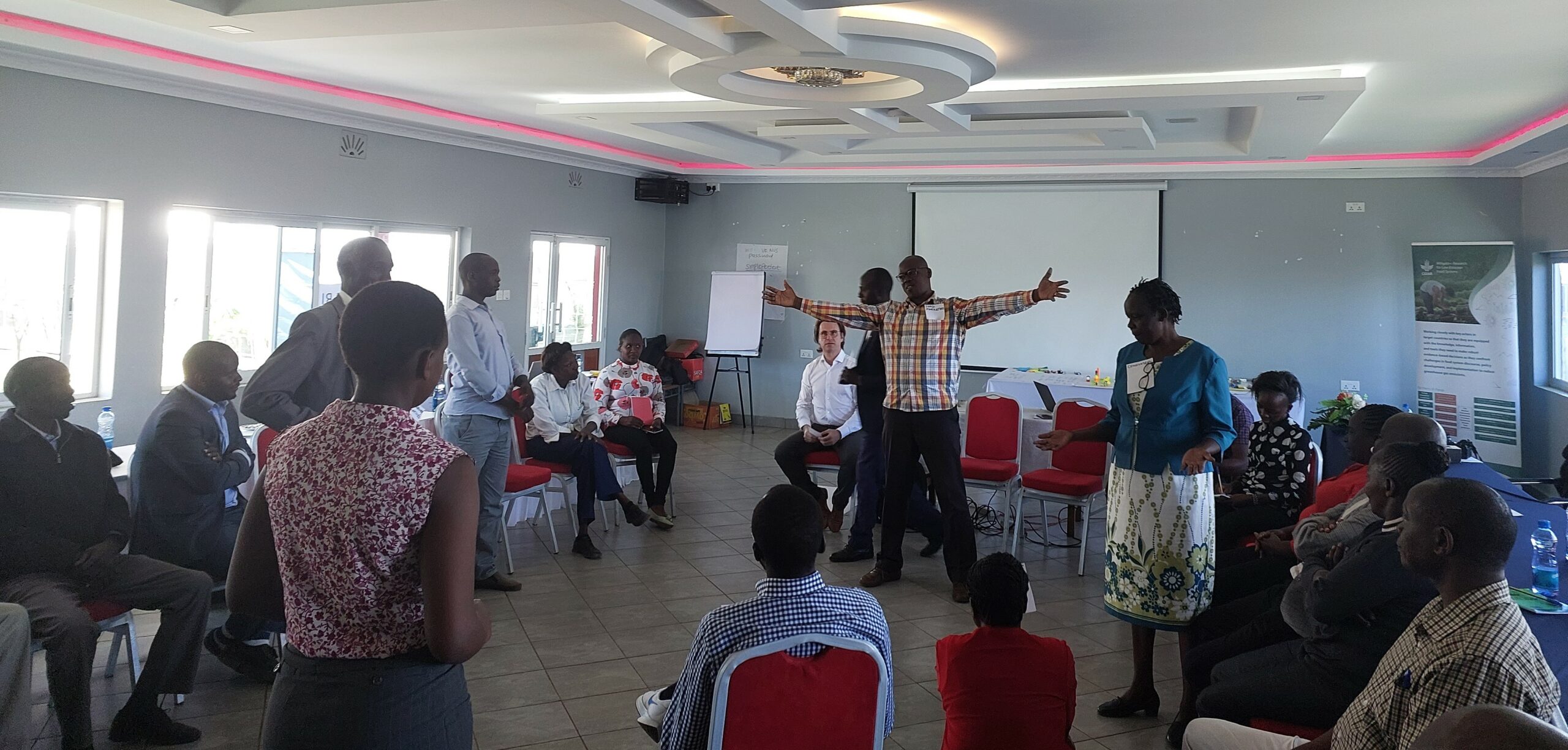 By Thomas Falk, Kibet Walter and Birgit Habermann
Food system transformation requires efforts from diverse stakeholders. It involves clarifying roles and relationships, as well as mobilizing and connecting them.
On 20 February 2023, farmers, community leaders and representatives from the government, civil society and the private sector met in Kapsabet, a town in Nandi county, Kenya, to jointly develop a vision for the county's food systems and share perspectives on entry points for initiating system change.
The CGIAR Initiative on Low-Emission Food Systems hosted the event. Otherwise known as Mitigate+, the initiative aims to support countries in meeting their emissions reduction objectives through transformative food system change, without compromising food security and while delivering environmental, social, and economic co-benefits. Researchers work closely with key actors at multiple levels in China, Colombia, Kenya, and Vietnam to co-create knowledge that enables them to make evidence-based decisions and address challenges in food systems discourse, policy development, and implementation to reduce greenhouse gas emissions.
The February workshop built on the activities of a preliminary workshop on 7 December 2022, where attendees developed netmaps to help better understand stakeholders' roles and contributions to Nandi county's food systems. At the February meeting, these same stakeholders—who represented a variety of food system actors from the county—used organizational constellations to embody previously identified key stakeholders, such as farmers, the private sector and government actors. Organizational constellation helps to reveal the nature of and power in relations between actors and to reflect on wider patterns of relations beyond detailed challenges.
The organizational constellation exercise revealed that farmers are at the center of the food system, but feel overwhelmed by a multitude of challenges, such as low productivity, unpredictable weather, unfavorable markets, and lack of knowledge. It also showed that the county government attempts to engage with all actors in an unbiased way. Other insights were that private sector actors depend on all other actors for pursuing their businesses and that farmer cooperatives are open to helping farmers but expect to be approached by farmers. Yet the most important insight has been that all actors need to collaborate to support food system transformation.
The embodiment exercise inspired the participants to develop a vision for the county's food systems through a roleplaying exercise, which tasked them with describing the remarkable changes that will occur in Nandi county's food systems by 2050. In the exercise, some participants acted out the role of a German documentary team that had learned of these transformative changes. The documentary team conducted an interview with different entities, played by the other workshop attendees, to learn about what happened and what lessons from the Nandi experience could be applied to the challenges facing Germany's food systems.
The first remarkable change envisioned in the roleplaying exercise was the achievement of a secure supply of healthy food. This required improving farmers' productivity. Also, increasing the county's forest cover to more than 15 percent also positively affected the microclimate and thus agriculture. Positive changes in the food system attracted youth to work in agriculture.
At this point, a workshop participant made the key statement, "Everybody owns the process!" The development process needs to be owned by all actors so that everybody has the chance to contribute—and actually does so. Fairness and inclusion are important in ensuring that everyone can contribute.
The documentary team also learned again that, in the envisioned future, actors needed to work together to respond to community needs amid ongoing changes, such as those caused by climate change. Each stakeholder had to take responsibility for a role based on their expertise. The county agriculture sector steering committee, formed by the Ministry of Agriculture, was instrumental to ensuring coordination between development partners. Another critical enabler was strong government leadership and supportive policies. The attendees highlighted technical capacity development using digital approaches as an important precondition for increasing farmers' productivity. Farmer cooperatives played a supporting role in day-to-day actions.
After completing the roleplaying exercise, the stakeholders developed a plan to operationalize the steps needed to move toward the envisioned future. Applying a behavioral change perspective, they discussed who would need to take which actions in a different way, and what would be the motivating, enabling, or prompting drivers for triggering such behavioral change.
Workshop participants concluded that farmers mainly require better knowledge and financial resources. Support from the government and private sector has the potential to help farmers move toward a brighter future, but government actors need to improve policies and the extension system. See the workshop report for more details.
Participants acknowledged the importance of intrinsic motivation but also public recognition and appreciation as motivating factors. They also mentioned the need for other political and market actors to support the transformation process. Private sector actors would like to expand their businesses but are mainly constrained by high transaction costs and risks.
Summarizing their experience, workshop participants expressed stronger confidence in the possibility of achieving positive changes by working together. They left feeling empowered and connected with each other.
See more information on the CGIAR Initiative on Low-Emission Food Systems.
Photo credit: A scene of the organizational constellation exercise during the February workshop with food system stakeholders in Nandi county, Kenya. One can see only the farmer on her knees and the output market actor embracing all others. / Kibet Walter