Improving groundnut farming with early maturing resilient varieties
From
Published on

22.11.21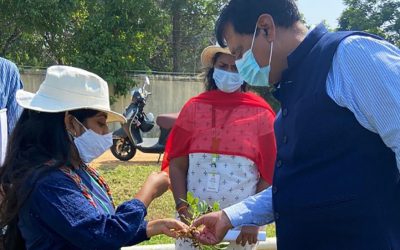 To accelerate the development of improved groundnut varieties, ICRISAT's groundnut breeding team is gearing up to provide seed to research partners for multi-environment testing (MET) during the 2022 rainy season.
Two product profiles are being targeted by the team. Resistance to late leaf spot (LLS) as well as rust are key traits for both profiles. To select lines with resistance to LLS and rust, markers for two major QTLs that correspond to the resistance to these diseases were used.
Selection was done for early maturity to provide short-duration groundnuts for oil and home consumption, which is Target Product Profile 1. Target Product Profile 2 caters to the food and confectionary markets, which prefer kernel grades of 40-50 and 50-60 counts per ounce. Hence, kernel size distribution is a key trait.