Improving biosecurity for a sustainable shrimp industry in Bangladesh
From

CGIAR Initiative on One Health

Published on

25.07.23

Impact Area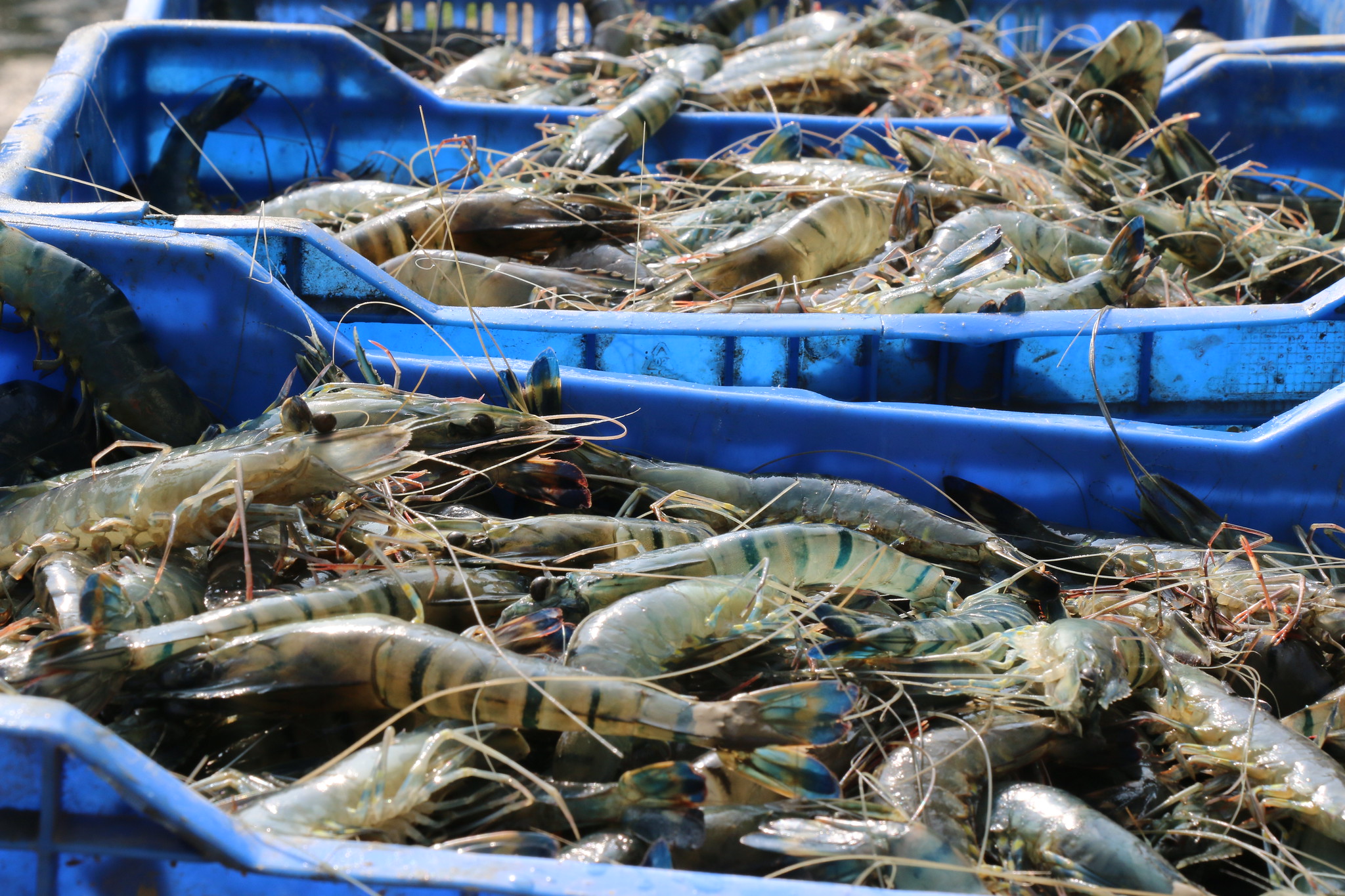 Through the CGIAR Initiative on One Health, scientists at WorldFish are carrying out research in Bangladesh with local and international partners to improve biosecurity in shrimp farms and hatcheries and reduce the use of chemicals and antimicrobials.
The shrimp industry plays an important role in the Bangladesh economy.
In 2022, Bangladesh earned more than 400 million U.S. dollars by exporting shrimp to 51 countries mostly in Europe.
Shrimp is a significant contributor to the national gross domestic product.
More than a million people along the coast of the Bay of Bengal depend on shrimp for their livelihoods.
But the industry is facing a huge and growing threat: disease.
In the last decade, shrimp export earnings have generally declined year on year from a peak of 550 million U.S. dollars in 2012.
Scientists and farmers say this is mostly due to a drop in quality and quantity caused by disease.
Increasing disease means that more drugs and chemicals are used for treatment.
This can reduce food safety and pollute the environment.
We need to find a sustainable way to help the industry survive and prosper, where we have less disease meaning less need for drugs and chemicals and less environmental damage.
There is an answer: biosecurity.
Biosecurity is a set of management practices that farms and hatcheries can adopt as a major step towards reducing the risk of disease without using excessive drugs and chemicals.
Our project, a collaboration between the Centre for Sustainable Aquaculture Futures at Exeter University, WorldFish, the Center for Communication Action Bangladesh and the UK Centre for Environment, Fisheries and Aquaculture Science, aims to improve biosecurity in shrimp hatcheries.
By strengthening hatchery biosecurity, there will be less disease in hatcheries and healthier postlarvae, meaning less disease on farms.
We have been working with hatcheries to develop tools to help senior hatchery technicians more easily train their staff and improve their hatchery biosecurity.
The digital training tools produced by the project include a set of videos on different aspects of biosecurity, monitoring sheets and a self-assessment app.
Senior hatchery technicians can use these tools to train their staff and assess the biosecurity across their hatchery.
Currently, there are not many training tools available and those that are available are very technical and text based.
We hope that the digital learning materials will be effective in hatcheries to reduce disease, lower drug and chemical usage and minimize environmental damage.
This will mean healthier shrimp, healthier consumers, healthier environment and healthier future prospects for the whole Bangladesh shrimp industry.
Video produced by the Collaborative Centre for Sustainable Aquaculture Futures, a joint initiative between the University of Exeter and the Centre for Environment, Fisheries and Aquaculture Science.