Importance of AKILIMO tools demonstrated at Sabasaba exhibition in Tanzania
From
Published on

26.10.21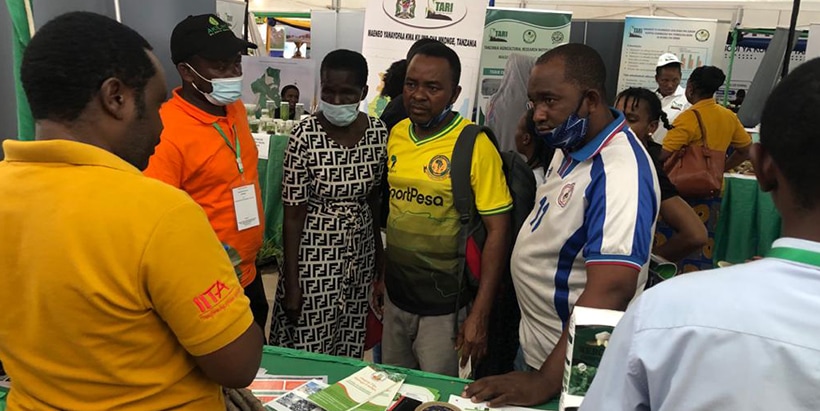 The African Cassava Agronomy Initiative (ACAI) project scientists demonstrated the use of AKILIMO tools to cassava stakeholders during the Dar es salaam International Trade Fair famously known as "Sabasaba exhibition" in Dar es salaam Tanzania. The exhibition highlighted how farmers could increase cassava productivity using the AKILIMO tools.
Sabasaba, a Swahili word for "seven seven" is an annual national holiday occurring on 7 July and organized by the Tanzania Trade Development Authority (TANTRADE) to commemorate the founding of the Tanzanian political party TANU. The celebrations have become an important event for business in Eastern and Central Africa. Over 3,500 exhibitors showcase and sell their products for two weeks at the Mwalimu J.K.Nyerere Trade Fair Grounds, attracting around 700,000 tourists.
The ACAI team participated in the exhibitions to promote good agronomic practices to cassava stakeholders by using AKILIMO tools and disseminate the knowledge to more farmers to maximize their productivity in the cassava value chain. They showcased the tools in different formats, including printable guides, the AKILIMO app, interactive voice response (VIAMO 321), and interactive SMS response (ARIFU).
AKILIMO offers a suite of tools and materials for cassava growers, extension workers, and organizations that promote improved cassava cultivation practices. The tools provide agronomic advice on fertilizer recommendations, appropriate spacing, weed management and best planting practices.