ILRI knowledge management recognized internationally 
From
Published on

25.09.19

Funders

Austria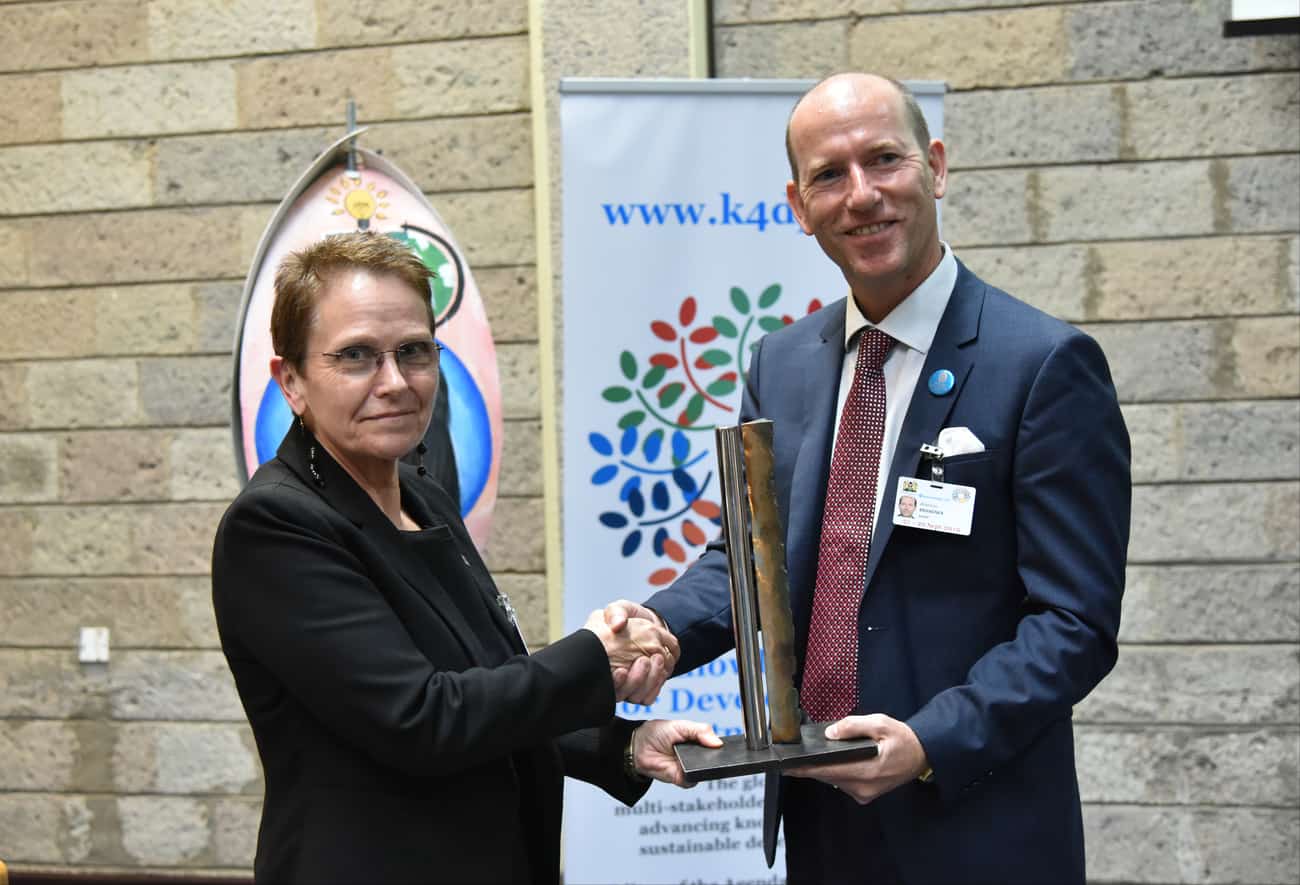 Shirley Tarawali, assistant director general of ILRI, received the Knowledge Management Award from Andres Brandner (photo credit: ILRI/Paul Karaimu).
The International Livestock Research Institute (ILRI) was awarded the 2019 International Knowledge Management Award  by the Knowledge Management Austria at a ceremony held today (25 Sep) at the United Nations Office in Nairobi, Kenya.
ILRI was chosen on the basis of its commitment to becoming a knowledge organization and its focus on working in the open. The award cited ILRI as an outstanding example of an international organization implementing advanced knowledge management practices.
The Knowledge Management (KM) Award is intended to recognize such efforts, to make results more visible and to raise awareness of knowledge management in international organizations. Knowledge Management is an important aspect of achieving the Sustainable Development Goals (SDGs). Knowledge Development Goal 6 of the Agenda for Knowledge Development, which complements the SDGs, relates to 'Improving knowledge strategies in development organizations' while Knowledge Development Goal 11 is concerned with 'Improving knowledge competencies and knowledge work'.
On accepting the award on behalf of ILRI, Shirley Tarawali, assistant director general of ILRI, observed that ILRI is the first international research for development agency to win the award. 'This award highlights the importance ILRI places on communications and knowledge management as an integral part of the research for development process,' she said. Our knowledge management work ensures that our research outputs lead to clear outcomes and positive impacts, with a focus on the SDGs.'
Tarawali also highlighted ILRI's emphasis on 'working in the open'. ILRI practices two overarching principles, she explained: codification and customization. First, the 'knowledge products' that ILRI produces are open, appropriately tagged with standard metadata and available on multiple platforms. A great example of this is the open repository called CGSpace. Originally developed for ILRI, many CGIAR centres and research programs now use it as their main repository thereby creating a massive open resource. More than 80,000 resources are currently stored on the site and nearly 70% of them openly accessible.
Second, by providing 'personalization', ILRI takes a more contextual and intentional approach with researchers to ensure they have the tools to communicate in the way they want to. This has helped researchers in engage in new conversations through blogging, interactive forums and social media. It also moved the institute beyond tools and products to focus on how researchers share information and knowledge more openly through better facilitated meetings and events.

The ILRI Communication and Knowledge Management team receiving the 2019 International Knowledge Management Award (photo credit: ILRI/Job Mainye).
Simone Staiger-Rivas a long time collaborator of ILRI congratulated the team:
ILRI's Communication and Knowledge Management team is special because they were pioneers, together with the International Centre for Tropical Agriculture (CIAT), of introducing knowledge sharing approaches into the organization. Under the leadership of Peter Ballantyne, the center invested in facilitation skills of its staff, in documentation of workshop and project processes on wikis. ILRI was the driver behind CGIAR adopting DSpace as an information repository, which most of the centers use today as 'CGSpace'. ILRI was fundamental in infusing vibrant ideas into the CGIAR community of KM practitioners. ILRI also pushed us into the usage of community of practice (CoP) online tools such as Yammer, which supported cross-programmatic knowledge exchange.
Since 2009, the Knowledge Management Award has been given annually to one international organization with a global mandate. Former recipients of the award for international organizations include the International Atomic Energy Authority, the United Nations Development Programme, the United Nations Educational, Scientific and Cultural Organization, the World Bank, the global KM4Dev-Community, the Joint Inspection Unit of the UN System and, most recently in 2018, the International Fund for Agricultural Development.
The 2019 award was presented at the first African Knowledge for Development Partnership Conference.
This post was written by Michael Victor, head of Communications and Knowledge Management at ILRI.