ILRI holds a livestock symposium at the International Tropical Agriculture Conference this week
From
Published on

10.11.19

Impact Area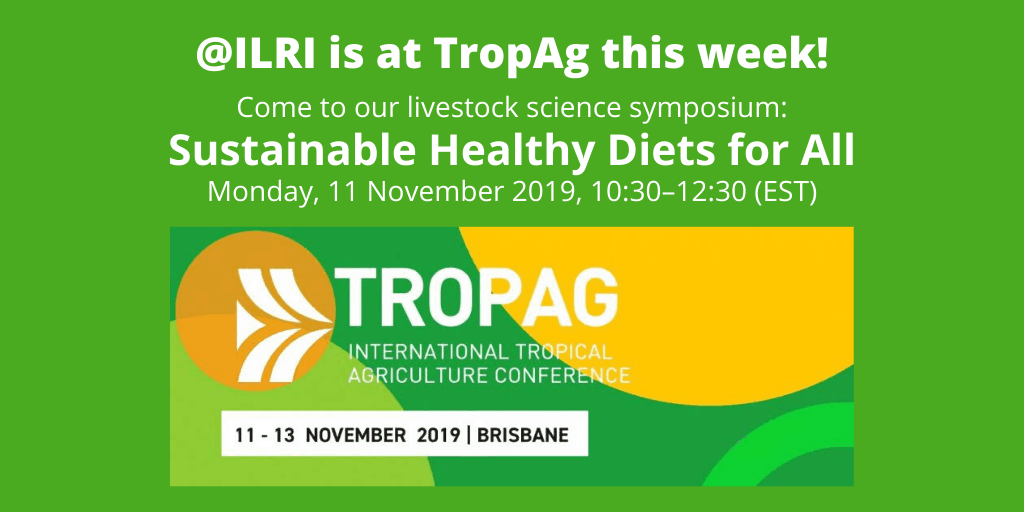 The International Tropical Agriculture Conference, TropAg2019, is being held next week in Brisbane, Australia.  The theme of the conference is 'Shaping the science of tomorrow'. Five program themes will cover the fields of tropical crop, horticulture and livestock agriculture in addition to nutritious food and the future of agricultural technology and investment. More than 700 delegates are attending this week's conference, including agricultural researchers, growers, investors, industry, policymakers and agribusinesses.
Lawrence Haddad, executive director of the Global Alliance for Improved Nutrition (GAIN) and one of two World Food Prize Laureates this year, is giving the opening keynote speech at the conference Monday morning, 11 Nov 2019. The title of his keynote is:
Why animal-source foods need to be part
of the global food security and nutrition agenda
Here is an abstract to Haddad's presentation.
A number of recent reports on diets and food systems have generated a great deal of divisive debate about the role of animal source foods in the human diet. The media have latched on to these debates and have, in some cases, accentuated the divides.

This presentation will emphasize not division, but inequality.

It is the inequality in what people eat that needs to be addressed. Many people eat far too much animal sourced food: too much for their health and too much for the planet's environmental health.

But many also eat too little animal sourced food—these foods are rich sources of micronutrients that are essential for young infant and child growth and are not available in other affordable foods for these populations who tend to be low income. . . .