IITA GHU staff awarded Crop Trust's outstanding Genebank Team (GHU Category) 2021
From
Published on

09.09.21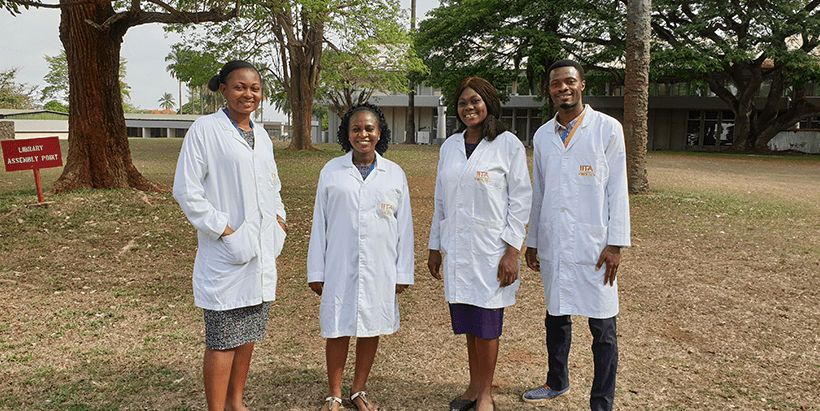 Crop Trust and the CGIAR Genebank Platform have recognized four staff from the IITA Germplasm Health Unit (GHU) and Virology Unit with the "Outstanding Genebank Team" award for 2021. This accolade acknowledges the overall achievements and contributions of GHU and, specifically, the "Legume Seed Health Testing and Phytosanitation" Team that ensured the genebank operations were uninhibited during the COVID-19 pandemic lockdown period in 2020.
The CGIAR Genebank Platform and Crop Trust announced plans to honor staff working in genebanks and GHUs across CGIAR centers to acknowledge the noteworthy contributions of staff during the lockdown in 2020. Qualifying technicians, researchers, and scientists have shown exemplary commitment, going "above and beyond the call of duty to ensure critical genebank operations have continued during these difficult times," said Nelissa Jamora of Crop Trust and Genebank Platform Coordination Team (Bonn, Germany), who convened the awarding process.
The award recipients, Olateju Oyelami, Oluwabunmi Deborah Ajamu, Odunayo Elizabeth Akinfala, and Samuel Alaohuo, showed commendable resilience and commitment to deliver excellent results despite the challenging work conditions caused by the coronavirus pandemic. They received high commendation from Lava Kumar, the Head of IITA GHU and Virology Unit, who nominated them for the award.