ICARDA's ongoing 2030 Strategic Plan Review - In Lebanon with National Partners and the ICARDA Board
From
Published on

08.10.23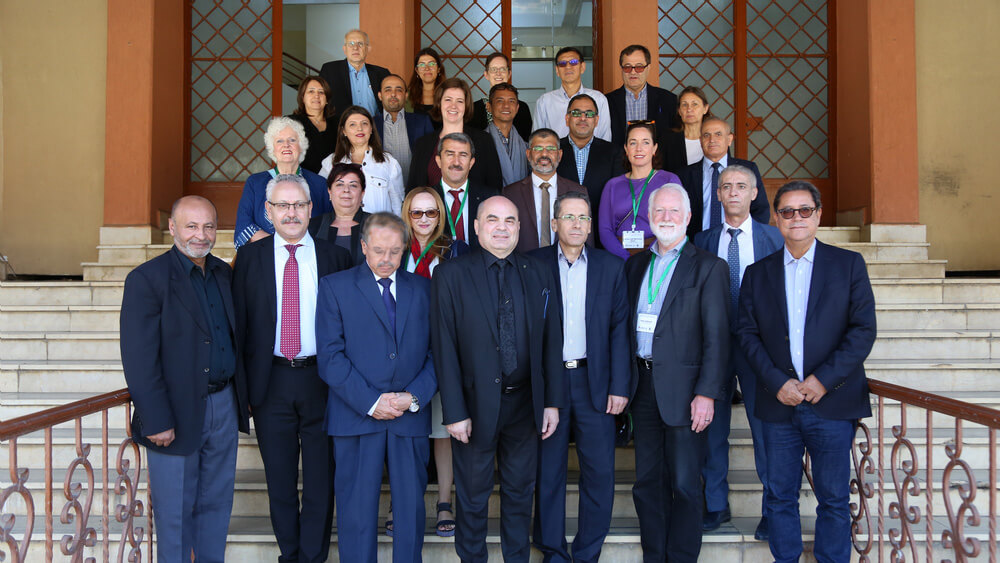 The updated ICARDA 2030 strategic plan is set to launch early next year. Having progressed through various research groups and partners, we invited the heads of regional partner National Agricultural Research (NARS) programs, along with the ICARDA Board of Trustees, to the LARI research station in Lebanon to guide us through the latest review of the strategic plan.
As challenges of climate change intensify, so do impacts on dryland agriculture, especially water scarcity, land degradation, and increasing crop pests and diseases. Combined, these can cause chronic poverty, food insecurity, climate-driven migration, and conflict, especially in the hot, water-stressed, dry regions of Central and West Asia, North Africa, and the Middle East.
To achieve our vision and realize our mission for our 2030 strategy ICARDA anbd its partners have generated a new strategy structured on Strategic Research Priorities, Cross Cutting Research Themes, and Ways of Working. Each of these different components outlines how ICARDA will implement its work and work in concert with other CGIAR Centers, key partners such as NARs, and other stakeholders.

"I welcome esteemed colleagues & science leaders from regional NARS and ICARDA as informed voices vital to develop a strategic plan that can truly address dryland challenges under climate change." – Dr Michel Afram, Director General of Lebanese Agricultural Research Institute (LARI) 
In early October, ICARDA convened at the LAREI research station in Lebanon, representatives from ten of their core NARs partners as well as members of their Board of Trustees to review, discuss, and revise the draft of the ICARDA 2030 Research and Innovation Strategy (R&I Strategy) as well as give input into the development of the CGIAR Global Drylands Strategy. This meeting was structured in a series of facilitated discussions based on different aspects of the ICARDA 2030 R&I Strategy draft and the proposed outline of the Global Drylands' Strategy.
Each day the ICARDA strategy team presented an overview of the strategy process, giving an outline of the ICARDA 2030 Research and Innovation Strategy. Some of the key points that were stressed in this presentation were:
The process of developing ICARDA's 2030 R&I Strategy was designed to co-develop the next phase for ICARDA; it has been driven by staff and partners (CGIAR and NARs) defining the challenges and needs in the global drylands and considering how ICARDA can leverage its skills and expertise towards transformation
The feedback up to now from staff and partners is that ICARDA's 2030 R&I Strategy is on the right track and either fully or mostly aligns with NARs partner priorities. Presentations summarized partner feedback that has been gathered and will be integrated into the strategy to further strengthen it.
The new strategy maintains the core of what ICARDA does well while also pushing the organization to be ambitious and to have a greater impact in the face of growing challenges for agrifood systems in the drylands mainly due to climate change.

The workshop's objectives were to review and revise the current draft of the strategic plan while building consensus around the 2030 goals and 'what success looks like'. Through discussions with the Board of Trustees, the workshop also strove to align actions and plans with the CGIAR 2030 Research and Innovation Strategy and the broader strokes of the One CGIAR vision.
"With all our knowledge, assets, facilities, and innovation, we can create a great body of research and data that can benefit global agriculture in the face of climate change – Dr. Sevinj Mammadova DG of ARICH- Azerbaijan 
Aligned with the CGIAR 2030 Research and Innovation Strategy, and building on its previous 2017-2026 strategy, the updated ICARDA Strategic Plan continues with the development of climate-smart technologies such as protecting plant biodiversity, resilient crops and livestock, and improving water and soil management.
However, the strategy also takes an emphasized focus on integrating the long-term impacts of climate change on crop and livestock production systems, how  AI and machine learning can be better deployed in agri-research, and deeper investigation of integrating social policy, capacity building, and market access into research for better outcomes in equitable and profitable farm systems.
"I invite open critique from all voices because to improve and develop, we need to be honest and realistic about the challenges and how we can address them." -Neal Gutterson, Chair of ICARDA's Board of Trustees
"ICARDA is a science partner, but it is up to us as NARS to inform the Strategic Plan to make sure it addresses the needs of our countries and the region as a whole." – Dr. Imane Thami Alami, INRA-Morocco
The updated strategic plan represents a significant step forward in addressing the urgent challenges faced by dryland farmers. By integrating innovative approaches and emphasizing system-wide solutions, ICARDA aims to foster transformative change in these regions. With its revised research priorities, cross-cutting themes, and commitment to strategic partnerships, capacity development, policy engagement, and results-based management, ICARDA is well-positioned to drive sustainable agriculture and improve the lives of those residing in dry areas.
The discussions on the ICARDA 2030 R&I Strategy were frank and productive. They highlighted that the strategy is moving in the right direction, that it fits well with what is expected by NARs partners and aligns with their priorities. But the strategy also requires more work to improve its structure and to ensure that it is communicating ICARDA's unique value-add in a more effective way.
"It's important we speak honestly and strategically about our own abilities, and to take into account both successes and failures of all our work to make sure we learn and progress. " – Hamdan Alweheibi Director General, MAFWR- Oman
Discussions were structured to encourage open and critical debate through group sessions, breakout groups, Q&A's, and opportunities for all attendees, and especially NARS representatives, to voice their concerns and opinions on the direction of the strategic plan towards efficiently and meaningfully addressing the agricultural needs of the region and the people we serve.
"This is not just an ICARDA/NARS strategy. It can act as a driver for agri-change across the entire region," said Dr. Mohammed Abu-Eid, DG of NARC, Palestine
"Results-based monitoring through goals and measured KPIs is a key part of this strategy in order to identify actual progress, avoid stagnation, and make sure we deliver what the countries need." – Hilary Wild, ICARDA BOT Member, CGIAR AFRC Focal Point
An interesting point was raised on how ICARDA's innovations must be affordable, yet competitive in a commercial market to ensure the farming sector takes them up.  Another was on placing ICARDA in the role of convening a strategy that not just addresses the needs of each country but facilitates knowledge and asset sharing across the region for the good of the region – something ICARDA is already engaged in on the Integrated Desert Farming Innovation Hub.

Snapshot of outcomes and next steps.
ICARDA's role is as a convenor – bringing together partners across the drylands to collaborate more strongly, share knowledge, technologies, and innovations across the region, and reduce overlaps and duplication.
The strategy should constantly review the ongoing and escalating challenges in food insecurity
The fundamental challenge of water scarcity in the drylands is a high strategic priority
Major stakeholder groups, including the private sector, are the pathway to inform the strategy.
Products should be relevant and competitive with current available commercial technology.
Critical assessment of past successes and failures should be included to build an effective strategy
Results-based management will guide the strategy's implementation
From here, The Board will next review the strategy at the end of 2023
——————————————————
Related Article: Refreshing ICARDA's Strategic Plan for a Fast-Changing World | ICARDA