ICARDA at MENA Climate Week 2023
From
Published on

19.10.23

Impact Area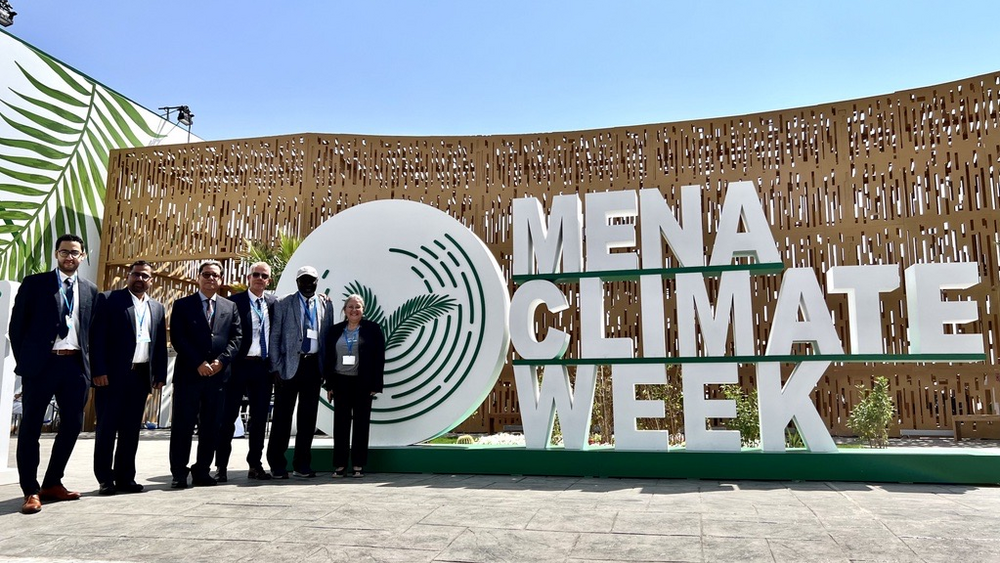 ICARDA led the OneCGIAR delegation to the Middle East and North Africa Climate Week 2023 (MENA CW 2023). The high-level participation of the delegation, led by Aly Abousabaa, CGIAR Regional Director of CWANA and Director General of ICARDA, reflected CGIAR's commitment to strengthening partnerships in the region to work together on developing climate-smart and resilient agri-solutions for dryland farmers.
Ahead of COP28, MENACW 2023 provides an early platform for policymakers, practitioners, the private sector, and civil society to share knowledge on climate solutions and barriers to overcome and collaborate on action.
The MENA CW CGIAR delegation, comprising representatives from ICARDA, IWMI, IFPRI, WorldFish, CIMMYT, and the Alliance of Bioversity and CIAT, engaged in events and bilateral meetings, virtually and in-person to raise awareness of CGIAR's work and highlight the efforts of partners in delivering tailored solutions for dryland agri-challenges. These efforts extend beyond MENA to other global dry regions affected by climate emergencies.
The delegation aimed to foster regional partnerships, advocating for climate negotiations and increased funding for innovative and climate-ready solutions. The significance of funding research to transform food systems was highlighted, particularly by H.E. Mariam Almheiri, Minister of Climate Change and Environment, UAE, at the High-Level Ministerial Panel on Adaptation: Towards a Global Goal on Adaptation that Adapts to a 1.5-degree World on the first day.
The conference debated the urgency of climate action and the realistic pace of transitioning to green energy. Some speakers showcased innovative battery and carbon capture technologies, advocating caution in the shift away from fossil fuels. Others emphasized the rapid global warming and its destructive impacts, urging immediate action. CGIAR itself has long focused not just on affordable innovation for farmers but on reducing agri-emission, which accounts for around 30% of total global greenhouse gases, as well. The debate continues.
"To advance regional climate adaptation, we must prioritize: (1) partnerships with stakeholders, (2) securing financial resources in adequate quantity and quality (3) providing technical support, and (4) ensuring inclusive and participatory efforts. These actions help identify needs, implement projects, share knowledge, engage communities, and foster effective strategies for long-term sustainability."

– Roula Majdalani, Senior Climate Change Advisor, ICARDA
Throughout our participation at the conference, we highlighted CGIAR's collaborations with regional funding initiatives such as AIM4C and the COP27 Initiatives AWARe, NWAFE, and FAST.
——-