How Uganda's millet drink 'bushera' saw a revival and India's peanut 'chikki' went to Zambia
From
Published on

16.01.20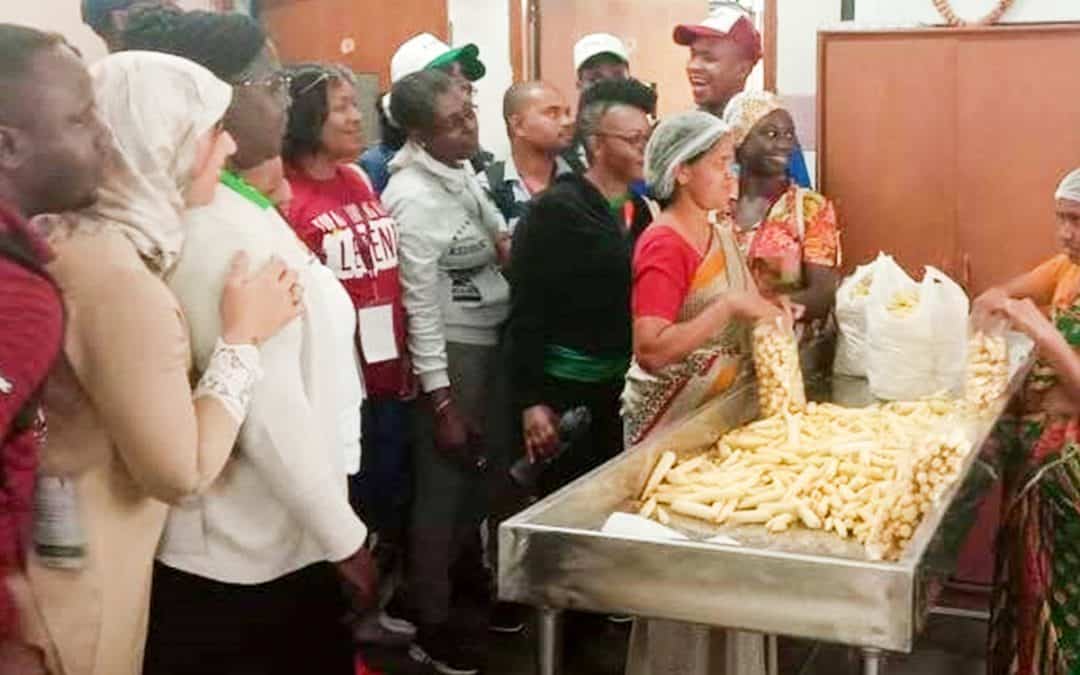 If school children in Uganda have taken to a super-nutritious traditional fermented millet drink called bushera and if an India-inspired peanut bar is a popular item in Zambian supermarkets, a training initiative in partnership with the India-Africa Forum Summit deserves mention. The initiative over the past three years fostered nutripreneurs like Mr Adams Sapeho, a food scientist turned businessman and Ms Chiumphe Sarah Lungu who runs a small-scale enterprise.
Banking on the goodness of a traditional millet drink
In 2014, Mr Adams Sapeho and Ms Teddy Sapeho invested their meager savings and started Bamdam Foods Ltd, a small agribusiness company in Kawanda village, Central Uganda. It wasn't until 2017, that Mr Sapeho officially registered his small venture as an agro-processing business. Thanks to a two-week India-Africa Forum Summit training program at ICRISAT headquarters that he had signed up for.
Growing product pipeline: On returning home after the training, Mr Sapeho invested his 'small' capital to process millet into a traditional fermented drink called bushera and in mango juice production. The products were well received in the local market. In 2018, he added cereal flour processing to his existing business with the support of the National Agricultural Research Organization (NARO), Uganda, which offered him an incubation center early in 2019. His company currently produces bushera, millet-maize-soy flour composite (for babies), and ready-to cook millet, rice and maize flour.
Business expansion plans: Future plans include incorporating more cereal/grain products, processing amaranth flour, cleaned and packed rice, and composite flours for baby food. The company is working on certification from the Uganda National Bureau of Standards to expand business in East African markets.
Benefit to community: Currently, Bamdam supplies bushera to 10 supermarkets and four schools in Kampala. The company has a staff of six who are paid a monthly salary of $75. The products are high on nutrition and are directly procured from local farmers at a good price, contributing to the livelihoods of people in their community.
Indian chikki inspires a Zambian Peanut Energy Bar
Ms Chiumphe Sarah Lungu, a woman entrepreneur from Zambia, runs Inspireme Trading and is engaged in manufacturing pickles and dried cassava leaves. Responding to an invitation from the Ministry of External Affairs, she participated in the training program at ICRISAT headquarters in July 2019 on 'Starting a Small Scale Food Processing Enterprise for Women and Youth'.
An exposure visit to a groundnut processing unit run by a women's collective supported by ICRISAT got her interested in the chikki – a peanut and unrefined cane sugar concoction. On returning home with inputs from the Agribusiness Innovation Platform (AIP) she worked on the development of a Peanut Energy Bar using locally-available ingredients. Sarah is now marketing them at leading supermarkets in Lusaka and the product has gained wider acceptance among Zambians.
About the India-Africa Forum Summit partnership with ICRISAT
The third India–Africa Forum Summit was held in New Delhi, India, in 2015 and the Government of India had committed to play a key role in Africa's development process. Recognizing the importance of human capacity development to attain socio-developmental objectives, various training programs were organized for African nationals to improve their technology uptake for improved food processing and entrepreneurship.
ICRISAT's Agribusiness Innovation Platform organized training programs since 2017 on the below topics:
Technology and Business Opportunities in Food Processing for Small and Medium Enterprises (SMEs)
Entrepreneurship and Marketing Skills Development
Advance Training on Food Safety and Nutrition
Business Plan Preparation and Operations Management
Starting a Small-Scale Food Processing Enterprise for Women and Youth
Development of Analytical Skills for Setting up Food Testing Laboratories
Technology Commercialization and Business Scale-up in Fruits and Vegetable Processing Industry.
From 2017 to 2019, seven training programs of two weeks duration each were held for 289 participants (149 male and 140 female) from 29 countries. Participants said the training was of extreme relevance and important to their countries. For 2020 there are three such trainings in the pipeline.
This work was undertaken as part of Flagship Program 2 of the CGIAR Research Program Grain Legumes and Dryland Cereals (GLDC)