HER+ research on norms limiting women's resilience to climate change
From

CGIAR Initiative on Gender Equality

Published on

24.07.23

Impact Area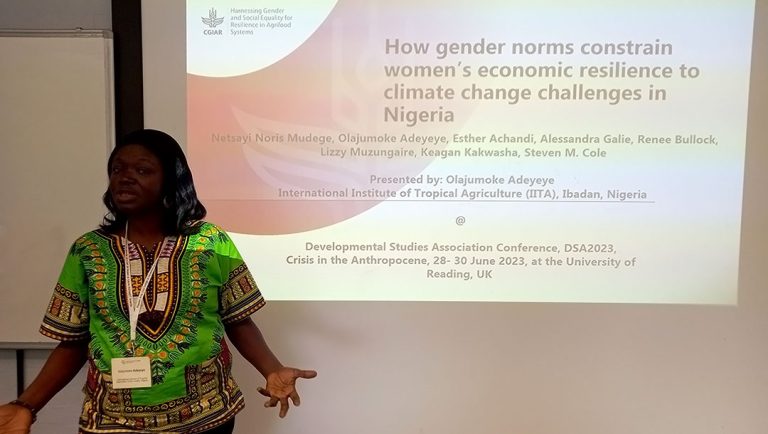 In the recently concluded 2023 Development Studies Association (DSA) annual conference, IITA Post-Doctoral Fellow (Gender Research), Olajumoke Adeyeye, presented some of the CGIAR Harnessing Gender and Social Equality for Resilience in Agrifood Systems (HER+) Initiative preliminary findings on restrictive gender norms that limit women's capacities to building economic resilience to climate change (CC) challenges in Nigeria. The conference provides a platform to share the research outcome with experts and researchers on gender and development across the globe.
The conference, which took place at the University of Reading, United Kingdom, from 28 to 30 June, was themed "Crisis in the Anthropocene: Rethinking Connection and Agency for Development." It was an opportunity for DSA members to gather again physically for the first time since 2019, due to the COVID-19 pandemic.
The conference included a range of panel formats, including paper, roundtable, asynchronous and experimental panels such as debates and speed meetings. There was also the Global South Study Group meeting, DSA students' members' meetings, DSA study group meetings, and plenary sessions. The conference featured over eighty panels on cross-cutting issues covering development crises, agency, knowledge, and governance. There were over three hundred physical and online participants from Africa, Asia, Europe, North America, and South America.
As part of HER+ Work Package 1—TRANSFORM: Gender Transformative Approaches (GTAs) Reducing normative constraints that limit women's economic resilience to CC challenges—the Initiative implements studies that assess normative constraints limiting women's capacities in building economic resilience to CC challenges. These studies were carried out among women and men operating at different nodes of the cassava, catfish/fish, and chicken value chains in Nigeria and Tanzania. The study used Individual Interviews, Key Informants Interviews (KIIs), and Community-Level Focus Group Discussions (FGDs) to collect data from Value Chain actors, including value chain service providers; community leaders; government representatives; regulatory bodies; and NGOs at different value chain nodes.

Adeyeye's presentation highlighted the main climate-related events affecting AFS actors across the three value chains in Nigeria and the impact of CC challenges on the performance and livelihoods of agrifood system (AFS) actors. The presentation also provided insights into the gender norms shaping women AFS actors' activities across the three value chains.
Discriminatory gender norms identified include those that: restrict women's access and control of financial resources; restrict women's mobility; limit women's participation in leadership; discriminate women's adoption and use of technologies/equipment and limit participation in value chain nodes/activities that have high returns. Adeyeye also highlighted the different pathways through which the norms constrain women's capacity to build economic resilience.
Aside from the presentation, Adeyeye used the opportunity to network with globally recognized scientists working in gender and development from institutions worldwide. Through her interactions, she acquired more insight into gender-related topics and the latest gender trends from other scientists and researchers working on the nexus of climate change, gender norms, and building resilience in AFS.
"I will leverage the experience gained in this year's DSA conference to advance the implementation of the HER+ initiative," affirmed Adeyeye.
Contributed by Dr. Olajumoke Adeyeye (IITA) and Ochuwa Favour Daramola (IITA).