Guardians of diversity: The network of genebanks helping to feed the world
From
Published on

07.11.19

Impact Area
Funders

EU Commission, Finland, Germany, Global Crop Diversity Trust, Netherlands, Switzerland, United Kingdom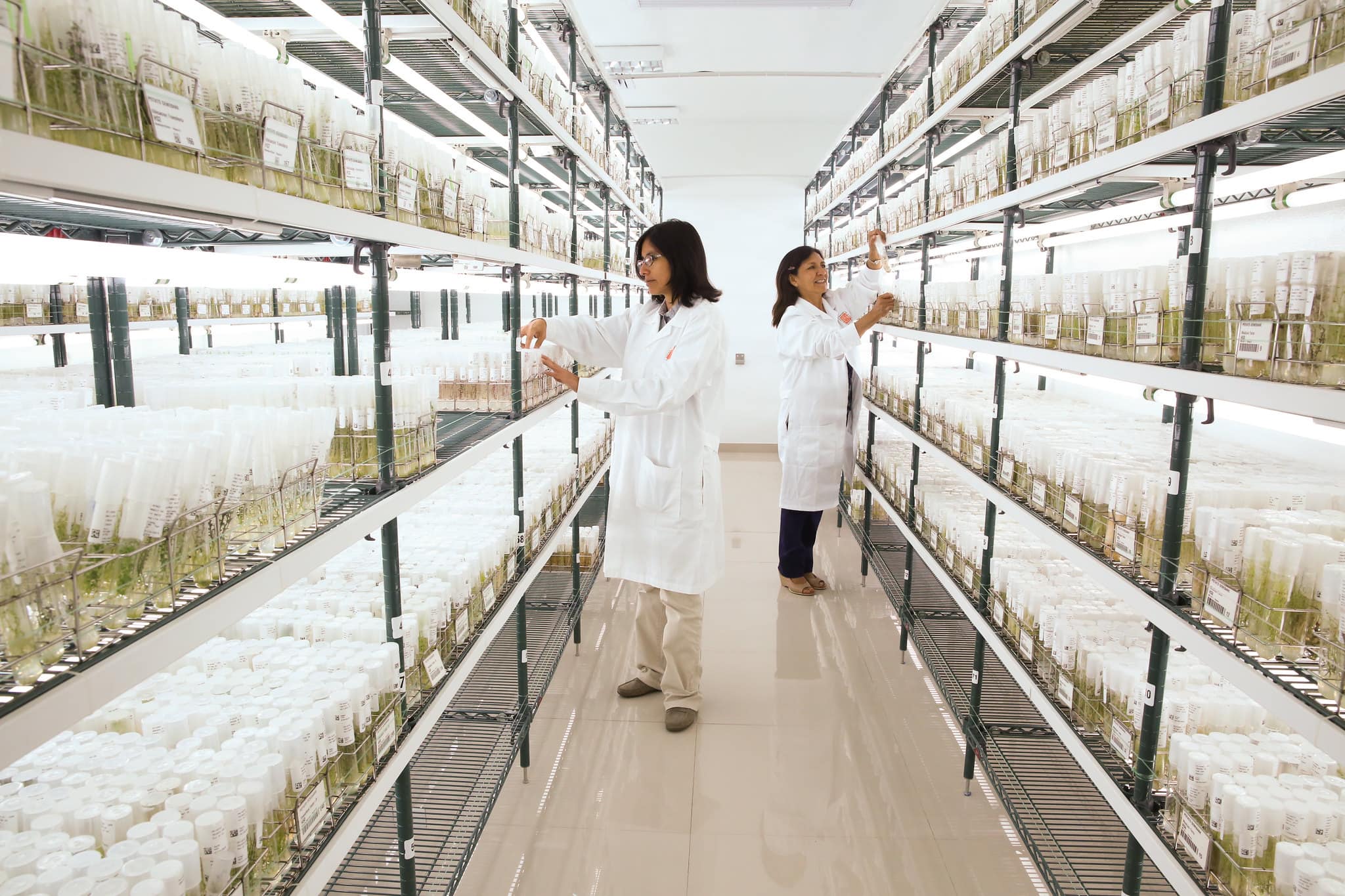 As part of global efforts to achieve sustainable development and address climate change, a network of genebanks is working to conserve and increase the diversity of plant species that feed the world.
Over the past 40 years, CGIAR Research Centers have together built up the largest and most frequently accessed network of genebanks in the world. Coordinated by the CGIAR Genebank Platform, the network conserves and makes available more than 773,112 accessions of crop collections that contribute to human diets.
By conserving the genetic diversity of cultivated plants and their related wild species, genebanks like those hosted by CGIAR are crucial to achieving food and nutrition security worldwide.
As the global climate changes, the crop diversity held in these collections will be vital for developing varieties able to withstand unprecedented weather extremes, and increased incidence of natural disasters.
Brought together under the CGIAR Genebank Platform, the 11 CGIAR genebanks now have a better chance to establish the cooperation and stability of funding needed to progress with long-term plans to address some of the world's greatest challenges.
So what is a genebank?
As the name suggests, genebanks are facilities where genetic material can be conserved and made available for users such as breeders, researchers and even farmers.
Germplasm – the genetic material of living resources – is the focus of these collections and in the case of plant genebanks is typically stored as seeds, seedlings, tissue and other forms that contain genetic information.
This information is the raw material needed to develop improved varieties of crops that can grow faster, produce higher yields, use less water, and withstand pests, diseases and climate extremes. Breeders have used this germplasm to help to end poverty and hunger for millions.
There are now about 1,750 genebanks around the world, holding a total of around 7.4 million accessions of germplasm. The 11 CGIAR Centers only conserve about 10% of the total number of accessions but account for about 94% of the germplasm distributed within the guidelines of the International Treaty on Plant Genetic Resources for Food and Agriculture (the Plant Treaty).
The CGIAR genebanks and germplasm health units (GHU) employ more than 400 skilled staff to monitor, test, germinate, multiply, characterize, clean, culture, store, and distribute germplasm under high scientific standards of operation, and to deal with individual requests for crop diversity from users worldwide as well as within the CGIAR.
As an extra measure for conservation, most accessions are safety duplicated at other sites, including at the Svalbard Global Seed Vault, a remote and secure facility located in Arctic Norway.
CGIAR genebank collections have been held in trust for the global community under formal agreements with the Food and Agriculture Organization of the United Nations (FAO) since 1994. Under the Plant Treaty that came into force in 2004, the genebanks are legally obliged to conserve and make available plant genetic resources for food and agriculture, with an eye to their sustainable use and equitable sharing of benefits.
The CGIAR genebanks respond to thousands of requests for germplasm every year from researchers, breeders, farmers and other users. On average, they distribute around 100,000 samples to more than 100 countries annually, particularly to low-income countries looking to tackle undernutrition.
What does the Platform do?
CGIAR's 11 crop genebanks are coordinated by the CGIAR Genebank Platform, a partnership between CGIAR and the Global Crop Diversity Trust (Crop Trust). The Platform is funded in part from contributions to the CGIAR Trust Fund.
Since 2012, the genebanks have benefitted from greater collaboration and knowledge-sharing, as well as more stable funding: the conditions needed to develop long-term plans to secure the world's food supply.
The Platform is a six-year program that supports the Center genebanks in meeting their obligations under international law, and improving the efficiency and effectiveness of their operations in terms of conservation, use and policy.
To support conservation, this means exploiting new technology and knowledge to more efficiently conserve more samples and respond to more demands from the international community.
For use, it means listening to scientists, breeders, and farmers and aligning work to support the kinds of diverse samples and specific traits they need to develop improved varieties of crops.
As for policy, the Platform aims to support the genebanks to not only comply with international agreements, but also proactively shape the national and international policy context in which they work, to ensure that it supports sustainable conservation and use of genetic resources.
Future challenges
As global demand for germplasm continues to increase, the CGIAR genebanks will need to work together to keep pace. The Genebank Platform is working with the genebanks to help ensure that 90 percent of their collections is available for distribution.
This means not only enhancing the use of the collections and improving efficiency, but also keeping up-to-date with new technologies for conservation and improving communication and coordination among Centers.
Many CGIAR genebanks are now involved in genome sequencing and genotyping of important crops to support their conservation and sustainable use.
Technologies like cryopreservation, disease diagnostics and DNA fingerprinting also continue to develop, offering new opportunities for Centers.
And as the world races to meet goals on sustainable development and confront climate change, it will be vital for these guardians of diversity to work together to tackle undernutrition, climate-proof crops and, ultimately, feed the world.
The CGIAR Genebank Platform thanks all funders who provide support through their contributions to the CGIAR Trust Fund. The following governments have directly supported the CGIAR Genebank Platform: Switzerland, the Netherlands and the United Kingdom. The following governments have provided support for Crop Trust's contribution to the CGIAR Genebank Platform: Germany, Switzerland, Finland and the European Union.
Photo: Scientists at the International Potato Center (CIP) genebank in Lima, Peru. CGIAR Centers like CIP manage some of the largest and most active collections of genetic material in the world. Photo by Luis Salazar/CropTrust