GSN launches webinar series to promote gender research and its impact
From
Published on

28.03.22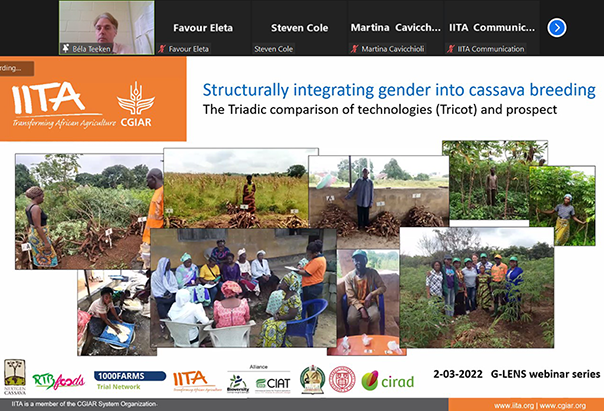 The IITA Gender Science Network (GSN) has organized a webinar series to enhance gender research and its communication and impact. Integrating gender within other (research) domains is a key objective. Therefore the webinar serves as a learning and engaging platform for the IITA community to dialogue, better understand, adapt, and implement new and existing gender initiatives, methodologies, tools, and approaches in projects and more extensive research programs.
On 2 March, the first webinar entitled "Structurally integrating gender into cassava breeding: The Triadic comparison of technologies (Tricot) and prospects" was held. The meeting was successful, given the high number of attendees and their active feedback. Béla Teeken, Associate Social and Gender Scientist, presented with support from Olamide Olaosebikan – Senior Research Associate and Bello Abolore – Senior Research Supervisor. Steven Cole, Senior Gender specialist and GSN Coordinator, and Martina Cavicchioli, CIM Gender Scientist, moderated the session.
In his presentation, Teeken shared insights from research on cassava users' livelihoods and varietal preferences. This research evolved from surveys to more engaged research using participatory variety selection (PVS) methods to inform breeders' selection. He highlighted that because women are majorly into processing and selling food products and men usually sell more fresh roots; women prioritize processing and food product quality traits.