Greater focus on women's empowerment in agri programs and policies a must for achieving equality goals
From
Published on

16.10.23

Impact Area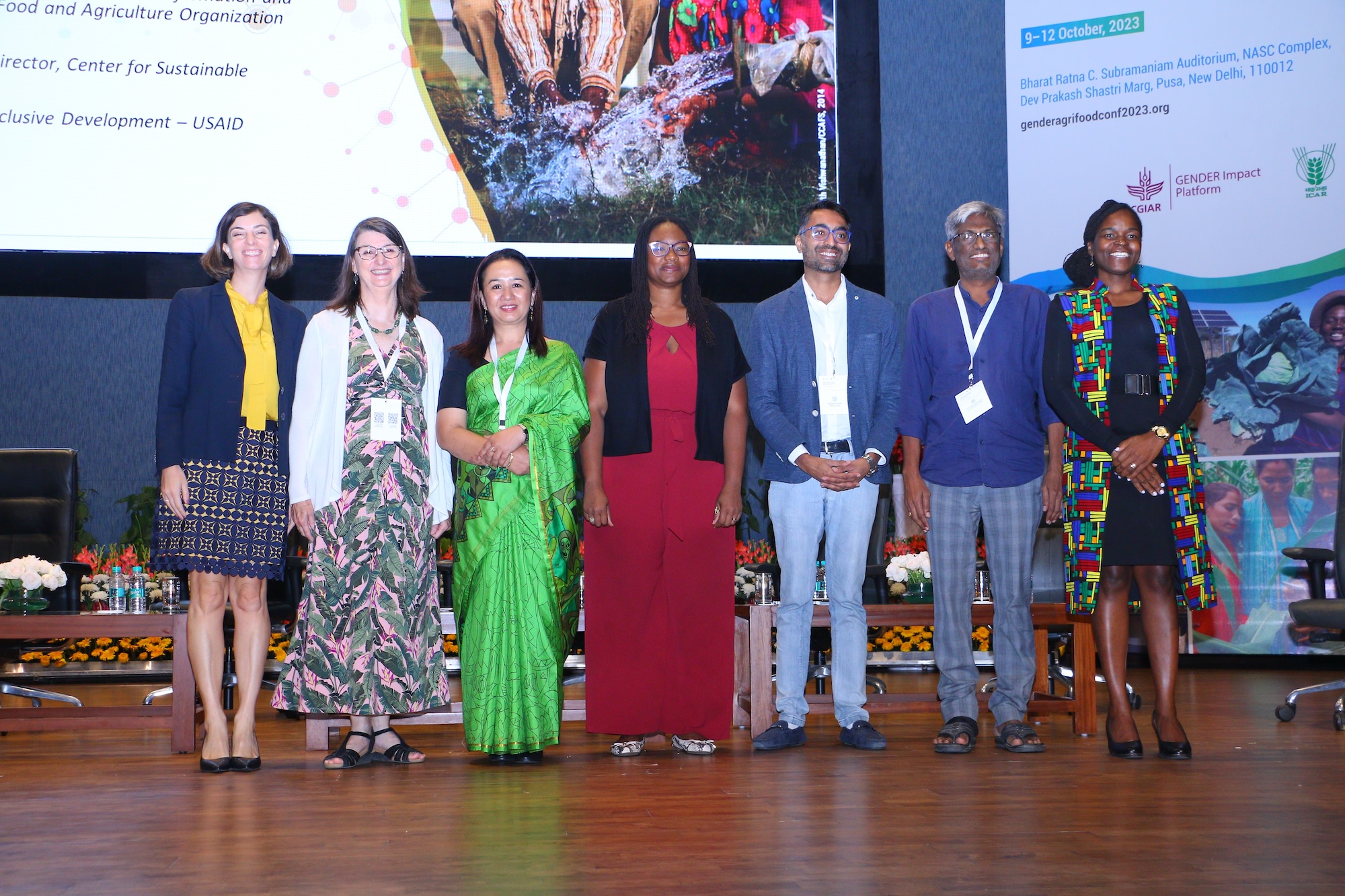 Greater gender equality and women's empowerment in agri-food systems can be realized by providing women with better market access and land ownership, by building inclusive value chains, by establishing financial incentives, and by supporting collective action through Farmer Producer Organizations.
New Delhi, October 12, 2023: International experts highlighted these approaches as evidence-backed, best bets for making progress towards more resilient, just agri-food systems as they spoke in a plenary session at the ongoing international gender conference From research to impact: Towards just and resilient agri-food systems, which is hosted by the CGIAR GENDER Impact Platform and the Indian Council of Agricultural Research (ICAR), and which was inaugurated by President of India Smt Droupadi Murmu on Monday.
Speaking in a plenary panel discussion on Wednesday were Dr Lauren Phillips, Deputy Director of Inclusive Rural Transformation and Gender Equality, United Nations Food and Agriculture Organization (FAO); Dr G.V. Ramanjaneyulu, Executive Director, Centre for Sustainable Agriculture; Dr. Meredith Soule, Division Chief, Inclusive Development, USAID; Dr. Michèle Mbo'o-Tchouawou, Deputy Director of Programs, African Women in Agricultural Research for Development (AWARD); Ms Neena Joshi, Interim Senior Vice President for Asia, Heifer International; and Mr Nishant Gupta, Social and Environmental Impact Advisor, Walmart India. The session, titled 'From Research to Impact: Towards Agri-Food Systems Transformation', was sponsored by AWARD and Heifer International.
Referencing a recent global report on the status of women in agri-food systems, Dr Phillips stated that agriculture programs, projects, and policies are not sufficiently focused on achieving better outcomes for women. In fact, the gender gap in food security has widened considerably, with more than 126 million more women than men facing hunger in 2021, despite significant investments and research.
"The evidence is very clear that if you work intentionally to increase women's empowerment, agency and power to make decisions on how they use their land, income and time, then you achieve a wide range of benefits, including increased agricultural productivity, better nutrition for children, improved dietary diversity as well as greater food security and climate resilience for entire families," said Dr Phillips.
Establishing farmers' collectives and Farmer Producer Organizations can bridge the gap between smallholders and markets, solving challenges related to farming input, output and infrastructure, said Mr Gupta. Ms Joshi added that offering farmers' collectives bundles of support, including technologies, assets, and social capital, leads to long-lasting and sustainable impacts. Stronger financial incentives are needed to foster even more collectives, said Dr Ramanjaneyulu.
Reflecting on agricultural gender research, Dr Mbo'o-Tchouawou said that not enough is known about how researchers can achieve impacts on the ground, while Dr Soule highlighted localization—with research supporting and being led by local actors—as a strategy to achieve greater influence.
The third day of the four-day conference saw a total of 18 parallel sessions, including scientific presentations on topics such as including women in the digital revolution; gendered dynamics in nutrition; and supporting women's employment, entrepreneurship and economic empowerment in agri-food systems.