Getting youth back to agriculture as service providers
From
Published on

29.11.21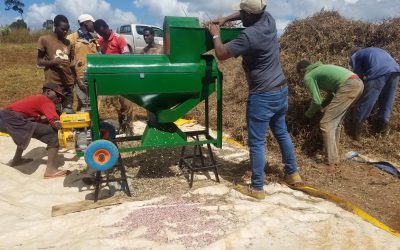 For reduced market barriers, diversified enterprise and livelihood opportunities.
How are youth being gainfully employed as mechanization service providers in the African region?
About one-third of Africa's nearly 500 million youth aged 15-35 are unemployed. The high rate of youth unemployment remains a critical concern for governments as it results in poor living conditions. This can prove a key driver for migration, may trigger insecurity and even political instability. Yet, youth being Africa's greatest asset, offer a dynamic workforce that is innovative, appetite for a high uptake of modern technological know-how, and ability to take on significant levels of risk.
In Tanzania, although two thirds of the workforce depend on agriculture for their livelihoods, most farms are still reliant on unproductive manual farming methods. With an increase in the number of young people migrating in search of better opportunities and to escape manual farming, their future with farming as a livelihood is increasingly becoming unattractive.
To address such concerns, mechanisation of small farms can create many employment opportunities while increasing agricultural productivity and income. In 2019, the Alliance for Bioversity International (Bioversity International) & the International Centre for Tropical Agriculture (CIAT) and the Tanzania Agriculture Research Institute (TARI), both members of  the Pan-Africa Bean Research Alliance (PABRA-Africa), in collaboration with Soybean Innovation Lab of Missouri State University trained local artisans on manufacturing Multi-Crop Threshers (MCT) in Tanzania.