GDI Knowledge Hub moves online
From
Published on

14.09.20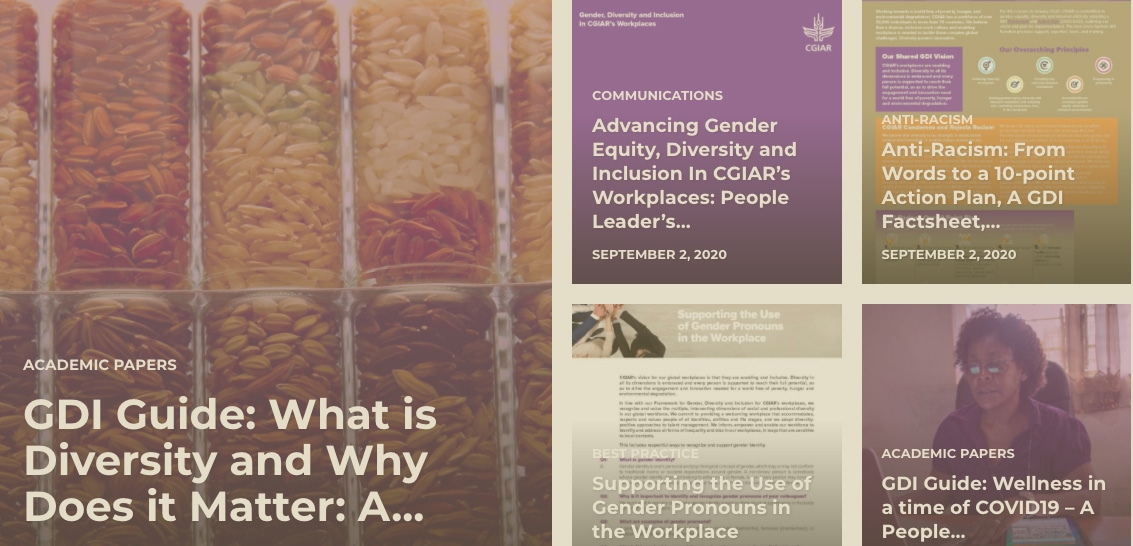 The new Gender, Diversity and Inclusion (GDI) Knowledge Hub is now online, providing all staff across CGIAR with quick and easy access to a wide range of GDI materials.
In line with CGIAR's GDI Action Plan (2020-2021), the Knowledge Hub is a one-stop shop for all things relating to GDI at CGIAR, including training, toolkits, best practice guidance notes, policies and practices. As well as hosting products developed by CGIAR's GDI Function, the Knowledge Hub includes useful external articles and tools.
In the coming weeks, CGIAR's new Employee-Led Resource Groups (ERGs) will also have a home here.
"The Knowledge Hub has been launched in English, but we will soon upload translated versions of all current and future content in French and Spanish also," says Fiona Farrell, CGIAR System Senior Advisor for Gender, Diversity and Inclusion (GDI).
"The GDI Knowledge Hub will be a dynamic space – continuously evolving. We will add more content each week."
In the spirit of sharing lessons learned and best practices, CGIAR staff can also forward any GDI tools or articles, which may help other colleagues to the GDI Function. Please send to f.farrell@cgiar.org
The Knowledge Hub can be accessed from CGIAR staff's usual cigar.org address. In the coming days, it will also be accessible from the GDI Webpage via another yellow button to be added shortly to the left-hand side of the page for convenient access.