Four new high-yielding potato varieties released in Afghanistan by ICARDA and ARIA
From
Published on

06.04.21

Challenges
Funders

IFAD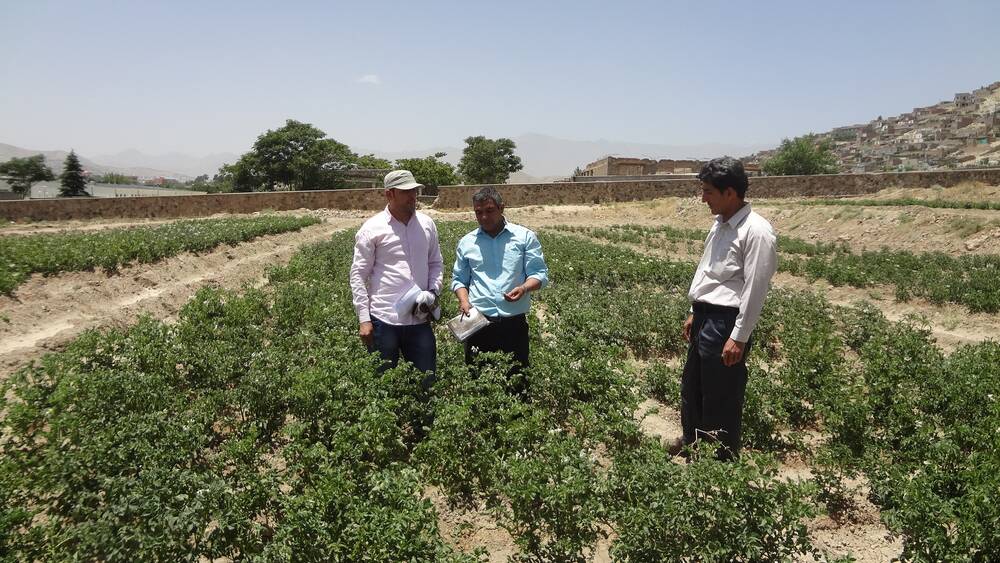 Four new high-yielding varieties of potato adapted to the cool and dry conditions of central Afghanistan have been evaluated and released through a collaboration between ICARDA, the Agricultural Research Institute of Afghanistan (ARIA) of the Ministry of Agriculture, Irrigation and Livestock (MAIL). This research has been funded by IFAD. 
For over four decades ICARDA has worked in collaboration with the Afghan Ministry of Agriculture, Irrigation and Livestock to release adapted, good quality and high-yielding varieties of cereals, legumes, forages, and vegetable crops suited to the country's different agro-climatic zones. Since 1979, 430 research trials involving over 11,000 genotypes have been conducted by ICARDA in ARIA's 18 provincial agriculture research stations located in 13 provinces. High-yielding lines of wheat, chickpea, mungbean, tomato, and alfalfa have all been identified and submitted by ICARDA and ARIA to the National Seed Board (NSB) for release, multiplication and mainstreaming in the seed systems.
For potato, six new pre-evaluated lines e.g. Kufri Chipsona – 4, Kufri Lauvkar, Kufri Himalini, Kufri Frysona, Kuroda, and Agria have been tested and field evaluated along with three local varieties (Samadi, Safedgul and Sabzgul). After a three-year long evaluation, four high-yielding lines (Kufri Chipsona – 4, Agria, Kufri Himalini, and Kuroda) were officially released as Sadaf-20, Germany -20, Bamyan-20 and Faransawi-20 respectively, through NSB.