Forests and agroforestry taking its place for climate adaptation
From
Published on

04.03.21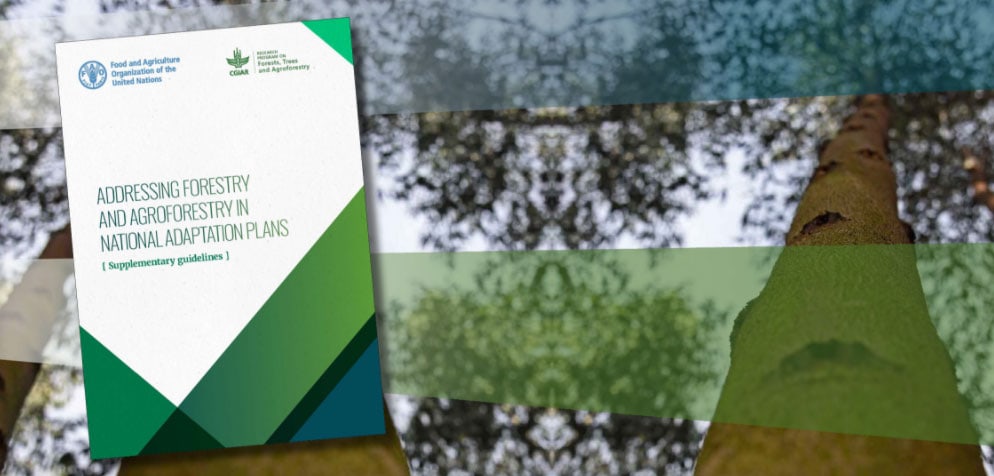 New FAO-FTA supplementary guidelines on NAPs
The potential of forests and trees to mitigate global warming has long been the main focus of climate change discussions. But forests – and the livelihoods of the 1.6 billion people who depend on them – are also greatly threatened by increasing variability in temperature and precipitation, storms, pest outbreaks and more frequent and intense fires. In fact, the ability of forests and trees to adapt to these impacts will influence their ability to mitigate climate change.
Moreover, forests and trees provide so called nature-based solutions for adaptation helping other sectors build resilience. Thanks to their crucial ecosystem services, forests support crops, livestock, and fisheries, as well as prevent flooding and erosion that can threaten infrastructure, economies and people.
To help countries integrate these considerations into adaptation planning, the CGIAR Research Program on Forests Trees and Agroforestry (FTA) and the Food and Agriculture Organization of the UN (FAO) joined forces and developed the Addressing forestry and agroforestry in National Adaptation Plans: Supplementary guidelines. This brand new publication complements the NAP Technical Guidelines prepared in 2012 by the Least Developed Countries Expert Group (LEG) of the United Nations Framework Convention on Climate Change (UNFCCC). A few years later, in 2017, FAO issued the publication Addressing agriculture, forestry and fisheries in National Adaptation Plans – Supplementary guidelines, which introduces the sector perspective and opportunities on NAPs. FAO also launched the Addressing fisheries and aquaculture in National Adaptation Plans – supplementary guidelines shortly after the Forestry guidlines in 2020. All guidelines build upon the lessons learned in countries and through the Integrating Agriculture in National Adaptation Plans (NAP-Ag) programme, co-led by FAO and the United Nations Development Programme (UNDP), funded by the German Ministry of the Environment, Nature Conservation and Nuclear Safety through IKI, which aims to address climate change adaptation concerns related to the agriculture sectors in 11 partner countries' national planning and budgeting processes implemented 2015-2020.