Food from fallows: Capitalizing on idle land for better food security in South Asia
From
Published on

28.09.20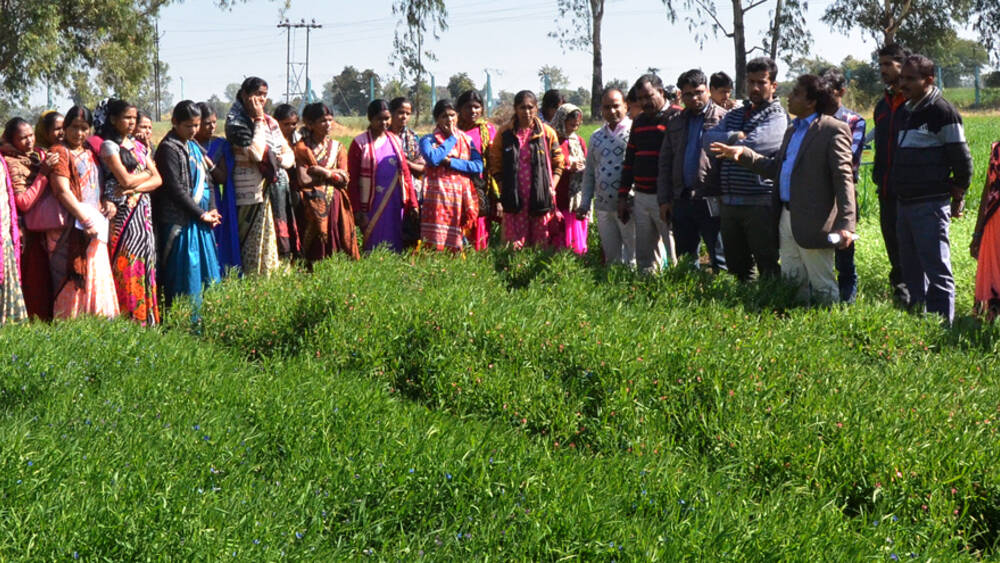 Photo: Farmers visiting ICARDA platform FLRP, Amlaha, Grasspea plot under scaling (Ashutosh Sarker)
Fallow land is a clear profit-making resource of millions of hectares lying unused for farmers worldwide. Traditional agriculture, in the face of intensifying climate change, is at best allowing farmers in vulnerable regions to scrape by, while at worst, it is failing and putting unsustainable pressure on whole regions. With little concerted global action on climate and population issues that have been predicted for decades, agriculture must urgently turn to sustainable and effective approaches that ICARDA, and its umbrella organization CGIAR advocate. Why? Because they work.
Every year after the rice harvest in South Asia, a vast area of over 15 million hectares lies idle (fallow) until the next rice planting season several months later. The region's food needs are fast accelerating along with burgeoning populations, so scientists in countries like Bangladesh, India and Nepal think the fallow land could, and should, be used for additional crops that increase farmer incomes and food security.
The International Fund for Agricultural Development (IFAD) turned to ICARDA of the CGIAR network to carry this out. With four decades of agricultural research-for-development (R4D) experience in the region, we have built strong, trusted networks with countries and farming communities so that the science can be we thoroughly field-tested before we ask farmers to adopt it.
In 2016 IFAD launched the "Enhancing food and nutritional security, and improved livelihoods through intensification of rice-fallow system with pulse crops in South Asia (Bangladesh, India and Nepal)" project, to research and implement the growing of winter and summer pulse crops between the standard rice crops. The project was implemented by ICARDA through its South Asia & China Regional Program (SACRP) in New Delhi, India for a period of four years (2016-17 to 2019-20) in partnership with a number of national institutions.
Read more on ICARDA`s research for development initiatives and scaling efforts towards making productive fallows.
*This story is originally published by ICARDA.