Fellows shape new pathways around Indigenous traditional knowledge at U.N.
From
Published on

06.06.19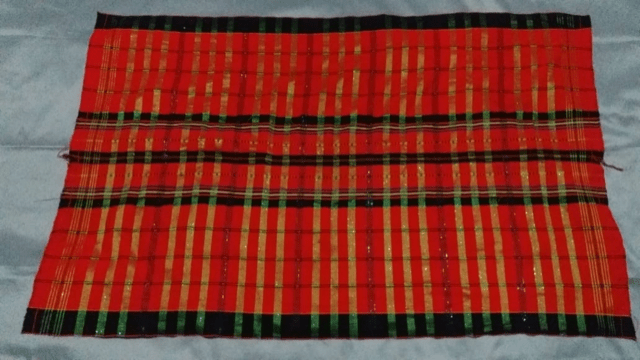 Woven textiles are an age-old tradition passed down through the generations by women in the Tangkhul Naga community of Ukhrul in India's Manipur state. By sharing designs, knowledge is protected.
After Rose, an Indigenous woman, was raped by Indian military officers leading to her death by suicide, a new design was created to honor her memory, said Thingreiphi (Athing) Lungharwo, who spoke at the 18th session of the U.N. Permanent Forum on Indigenous Issues (UNPFII) in April.
Now woven into various articles of clothing, the design is becoming a symbol of resistance, said Lungharwo, who is a member of the Naga Women's Union.
Lungharwo is one of four global fellows selected under the Indigenous Peoples Fellowship Initiative, financed under the Global Environment Facility (GEF) Small Grants Programme (SGP), implemented by the U.N. Development Programme (UNDP).
It is a reality that so many communities are living under threat of violent encroachment on their territories by large scale development projects and that women are reacting, said Alejandra Pero, the technical adviser leading the UNDP initiative, who also attended UNPFII.
"The woman was raped because she was an advocate against the mining industries in her territory," Pero said. "She committed suicide because of the shame that she felt from the violence that she had experienced to be silenced. It was very poignant."
Lungharwo spoke about how transmission and protection is achieved through handicrafts – every generation has a certain pattern and colour, Pero added. "She really feels there's a lot of value in protecting these local crafts and not allowing them to be lost. New stories and new knowledge are being developed through designs."
The aim of the fellowships is to strengthen the capacity of emerging and current Indigenous leaders to advocate and to support their efforts on environmental and sustainable development issues.
Working with women was definitely something that needed greater attention, support and recognition, Pero said.
Lungharwo is regional coordinator of the Asia Indigenous Peoples Pact's (AIPP) environment program at the regional level. She has also worked with the International Indigenous Forum on Biodiversity and served as a natural resource management organizer and a project technical officer for the Northeastern Region Community Resource Management Project in India funded by the International Fund for Agricultural Development (IFAD).
As a fellow, Lungharwo is focused on developing her capacity as a rights and environmental protection advocate. She promotes the value of biodiversity for poverty reduction, sustainable development and well-being.
Through an Integrated Mountain Initiative (IMI) project she is working on building a consortium of young tribal researchers to undertake studies on mountain peoples, approaches, and practices to combating climate change in the Indian Himalayan region.
The GEF SGI fellowship initiative, which also includes a national fellowship component supporting Indigenous peoples in eight countries, aims to support the capacity of Indigenous leaders to advance the work of their communities, organizations and networks.
"These programs were created in response to a demand that we kept on receiving for different kinds of capacity development modalities that need to be developed within the U.N. system to strengthen Indigenous leadership," Pero said.
Each fellow has their own area of focus.
Edith Bastidas, a lawyer and member of the Pastos community in Nariño, Colombia, is working on developing the capacity of Latin American indigenous peoples' communities to ensure the protection of Indigenous knowledge and its associated genetic resources. She is strengthening her knowledge and ability to provide input into the U.N. Nagoya Protocol agreed in 2010. The protocol aims to ensure the fair and equitable sharing of benefits arising from the use of genetic resources.
She is the focal point in Colombia for the International Indigenous Women's Network on Biodiversity. She has also served as manager of the Ministry of Indigenous Affairs of the northwestern province of Antioquia, and researcher and director of CECOIN, the Center for Indigenous Cooperation.
As a fellow, Bastidas has become part of the GEF SGP national steering committee where she will help select projects for support at the country level.
Bastidas, Lungharwo and the other global and national fellows were at UNPFII to discuss the thematic topics of preserving Indigenous knowledge and languages. They exchanged ideas on how local communities are protecting and transmitting their knowledge.
Bo Liu, a biology lecturer at China's Minzu University spoke about the need for education and the need to draw attention to the local plants that have medicinal values, Pero said.
Liu is Mongolian Chinese, born in the autonomous region of Inner Mongolia in China. He specializes in biodiversity conservation and ethnobotany and participated in the development of the International Union for Conservation of Nature (IUCN) China Plant Red List Book. He has also recorded traditional knowledge learned from Tibetans, Hani, Dai and Zhuang ethnic peoples in China, and the traditional management of local rare species. He has completed 17 scientific projects and published nine books and more than 30 papers.
The fellowship program was conceived in 2015 and launched in late 2016 with the original four global fellows, who focus mainly on biodiversity conservation and climate change adaptation. The seven national fellows do not have a thematic focus.
"UNPFII provides an opportunity for the fellows to network," Pero said. "They also have the opportunity to position their specific concerns, issues or recommendations at this global platform."
They develop communications skills, partly through training with the Tribal Link Foundation, ahead of the UNPFII.
"There's definitely a kind of empowerment that takes place," Pero said. "There is power in numbers and they can tap into this wealth of knowledge holders around the world to become better advocates, to advocate at the national level, at the international level, at the local level and then also to learn actual practices on how to conserve and how to transmit."
Learn more about the fellows here.
Read Landscape News stories from the 18th session of the U.N. Permanent Forum on Indigenous issues here.
Learn more at the Global Landscapes Forum conference in Bonn, Germany, 22-23 June 2019.
Restore Indigenous land rights to unlock traditional knowledge and repair ecosystems
Indigenous youth explore human rights challenges in 'Through Their Eyes' book
Celine Cousteau's 'Tribes on the Edge' puts battle for Amazon Indigenous rights in limelight
A conversation with Mbororo advocate Hindou Oumaru Ibrahim: 'We need sustainable sharing'
Colonization to climate change: NunatuKavut Inuit defend landscape
Leaders unite in appeal to protect rainforests as deforestation accelerates
Uphold human rights of Indigenous peoples, allow traditional knowledge to lead land decisions, U.N. delegates say
U.N. to launch global campaign against criminalization of Indigenous peoples
U.N. urges end to murders, attacks on Indigenous peoples defending forests
The post Fellows shape new pathways around Indigenous traditional knowledge at U.N. appeared first on Landscape News.