Eight food processing units to target malnutrition and poverty in South India's hinterlands
From
Published on

20.01.20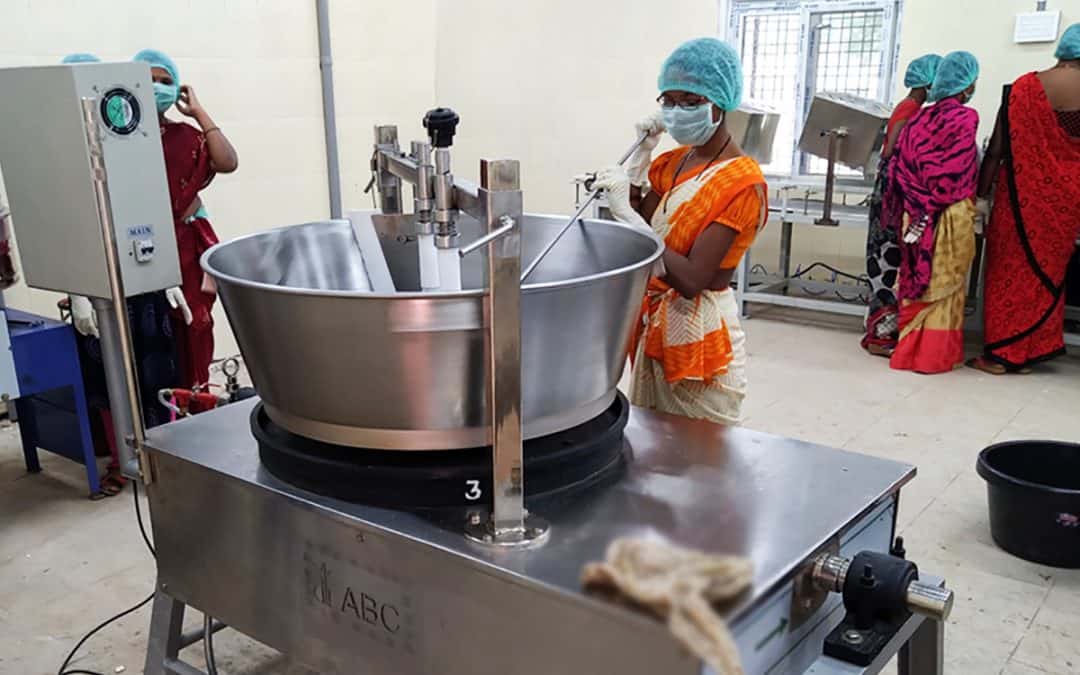 The facilities aim to create sustainable business opportunities around nutritious diets for tribal farmers in Telangana
In a bid to boost nutrition and income, farmers from tribal communities in the South Indian state of Telangana will shortly take to 'agripreneurship' as eight secondary food processing units become operational in February.
ICRISAT's Agribusiness and Innovation Platform (AIP) with the Tribal Welfare Department of Telangana State Government and the Ministry of Tribal Affairs of the Indian government has set up these units in Telangana's Integrated Tribal Development Agencies (ITDA) – Utnoor, Eturnagaram and Bhadrachalam. ITDAs are specially administered areas to ensure governments' welfare schemes reach tribal populations.
"Eighty farmers have been formed into eight Joint Liability Groups (JLG), one group for each unit.  The groups will manage and share profits from the units," said Aravazhi Selvaraj, AIP's Chief Operating Officer. "Farm produce of sorghum, groundnut, pigeonpea and pearl millet from the fields in the vicinity of the units will be procured to make food products for government's food and nutrition schemes in schools and welfare centers. Surplus production will be sold in the market."
Each facility has been established at a cost of around ₹ 2.5 million (around US$ 35,000) and is expected to support nearly 100 farmers in its vicinity. It is estimated that each unit will produce 1.5 tons per day of processed food and the local farmers will be able to increase their incomes by at least 20% by supplying their produce to these units.
Mr Selvaraj mentioned that the units will have a brand for marketing the products and the Girijan Cooperative Corporation will oversee the marketing efforts.
Peanut-jaggery bars, popularly called chikki, are among the products that will be made by the food processors. Upma, a semolina porridge, will be also produced in ready-to-cook form. A ready-to-eat sweet meal and processed pigeonpea or dal are other products the units will start producing.
Dr Saikat Datta Mazumdar, Chief Operating Officer (COO), NutriPlus Knowledge Program, AIP, pointed out that the food processing facilities are being set up to localize production and address malnutrition, besides improving the economic conditions of the tribal farming communities.
"The processing units are designed and equipped with machinery as per guidelines laid down by the Food Safety and Standards Authority of India (FSSAI) and shall ensure production of nutritious food products meeting national and international market requirements," Dr Mazumdar said. "The JLG members are being trained in the areas of food safety management systems, machine operations and maintenance and quality control towards enabling production of hygienically packed, safe and nutritious foods".
For infographic on the project click here
Read more here. See exploreit.icrisat.org
Project: Setting up of eight (8) processing units in ITDAs of Utnoor, Eturnagaram and Bhadrachalam through Joint Liability Groups (JLs) of Telangana
Funder: Tribal Cooperative Finance Corporation Ltd (TRICOR), Tribal Welfare Department, Government of Telangana.
Partners: ICRISAT, Ministry of Tribal Affairs, Tribal Welfare Department, Government of Telangana; Integrated Tribal Development Agencies – ITDAs (Utnoor, Bhadrachalam, Eturnagaram), Department of Women and Child Health Development, Government of Telangana,
CGIAR Research Program: Grain Legumes and Dryland Cereals
This work contributes to UN Sustainable Development Goal.