Covid-19 and food security | India and its jobs crisis
From
Published on

17.04.20

Impact Area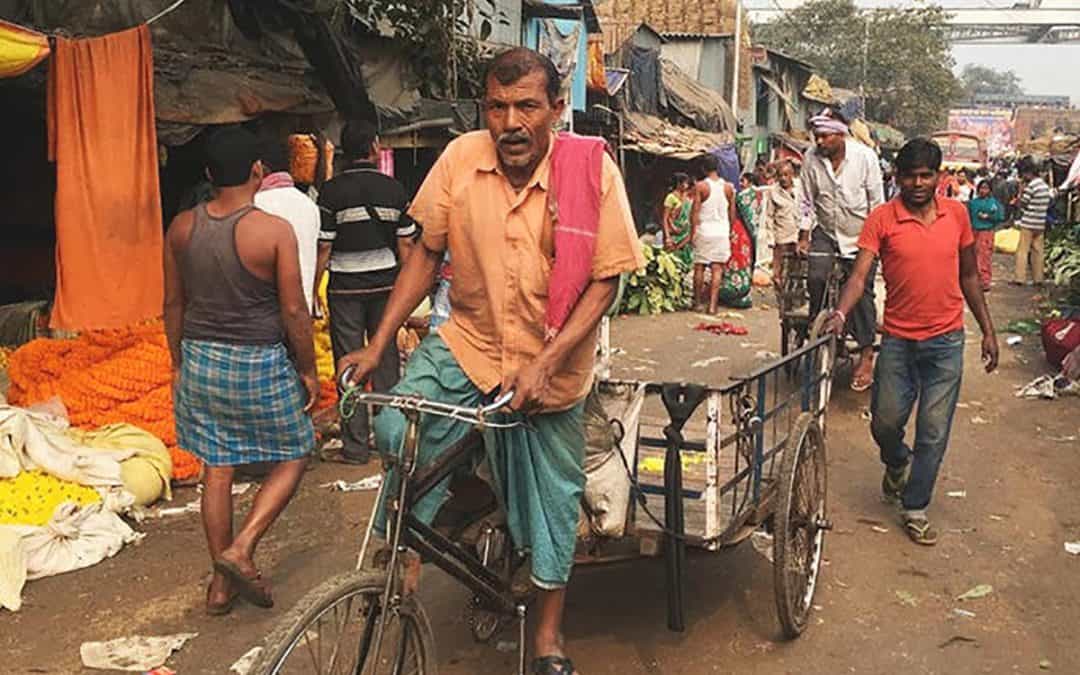 India is the country with the highest economic growth rate, albeit at a cost of growing unemployment, underemployment and job insecurity. With the arrival of the SARS-Cov2 coronavirus, the country faces not just a health crisis but also a social one, highlighted by the insecurity of casual jobs in cities. Bruno Dorin, an economist with CIRAD, analyses the situation in New Delhi.
This article is the first of a series on the impact of Covid-19 on food security in tropical countries.
The Covid-19 crisis began right in the middle of Rabi season, when winter crops are harvested before the heatwave from April to June. This year's harvest of irrigated crops – legumes, oilseeds, cereals, fruits and vegetables, etc – was looking promising.
However, on 24 March 2020, Nerendra Modi, Prime Minister of the Indian Union (29 states and eight territories), extended the original one-day "people's curfew" to a three-week lockdown [1].
Production saved "in the nick of time"
With 1.3 billion Indians, that meant more than a third of the world's population ordered to stay at home. The country's entire economic activity was under threat, starting with farming. In rural areas, tempers rapidly flared, particularly in Punjab, the country's rice and wheat granary, which practises heavily subsidized industrial farming.
On 27 March, the government backpedalled and exempted certain sectors from the lockdown: Mandis (regulated wholesale markets, notably for public grain supplies), combine harvester hire and movements between states, fertilizer, pesticide and seed production and packing, and field work.
With half the country's working population still involved in farming either full or part time, that should have "released" a lot of people. What remains to be seen is whether the Union's directives are applied by all state police forces and governments, which are theoretically responsible for agricultural policy.
Millions of migrant workers have lost pay
Moreover, will the measure be enough to maintain food security in India? The crisis has hit hardest in cities, where millions of people [2] had flocked from all four corners of the country to work for a few months before returning home to sow, weed or harvest a minuscule patch of land either belonging to them or if not to someone else.
From one day to the next, those Indian "migrant workers" found themselves without a daily wage, without street food suppliers, and even without a home, since they could no longer pay rent.
These "cyclical" or seasonal migrations are much more marked in India than conventional migration from rural to urban areas.
Living in cities is much too costly for entire families, who cannot afford the much higher rent, food, education and health costs. Job opportunities are also limited, and hard, thankless, and even dangerous for women in particular.
More than 80% of jobs in India are in the "casual" sector, without contracts, social cover, or pension or other rights.
The crisis has shone the spotlight on the issue of underemployment
Those casual workers, who find themselves dozens or even hundreds of kilometres away from their village and their families, tried to get home as soon as the lockdown was announced, by bus if they were running, or on foot, risking spreading the virus. Some of them were beaten or attacked on the way for not having followed official advice.
Many are still stuck in the cities. In Delhi, the local authorities have reopened schools to house and feed them, but word has often failed to get around. They often have difficulty accessing the public food distribution system (PDS), since ration cards from their home state are invalid.
Their race for survival is gaining pace and they now rely on NGOs and on the Prime Minister's Citizen Assistance and Relief in Emergency Situations Fund.
Economic growth in India has been running at almost 6.8% a year since 2001, and overtook that of China in the late 2010s, yet while half the country's population is under 25 and tens of millions of young people arrive on the job market each year, that growth has failed to provide them with jobs or guarantee their survival (Dorin 2019), and sometimes quite the opposite.
Increasingly qualified young people are stuck in poorly paid jobs, in agriculture and now in other sectors. By 2050, the number of Indian jobseekers (20-64 years of age) will top one billion.
Once again, the Covid-19 has highlighted the issue of unemployment or underemployment in an increasingly industrialized world that prioritizes concentration of capital, robotization, economies of scale, and labour and skill saving.
[1] On 14 April, the lockdown was extended by a further three weeks, until 3 May 2020.
[2] The number of seasonal migrants in India was put at between 15 and 55 million ten years ago or more.
Read full story: http://gldc.cgiar.org/covid-19-and-food-security-india-and-its-jobs-crisis/