Corteva and CGIAR Sign Memorandum of Understanding
From
Published on

23.04.19

Impact Area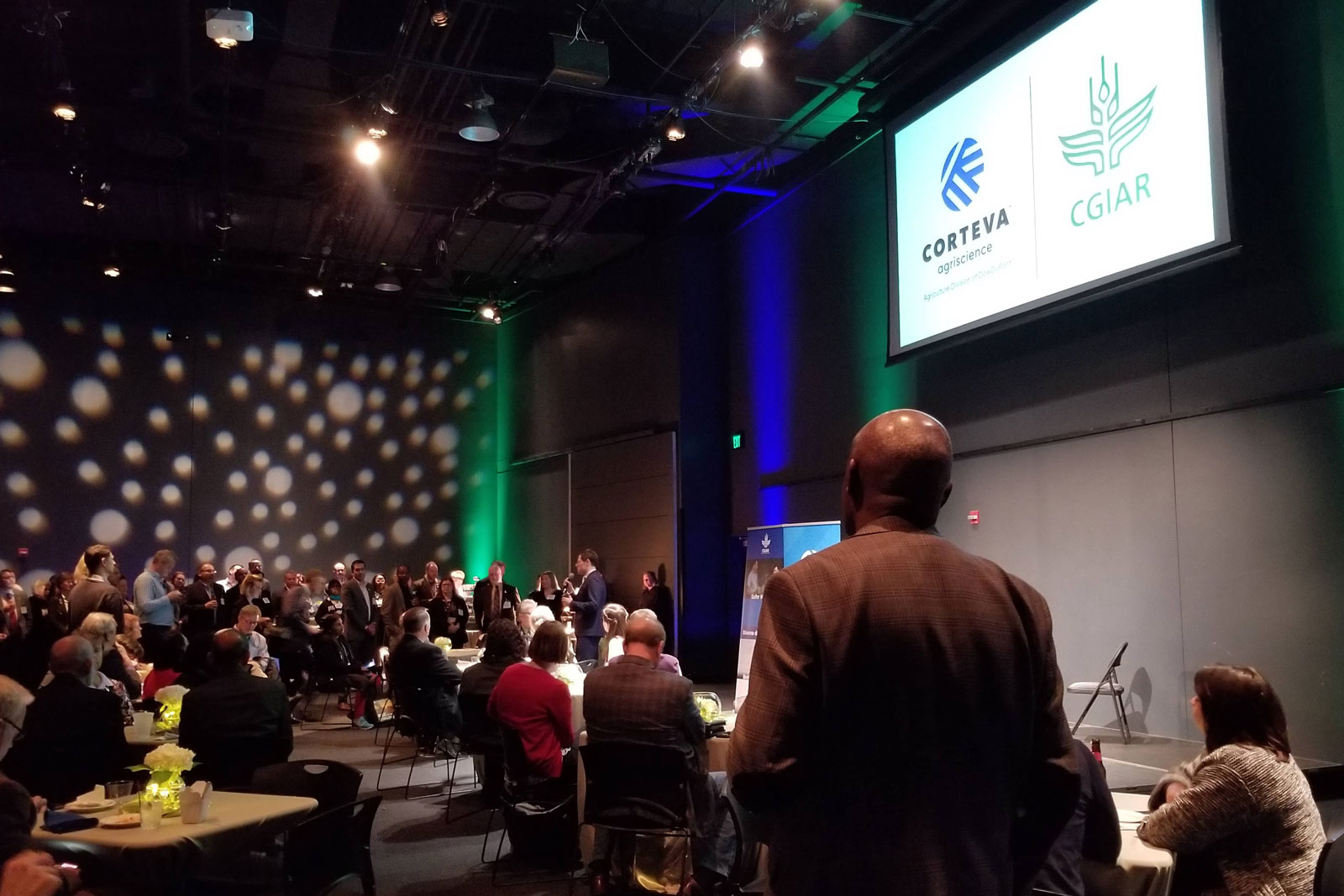 Food is the most basic human need and the engine of economic development. Yet while our world is growing, our food resources are not.
In order to meet global food demand by 2050, agricultural production will need to increase by 60%, and while agricultural innovation and research is stronger than ever, almost a billion people around the world go hungry. The sustainability of our food system is growing fragile in the increasingly complex context of climate change, economic development, policy, and trade. Knowledge and innovation are needed now more than ever, and we believe we can address these complex challenges if we draw on expertise that spans the private and public sectors.
This year, a powerful collaboration is brewing. CGIAR, the world's largest agriculture research partnership, and Corteva AgriscienceTM, Agriculture Division of DowDuPont, soon to be one of the world's largest agri-science companies following its intended separation from DowDuPont this June, have agreed to work together with the common goal of reaching a sustainable food future.
"In its new Business Plan 2019-2021, CGIAR has committed to deepen collaboration with the private sector to accelerate impact," said Elwyn Grainger-Jones, Executive Director of the CGIAR System Organization. "Our strengthened collaboration with Corteva Agriscience is an important step to drive forward our commitment to advance research and deliver impact."
Strength in partnership
Corteva Agriscience, a global leader in production agriculture with a presence in over 130 countries – has played a major role in shaping the modern agriculture industry. With a solid pipeline of active chemistry and technologies, Corteva Agriscience supplies growers with seeds, crop protection, and digital tools.
Simultaneously, CGIAR works through 15 global Research Centers to advance agri-food science and innovation to reach the Global Sustainable Development Goals. As the world's largest global agricultural innovation network, CGIAR brings evidence to policy makers, innovations to partners, and new tools to harness the economic, environmental, and nutritional power of agriculture in developing countries.  
Laying the groundwork for collaboration

 
On January 15, 2019, Neal Gutterson, Senior Vice President and Chief Technology Officer at Corteva Agriscience and CGIAR System Organization Executive Director, Elwyn Grainger-Jones, signed a Memorandum of Understanding with the overall goal of boosting the productivity of smallholder farms to enhance food security.
"We identified opportunities, through discussions with CGIAR system leaders, to channel our technology in partnership through the System organization. Identifying those common opportunities based on shared goals makes it easier for us to bring value to smallholder farmers in partnership with the CGIAR Research Centers," said Neal Gutterson. 
Sharing common purpose
CGIAR and Corteva Agriscience plan to collaborate in several areas of mutual interest:
1. Research
Collaborating on joint research projects

Participating in CGIAR Program committees

Exchanging scientists

Participating on CGIAR's Crops to End Hunger Initiative

Capacity building and R&D expertise
2. Strengthening markets
Leveraging CGIAR intellectual assets and intellectual property for impact and market reach

Developing digital tools for smallholder farmers

Strengthening local seed markets for scalable impact
3. Advocacy
Acting as a collective voice for global agricultural research, technology, innovation, and public/private partnerships
Reaching out, scaling up
By leveraging the relative strengths of our global public network and a powerful company, both CGIAR and Corteva Agriscience plan to take a major step in stride with the United Nations Sustainable Development Goals. Both agree to coordinate and communicate joint activities across all of the CGIAR Research Centers in order to reach the full potential in their collaborative work.
"Taking CGIAR Research Centers to market will generate social and economic value from investor and industry collaborations, as well as embedding CGIAR research within market value chains, which will lead to greater impact for smallholder farmers," explains Elwyn Grainger-Jones.
"We share a common purpose in enriching the lives of smallholder farmers," concludes Neal Gutterson.
By working together, the partnership between CGIAR and Corteva Agriscience can bring advanced agricultural research and innovation to those growing the majority of the world's food: the smallholder farmers. Together, we can respond boldly to the global call to address poverty, hunger, malnutrition, and climate change.
Photo: Elwyn Grainger-Jones, Executive Director of the CGIAR System Organization, and Neal Gutterson, Senior Vice President and Chief Technology Officer at Corteva AgriscienceTM, Agriculture Division of DowDuPont, announcing the new collaboration between CGIAR and Corteva Agriscience in October 2018 during World Food Prize/Borlaug Dialogue in Des Moines, Iowa.