Collective action and perseverance pay off for women rice farmers in Madagascar
From
Published on

14.10.22

Impact Area
Funders

African Development Bank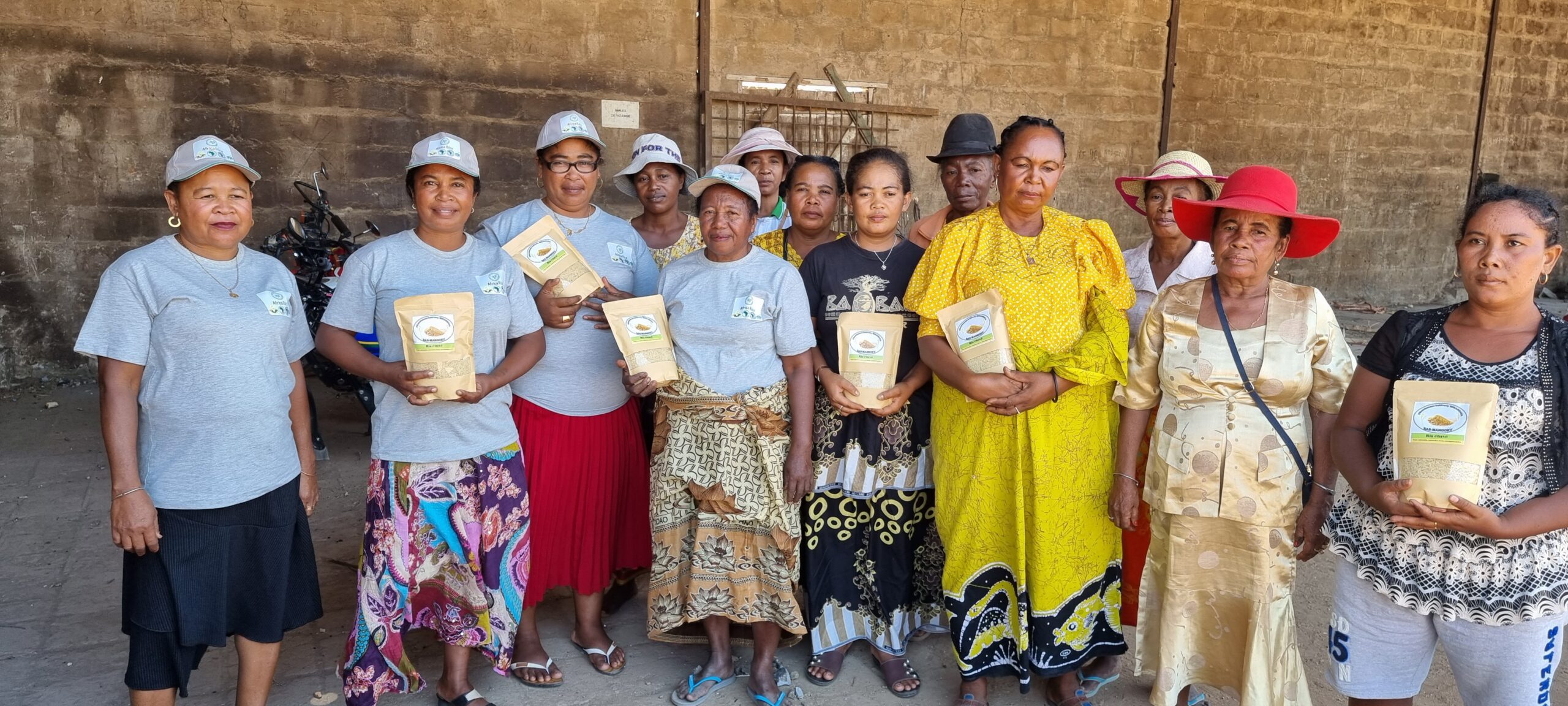 Modernization of agriculture requires farmers to adopt an entrepreneurial mindset and sustain the profitability of their farming operations. In fact, higher gains from effective entrepreneurial activities can be achieved and sustained when the engagement is intentionally inclusive and empowering.
Research on gender issues has sought to identify such inclusive models for women and youth that would give them access to productive resources and control over income and assets, and also generate employment opportunities for economic growth and agricultural development.
Studies conducted in several countries in West and East Africa have shown a wide range of best business opportunities for different categories of farmers and processors (age, sex, etc.), such as rice seed production and rice processing as lucrative activities, in which women farmers and processors do not adequately engage, because they do not have the requisite technical and managerial competence.
AfricaRice and its partners intentionally integrated gender-inclusive actions in a comprehensive package that included technical training with modules to enhance skills in marketing, entrepreneurship and organizational behavior. Results show that farmers in general, and women in particular, have started reaping the benefits of such action, as illustrated by the example of Mirandava women's group in South-Western Madagascar.
The Mirandava women's group in Andranomanintsy, Morombe district was created in 2008, bringing together 13 members. Since 2014, the group started to grow rice, as part of a collective action, supported by the South-West Region Agricultural Infrastructure Rehabilitation Project (PRIASO).  The group began to work with AfricaRice in 2019 on the production of certified seeds for irrigated rice.
They adopted the techniques for growing certified seeds including weeding three times, adding fertilizers, such as NPK and urea, removing off-types from the field and maintaining a buffer distance of two meters from neighboring plots. For seed production, they planted the FOFIFA 189 rice variety, which yields up to 7 tons of seed per ha, generating a net gain of 2 tons/ha, compared to the old traditional varieties and practices.
It is true that the group has received support from the African Development Bank in 2020, including a motorized tiller with trailer, a sprayer and a plow, as well as from PRIASO (through AfricaRice), including a threshing machine, a winnowing machine and a moisture meter, which are essential for preserving seed quality. But, it is essentially the women's hard work and perseverance, which have been the main driving force for their current growth, status, improvement of livelihood and economic empowerment.
For instance, the group took the initiative to set up a roadside demonstration plot, which attracted farmers to whom they also provide advice on good farming practices to increase crop yields. These farmers, in turn have become the main buyers of the produced seeds. The demonstration activities have also attracted producers from other districts and regions, who come to share their experiences and learn from the women, which is a source of pride for them.
The group has also showed interest in rice parboiling and marketing. After receiving training in rice processing, the women started to produce and sell parboiled rice and have already made this product known through participation in various regional and national fairs, which is an additional source of income for the group, because parboiled rice is sold at a higher price than non-parboiled rice.
The increase in wealth is real. For instance, Mrs Martine produced 4 tons of seeds and sold them and was able to buy a motorbike and also some zebu cattle to harness to the plow because some areas are not yet accessible to her by the power tiller. According to her, "I no longer have to depend on microcredit because the money I get from farming is sufficient for my family." Mrs. Isabelle, another member of Mirandava group, already produces parboiled rice for herself, and has a few hotels as customers in the city of Tulear.
The benefits to the members of the group are collectively noted. They remarked that before collaborating with AfricaRice, they used to share half their harvest with the owner of the land, but now they can afford to rent a plot of 50 ares from their resources. They hope to get their own plot in a few years with the extension of the irrigated area in the zone.
The Mirandava women's group has a message for other farmers' associations and especially other women who may envy their current position: "You have to persevere because the road is long and difficult to obtain quality results, but if others have managed to do it, we can do it too. Rice farming is really viable if you do it professionally. When women contribute to the family's income, we have more freedom in decision-making."