Climate Security in Colombia
From

Leanne Zeppenfeldt

Published on

18.11.20

Impact Area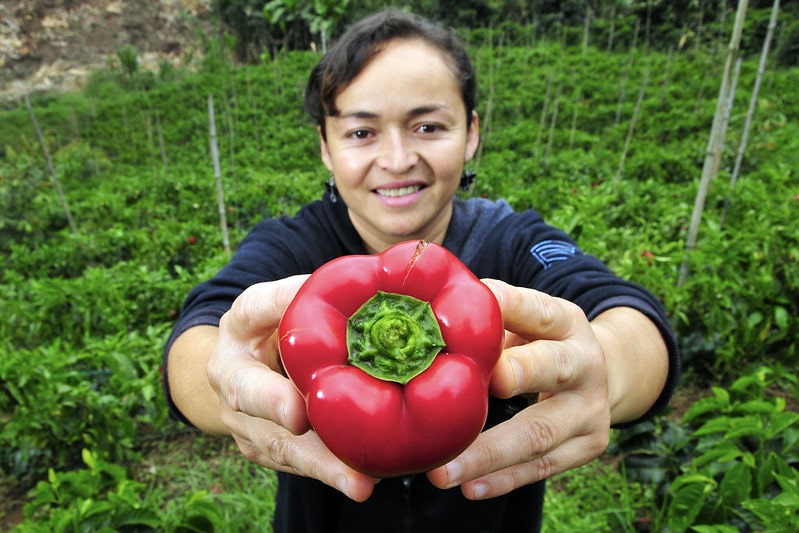 Written by: Nam Nguyen, Diego Osorio, Frans Schapendonk and Peter Läderach
CGIAR FOCUS Climate Security explores the role of climate and food systems for lasting peace. We do this through multidisciplinary research and by building strong networks with partners who want to contribute directly or indirectly to climate security and peacebuilding. Find out more and read all our latest stories. This blog post is one part of the 6-outputs from the CGIAR Climate Security Webinar Series. You can view the full webinar discussion here. The webinar is also available in podcast format from the UN Global Dispatches Podcast website.
In our fifth Webinar of the 6-part series on Climate Security, we were joined by:
Juan Lucas Restrepo, Director General, Alliance of Bioversity International and the International Centre for Tropical Agriculture (CIAT)
Frank Pearl Gonzales, Former Colombia Minister of Environment, Peace commissioner, and Lead Negotiator for Colombia's Peace agreement
Angelika Rettberg, Professor – Political Science Department, Universidad de los Andes, Colombia
Luis Fernando Suárez Vélez, Governor (e), Department of Antioquia, Colombia
The 2016 peace agreement between FARC and the Colombian government, although representing a milestone, demonstrated by its very nature, the root causes of the conflict are yet to be resolved. The agreement proposed a transformation of economic and social systems to address key issues on land tenure, national reconciliation, and economic inclusion. Yet many tangible challenges remain. Some of Colombia's economic, social and governance indicators in certain parts of the country are akin to an emerging middle-income country status, yet these co-exist with levels of poverty and malnutrition on par with standards in some of the least developed regions in the world. As of right now, 28% of Colombians live under the national poverty line[1]. Furthermore, the country has one of the world's high rates of inequality overall and in land ownership, with some 77% of land in the hands of 13% of landowners[2]. This dynamic emerges as both a result and a cause of the conflict, driven by high unemployment in rural areas and forced displacement by armed groups. Particularly vulnerable in this regard are rural populations faced with food insecurity, driven by a lack of sufficient income-generating activities, diminished institutions after decades of war, as well as adverse climate conditions.
One of the most important aspects of the peace agreement that addresses this inequality, unemployment, and food insecurity is the development of rural land reform policies, which aim to encourage displaced people to return to their homes and to boost local economies in underdeveloped rural areas. However, the Colombian government is likely aware that land reform can rapidly propel the expansion of extractive industries and agricultural production in areas previously inaccessible due to the armed conflict, including protected and highly biodiverse forests. As such, a fine balance must be found between economic incentives and environmental priorities.

Mr. Pearl emphasises how the legacy of prolonged conflict and a sense of systemic marginalisation by many communities has contributed to a lack of social cohesion within and amongst communities and individuals, resulting in a confrontational and distrustful atmosphere. Shifting these sentiments and views to allow for the legitimisation of those who think differently will be crucial in creating a consensus amongst the population to work on the drivers for change.

As noted by Dr. Rettberg, Colombia has come a long way with the achievement of the peace-agreement. As institutions and mechanisms are currently set-up to lay the foundations for a renewed Colombia, this is the opportune time to extend the country's vision towards long-term future prospectives. Contributing to this vision, our guest speakers highlighted three emerging pathways for Colombia:
1. Design holistic development interventions that address the root causes of insecurity in Colombia
In developing a roadmap for peace and prosperity, Colombia will have to carefully balance its socio-economic and environmental priorities. Within its rural reform and development policies, there is much room for innovative mechanisms to address poverty and food insecurity. Once institutions at central, regional and local levels in Colombia have been fully aligned, as noted by Frank Pearl, there will be increased opportunity for the development of economic incentives and infrastructural development to address poverty, through the support of local production. food storage, supply chains, or payment for environmental services.

2. Recognise the key role played by climate and food systems science in informing policy decisions
Resource management, biodiversity, and livelihoods, as well as social, institutional, and economic prosperity, are intrinsically dependent on the best possible incorporation of climate adaptation and mitigation strategies for long-term planning. These need to be understood not only as technical environmental measures but as intrinsic pillars of a peace effort, highlighting the direct relationship between livelihood security, environment, and peace.
3. The need for partnerships for effective delivery of results
As stated by Mr. Restrepo, science does not resolve anything if it is not effectively incorporated within policy-making processes. Here, effective collaboration among international and national organisations will play an important role in strengthening the technical capacity of institutions.

Representing CGIAR, the Alliance of Biodiversity International and the International Centre for Tropical Agriculture (CIAT) have both had a longstanding institutional presence in Colombia. Over the past decades, our organisation has contributed many research studies to contribute to building a food-secure future, reduce rural poverty, and promote sustainable management of natural resources in Colombia. CGIAR's programming in Colombia reflects in this regard the holistic and integrated approach required to effectively tackle the interface of food security, economic development, and peace in the Colombian context. CGIAR recognises that the scaling of climate-smart agricultural (CSA) technologies, practices, and innovations must emerge from both bottom-up and top-down initiatives, and must integrate economic, political and social dimensions in recognition of the integrated relationship between climate change and variability, the sustainability of rural livelihoods, and the potential for violent conflict. As such, CGIAR has been active in tackling issues at multiple levels.

If you are in a rush, check out a quick 2-minute summary video of our webinar discussion here:
[1] The World Bank, 2020. World Development Indicators.
[2] Departamento Administrativo Nacional de Estadística. 2015. Censo Nacional Agropecuario. Bogotá.