CIP contributes to policy discourse on accelerating economic growth and development for arid and semi-arid counties in Kenya
From

CGIAR Initiative on National Policies and Strategies

Published on

17.07.23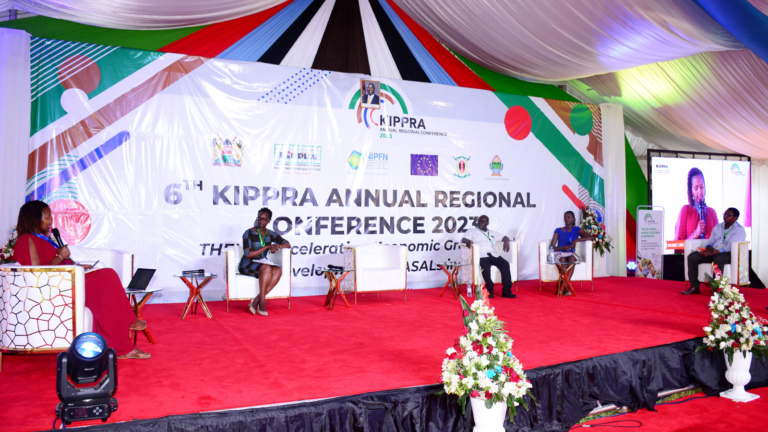 NEW! Read the 6th KIPPRA Annual Regional Conference Communique
The International Potato Center (CIP) participated in the 6th Kenya Institute for Public Policy Research and Analysis (KIPPRA) Annual Regional Conference held at Pwani University, Kilifi County from 21st to 23rd June. The conference brought together policy experts, stakeholders, youth, academia, policymakers, researchers, and development partners to discuss policy reforms, sustainable agriculture, infrastructure development, natural resource management, and digital innovation for unlocking the potential of Arid and Semi-Arid Lands (ASALs).
Under the theme "Accelerate Economic Growth and Development for ASALs in Kenya," the experts focused on strategies to foster economic growth and development in Kenya's ASALs. CIP, as one of the CGIAR centers contributing to the CGIAR Initiative on  National Policies Strategies (NPS) initiative, emphasized the critical role of innovative research on potato and sweetpotato in transforming Kenya's agrifood systems. They highlighted the need for policies promoting improved productivity through diversification of cropping systems, market linkages, trade opportunities, and job creation for women and youth in ASALs.
Joyce Maru, CIP Global Director (a.i) Sweetpotato Programme, acknowledged the unique challenges faced by ASALs and the potential of agriculture to drive economic development. CIP actively works with partners at national and county level and contributes to policy interventions promoting sustainable agricultural practices, resilience, and economic growth in these regions. Maru emphasized CIP's role in the CGIAR NPS initiative, involving policy research, stakeholder engagement, crisis response, capacity strengthening, youth involvement, knowledge sharing, and partnership development. CIP aims to formulate and implement sustainable agricultural policies that enhance resilience, market access, value chains, and inclusive economic growth in the ASAL region. The conference also highlighted CIP's significant research contributions in addressing climate change challenges in ASALs through sweetpotato agri-food systems.
Read the entire blog story on International Potato Center website.
---
Author:  Martha Awinoh, Senior Communication Specialist, CIP
Photo credit: KIPPRA
---
This work is part of the CGIAR Initiative on National Policies and Strategies (NPS). CGIAR launched NPS with national and international partners to build policy coherence, respond to policy demands and crises, and integrate policy tools at national and subnational levels in countries in Africa, Asia, and Latin America. CGIAR centers participating in NPS are The Alliance of Bioversity International and the International Center for Tropical Agriculture (Alliance Bioversity-CIAT), International Food Policy Research Institute (IFPRI), International Livestock Research Institute (ILRI), International Water Management Institute (IWMI), International Potato Center (CIP), International Institute of Tropical Agriculture (IITA), and WorldFish. We would like to thank all funders who supported this research through their contributions to the CGIAR Trust Fund.