CIMMYT project helps educate farmers in Zimbabwe on seed practices and improved varieties
From
Published on

26.10.22

Impact Area
Funders

Switzerland, United States of America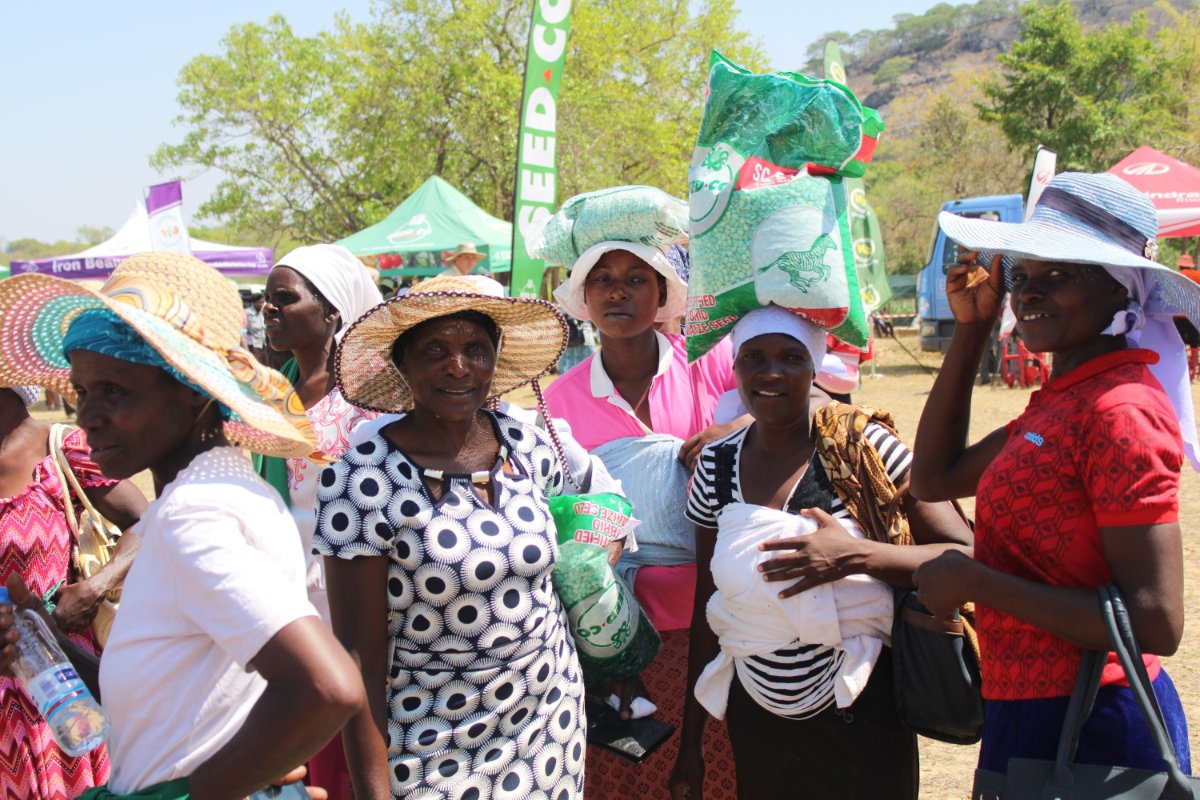 The International Maize and Wheat Improvement Center is working with its partners to support farmers in Zimbabwe embrace conservation agriculture and improved seed varieties to achieve more successful harvests in areas affected by climate change.
The R4 Rural Resilience and ZAMBUKO initiatives aim to help farmers through a number of activities. These include demonstrations of seed and conservation agriculture, field days and seed fairs, which look to develop farmers' awareness about improved seed and novel varieties.
The fairs highlighted the importance of good seed practices and the benefits of improved varieties to both farmers and seed companies, who attended the events.
The initiative, which is run in collaboration with the Department of Specialist Services (DRSS), the Agricultural Advisory and Rural Development Services (ARDAS) and the World Food Program (WFP), with financial support from the Swiss Agency for Development and Cooperation (SDC) and the United States Agency for International Development (USAID), helps those in the industry see the advantages of improved varieties over old ones, which may have been on the market for more than 20 years.
"It is now very critical for farmers from all walks of life to abandon old varieties which they have grown for decades and adopt the recently released varieties that offer some solutions to the new challenges," said James Gethi, a seed systems scientist with CIMMYT. "There has been massive investment in research that has specifically focused on addressing the adversity of climate change and variability it brings, such as prolonged dry spells, heat stress, and new diseases that have emerged. As such, it is beneficial to the farmer to shift to the latest varieties as they suit the environmental context better compared to the older varieties."
In recent years, Zimbabwe has experienced erratic rainfall and severe heatwaves during summer months, which is a key period for the growth of crops. This has led to low yields in various parts of the country, but the situation could improve through the combination of improved agronomy and varieties presented by seed and seed distribution companies who attended the fairs.
"Together with CIMMYT and other partners, we have invested in developing varieties that will help us achieve our annual food security goals," added Busiso Mavankeni, head of the Crop Breeding Institute (CBI), which is housed within DRSS. "As such, farmers not adopting these new varieties contribute towards a huge waste of beneficial and relevant scientific research. Whilst it is not the farmers' fault why they haven't adopted them, we need to take deliberate steps to ensure farmers are aware of these varieties. That is the only way we can stimulate their adoption."

Improving seed management
One of the project's core aims is to promote positive seed management practices to both farmer and seed companies. In fact, these seed companies have a key role to play in supporting farmers with this knowledge. Understanding how to store crops in optimal conditions, for example, can lead to a more successful harvest.
"It is essential for both the farmers and local agro dealers to know how to manage seed before sale and planting," Gethi added. "For example, rarely do farmers check the expiry date of seed when they buy them from an agro dealer. Secondly, when the seed needs to be stored, it is essential for it not to be stored close to heat sources or to be unnecessarily exposed to the sun for prolonged periods. This compromises its germination potential. Furthermore, it is crucial for farmers to only buy seed from registered and reputable agro dealers."
These important messages were relayed to farmer throughout the project's demos and field days, which led up to the seed fairs.
In addition to purchasing seeds, farmers had the opportunity to learn about new developments and build relationships in the private sector by attending the fairs.
"With these seed fairs, we have not only brought this multitude of seed and machinery companies to your doorstep so that you easily access good seeds, but so that you can also talk and understand what new products are on offer," explained Christian Thierfelder, principal cropping systems agronomist, innovation science leader for Africa within CIMMYT. "For this coming season, we do not want to see you growing ancient varieties but would want to see you purchase new products which perform better than the old ones."
ARDAS agricultural extension officer Canaan Jakata was also encouraged by the success of the project's activities and is looking forward to seeing the farmers who attended the seed fairs enjoy a successful yield during the upcoming summer season. "I am very keen on assessing the performance of farmers in my ward who bought these improved varieties at the seed fairs as compared to neighboring wards in the district which did not. Regardless of how the season turns out, I expect superior performance from my farmers," said Jakata.

Cover photo: Jubilant farmers after buying seed during day two of a fair in Masvingo District, Zimbabwe. (Photo: Tawanda Hove/CIMMYT)