CGIAR Scientist Receives the 2022 Norman E. Borlaug Award for Field Research and Application
From
Published on

01.09.22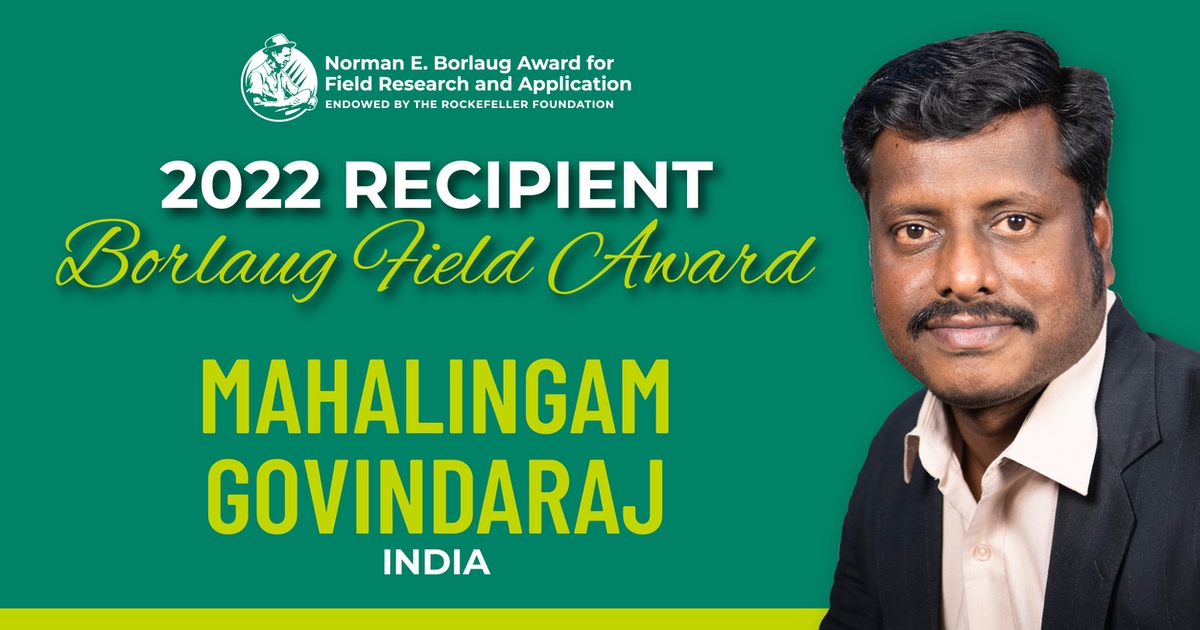 Dr. Mahalingam Govindaraj explains how CGIAR helped him to develop the ground-breaking work which led to his prestigious Norman E. Borlaug Award for Field Research and Application
CGIAR researchers are known for leading efforts towards sustainable development across the world, and earlier this week another senior scientist and CGIAR researcher was formally recognized for his ground-breaking work, as Dr. Mahalingam Govindaraj was announced as the recipient of the 2022 Norman E. Borlaug Award for Field Research and Application (Borlaug Field Award) at The National Symposium on Food, Nutrition and Environmental Security in New Delhi, India.
Dr. Govindaraj, who is Senior Scientist for Crop Development at HarvestPlus and the Alliance of Bioversity International and CIAT, grew up with an agricultural heritage: "I was raised in the south of India where the majority of the crop was rice," he explains. "My family had been farming for many years; I was actually the first in my family to go all the way through school and graduate from college. I loved studying science and felt drawn to researching how scientific methods could have a positive impact for agriculture. From the outset I was fascinated by breeding and genetics and the possibilities of growing crops beyond rice, which could thrive in more challenging environments than the wetlands where I grew up."
After earning his Bachelor of Science degree from the Agricultural College and Research Institute, Killikulam, and Master of Science and Doctorate degrees in plant breeding and genetics from Tamil Nadu Agricultural University, Dr. Govindaraj went on to become a CGIAR researcher at the International Crops Research Institute for the Semi-Arid Tropics (ICRISAT) from 2011 until 2021. "As soon as I found out that CGIAR was interested in the idea of developing nutritional security within ICRISAT, I knew I wanted to be a part of that project," he adds.
It was working here that Dr. Govindaraj became involved in developing the world's first biofortified pearl millet, called Dhanashakti, after which he led its large-scale dissemination, which has been proven to provide women with more than 80% of their recommended daily allowance of iron, compared to only 20% in regular pearl millet varieties.
Another crucial part of this work was convincing the Indian Council of Agriculture Research (ICAR) under the Indian Government to write iron and zinc minimum standards into their national cultivar release policy – pearl millet is the first crop and India was the first country in the world to achieve this. It was a long journey to get to this point and Dr. Govindaraj's role wasn't just that of science researcher; he played an active part in bringing together the public and private sectors in an effort to convince seed companies that they had developed a good product, after which the growers had to be convinced to plant the crops: "We had to reach acceptability within this new development by showing the growing potential of this biofortification product so we could commercialise it," he remembers. "We had to work within a public sector framework as well as getting the private companies on board and there were many challenges but together with National partners and my colleagues at ICRISAT, we worked extremely hard to get to where we are now; I owe them a great deal."
Today more than 120,000 farming households in India grow biofortified millet, and it is estimated that by 2024 more than 9 million people in India will be consuming iron- and zinc-rich pearl millet and living healthier lives as a result. In sub-Saharan Africa, Dr. Govindaraj's bred varieties are now being grown in Kenya, Zimbabwe, Sudan, Niger, Nigeria and Senegal.
Dr. Govindaraj is a particularly apt recipient of the Borlaug Field Award, since Norman E. Borlaug directly influenced the direction of his work: "His work on the importance of local circumstances on major crops motivated my research from the very beginning. I was always very inspired by the quote from Norman E. Borlaug who said: "Food is the moral right of all who are born into this world."
Ultimately, Dr. Govindaraj says he is spurred on by the thought of what needs to come next. The second quote which spurs him on is Prime Minister Nehru's famous statement: "Everything else can wait, but not agriculture.''
"It has never been more important to get nutrition security onto the agenda across the world through agricultural intervention," Dr. Govindaraj states. "We are pleased to have minimum levels agreed by the Indian Government, but ideally these levels will soon be raised to biofortification targets, and other countries will follow our lead – there is much work to be done with the help of CGIAR."
Header photo by the World Food Prize Foundation.