CGIAR Researchers and Centers Recognized With Four International Food Prizes
From
Published on

15.09.21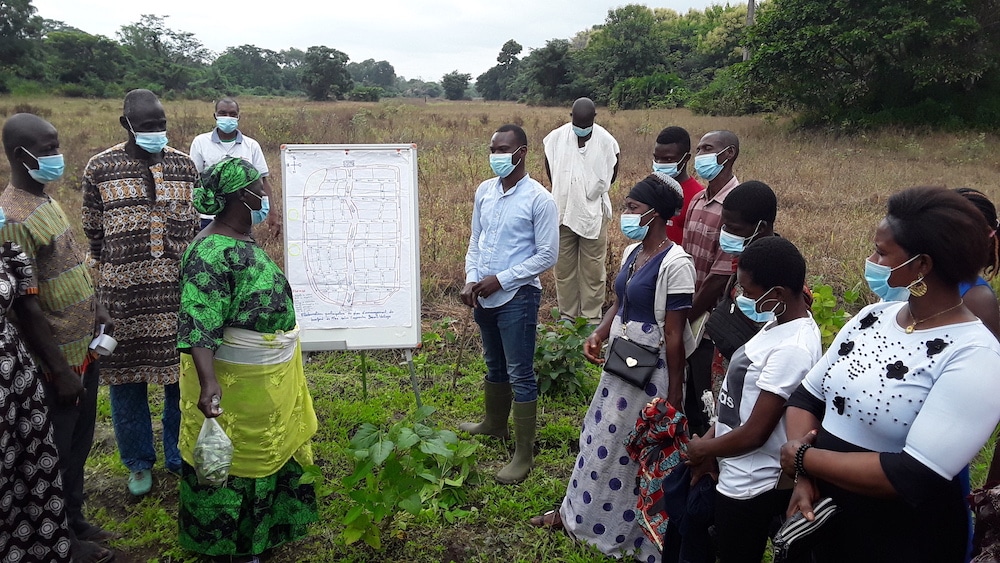 CGIAR researchers and Research Centers have been recognized this year by some of the world's most prestigious food prizes for their scientific contributions and innovations, which have resulted in greater global food security and helped millions of people worldwide. Among the honors is a double win at the 2021 World Food Prize with researchers Shakuntala Thilsted being named World Food Prize laureate and Elliott Dossou-Yovo winning the Borlaug Field Award.
"Recent accolades awarded to CGIAR scientists underscore the global recognition of the important contributions of our work towards achieving the Sustainable Development Goals. CGIAR researchers and innovations are at the forefront of efforts to enhance the climate resilience of food, land and water systems, to boost sustainable production and food security for small-scale producers and consumers, and to improve nutrition for the world's most vulnerable," said Claudia Sadoff, Managing Director, Research Delivery and Impact, and Executive Management Team Convener, CGIAR.
CGIAR scientists win the 2021 World Food Prize and Borlaug Field Award
During a special presentation at this year's Africa Green Revolution Forum (AGRF), Elliott Dossou-Yovo, a CGIAR researcher from AfricaRice, was named the 2021 Borlaug Field Award laureate. Associate Principal Scientist and Agriculture and Climate Change Specialist, Dossou-Yovo was recognized for initiating innovative water management systems for resilient rice production in the face of climate change, and his research and close collaboration with smallholder farmers throughout West Africa.
Dossou-Yovo drove the widespread adoption of "Smart-Valleys," a low-cost, leading-edge approach to decrease the impact of drought on rice plants, which led to increased production of rice and farmers' incomes and reinforced food security. He also led the adaptation of the Alternate Wetting and Drying irrigation method (AWD) in Côte d'Ivoire and Burkina Faso to address water scarcity, temperature changes, rainfall variabilities and other climate change impacts affecting rice farmers.
"Smart-Valleys" and AWD are part of a collection of CGIAR innovations that have changed the world over the past 50 years.
"I am truly honored to be selected as the tenth recipient of the Borlaug Field Award, named after the great agricultural scientist and World Food Prize founder, Norman Borlaug," said Dossou-Yovo. "I was inspired by his credo, 'take it to the farmer.' Agriculture is the wisest investment we can make since it will ultimately contribute the most to real wealth, morality and satisfaction. Now more than ever, our collective actions are required."
Dossou-Yovo's win follows the announcement earlier this year that Shakuntala Thilsted, a CGIAR researcher and Global Lead for Nutrition and Public Health at WorldFish, was named the 2021 World Food Prize Laureate. Thilstead was recognized for her groundbreaking research, critical insights and landmark innovations in developing holistic, nutrition-sensitive approaches to aquaculture and food systems. She was the first to establish that many small fish species commonly eaten across Southeast Asia are an important source of essential micronutrients and fatty acids, and improve the absorption of nutrients in plant-based foods.
Thilsted Honored with Arrell Global Food Innovation Award
Today, Shakuntala Thilsted was also awarded the 2021 Arrell Global Food Innovation Award for her pioneering nutrition-sensitive approaches, which also honor local, culturally appropriate solutions to improve the nutrition, health and development of children and mothers across Asia, Africa and the Pacific. Her research has reshaped the scientific understanding of the benefits of fish in diets, demonstrating that these affordable and locally available foods offer life-changing benefits for children's cognitive development in their first 1,000 days of life and the nutrition and health of their mothers.
"Aquatic foods offer life-changing opportunities for millions of vulnerable women, children, and men to be well-nourished and healthy. The Arrell Food Innovation Award recognizes the value of research that builds on local diets, food production and cultures in low-and middle-income countries. This is crucial to shaping the global discourse on nutrition and public health, as well as our shared call to action to transform food systems towards sustainable healthy diets for all," said Thilsted.
A CGIAR Research Center wins the Africa Food Prize
The International Crops Research Institute for the Semi-Arid Tropics (ICRISAT), a CGIAR Research Center, has been awarded the 2021 Africa Food Prize, for work that has improved food security across 13 countries in sub-Saharan Africa, helping more than 25 million farmers.
The African Food Prize highlighted ICRISAT's work with fellow CGIAR Research Centers, the International Center for Tropical Agriculture (CIAT) and the International Institute of Tropical Agriculture (IITA), on the Tropical Legumes Project, which ran from 2007-2019. The project developed 266 improved legume varieties and almost half a million tons of seeds for a range of legume crops, helping more than 25 million farmers facing climate change and pest and disease outbreaks.
"The Africa Food Prize is a major accolade and recognition of ICRISAT's work in Africa and reinforces our belief that agriculture can be profitable for smallholder farmers. It is also testament to the work of our close collaborators, the national agriculture research and extension systems, without whose support this would not have been possible," said ICRISAT Director General Jacqueline d'Arros Hughes.
Header photo: 2021 Borlaug Field Award winner Elliott Dossou-Yovo works on Smart-Valley development plans with farmers. Photo by World Food Prize Foundation.