CGIAR One Health Initiative pilot project seeks to improve food safety in Vietnam's traditional markets
From

CGIAR Initiative on One Health

Published on

18.12.22

Impact Area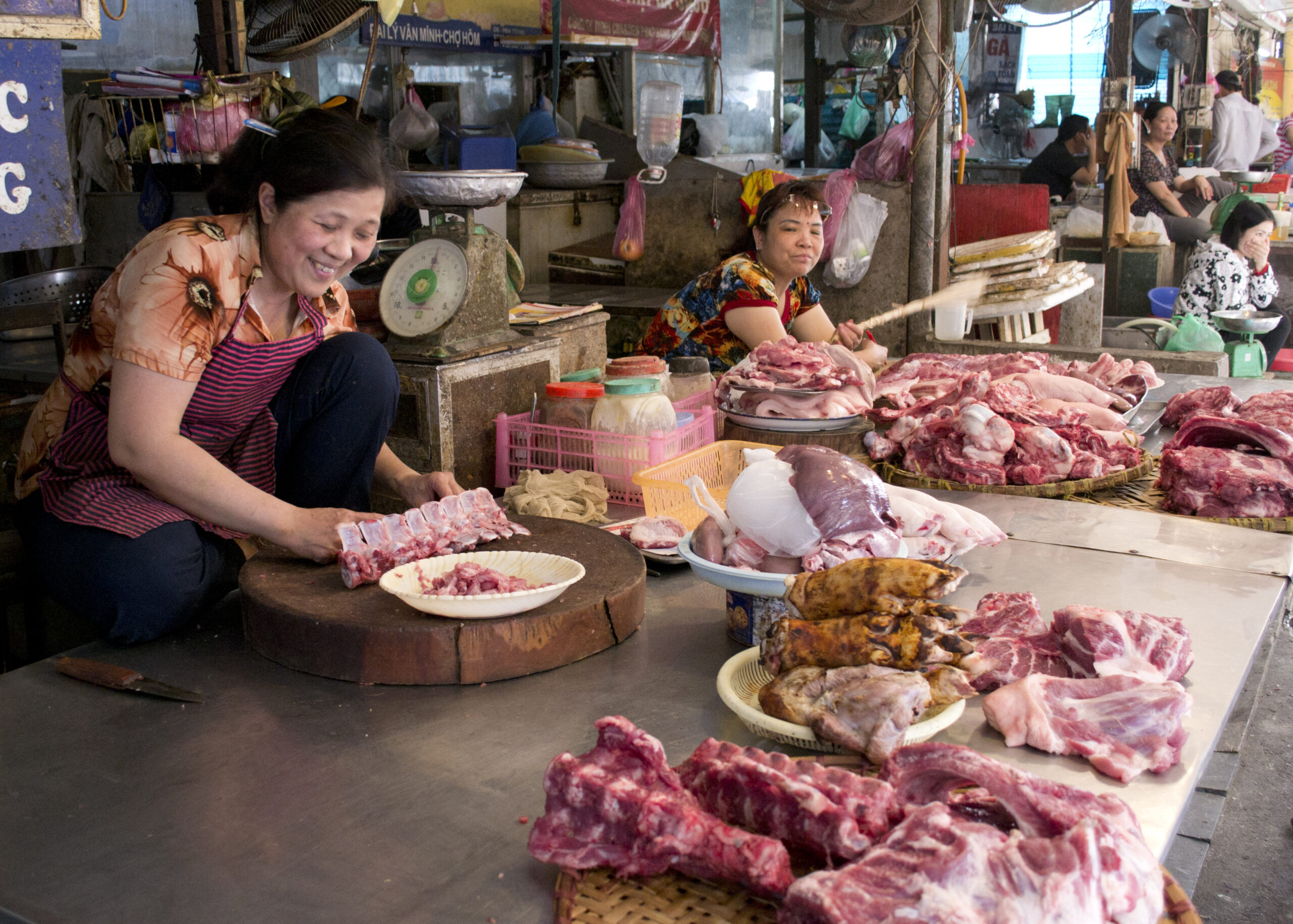 In Vietnam, pork is the most widely consumed meat and over 90% of this is sold unrefrigerated through traditional markets.
Previous research by the International Livestock Research Institute (ILRI) found that over 60% of meat samples collected from these markets were contaminated with Salmonella.
This situation is typical of food markets in low- and middle-income countries, where foodborne illness is estimated to claim 420,000 lives and cause a productivity loss of USD 95 billion annually.
Adherence to basic food and hand hygiene practices among meat vendors has the potential to reduce contamination cost-effectively, but a lack of either market incentives or regulatory enforcement of food safety standards implies weak incentives to do so.
Punitive approaches to enforcement of food safety standards can backfire. For example, vendors may evade regulators by moving to informal markets that lack access to even basic water infrastructure.
Further, shutting down non-compliant vendors could reduce access to nutritious foods among the low-income consumers who typically rely on traditional markets.
Uptake of previous voluntary programs to improve food safety further up the value chain has been limited, possibly due to the low visibility of these programs to consumers and uncertainty among firms about the commercial benefits of participation.
The CGIAR Initiative on One Health is planning a randomized controlled trial in 68 traditional pork markets across five provinces in Vietnam to test a market-driven approach to improving food safety, in which vendors are trained on best practices and can enrol in a food safety rating program.
Piloting of the intervention started in December 2022 and results are expected by December 2024.
Enrolled vendors will be monitored and given a rating based on their observed food hygiene practices. A consumer awareness campaign will accompany the roll-out of firm ratings.
The intervention builds on successful voluntary food safety rating programs in Thailand and elsewhere.
By measuring the business impact of a food safety rating system, the study will shed light on the sustainability of voluntary food safety upgrading.
If vendors with good ratings capture more consumers, this is expected to drive more vendors to adopt the rating system and adhere to good hygiene practices.
If successful, this approach could be a way to improve food safety in traditional markets without the downsides of punitive regulatory enforcement.
For more information, contact Trang Le of ILRI (t.le@cgiar.org) or Vivian Hoffmann of the International Food Policy Research Institute (v.hoffmann@cgiar.org).
Photo credit: Stall owners watch over their pork and beef stock in a local wet market, Hanoi, Vietnam (ILRI/Andrew Nguyen)