CGIAR launches the Panel Pledge for more panel diversity and inclusion
From
Published on

09.03.21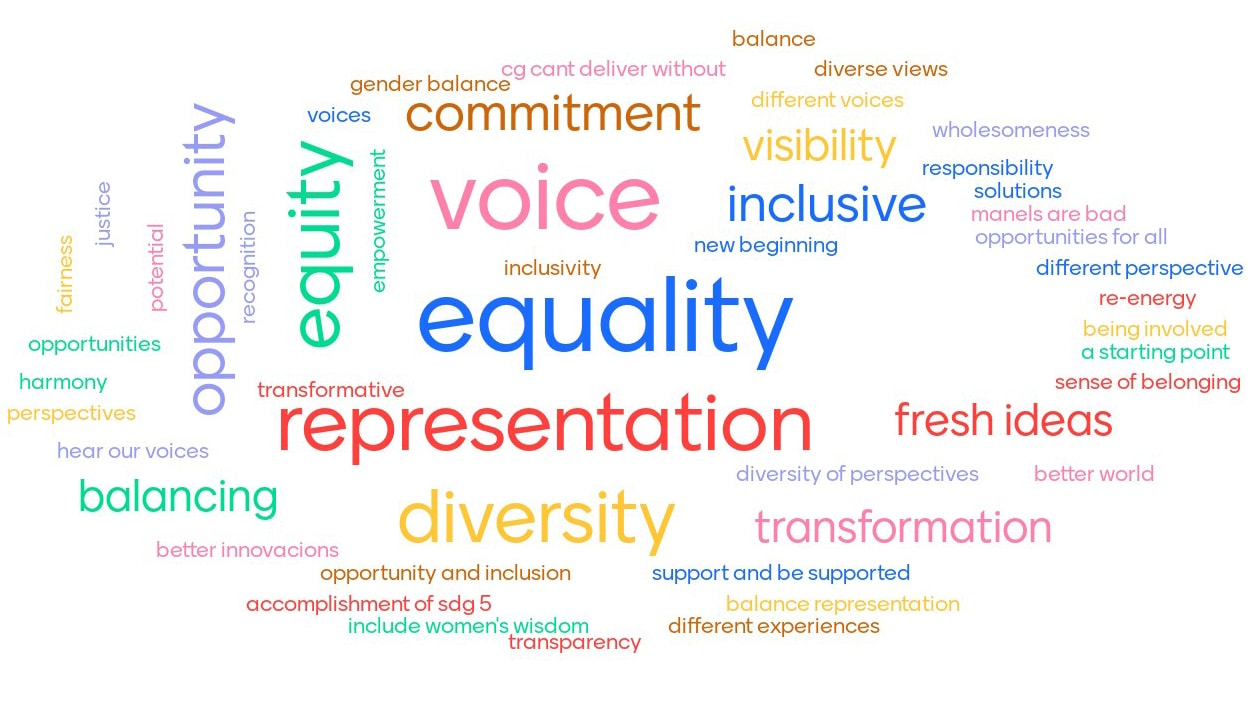 CGIAR launched its Panel Pledge on Monday, March 8th, International Women's Day, committing CGIAR signatories to requesting diversity on panels and in other public discussions where they speak.
Diversity on panels in conferences and other professional events has faced growing attention over the past decade, leading numerous organizations to initiate their own panel pledges that commit signatories to participate only on panels that are diverse.
All staff are welcome to participate in CGIAR's Panel Pledge, while senior managers are particularly encouraged to signal their commitment. CGIAR guidelines explain how to implement the Pledge.
"I'm really proud to launch the new Panel Pledge on International Women's Day," said Elwyn Grainger-Jones.
"It is an excellent opportunity to foster greater diversity in all its forms, on panels, at conferences, in forums, and at other events where staff participate," he said, expressing his excitement to be among the first signatories.
More than 230 colleagues participated in the virtual launch, joining from all over the world. As the webinar began, an initial 16 people had signed the Pledge, but by the time the one-hour webinar was finished, that number had grown to 168. Numbers continue to grow.
"Making a conscious effort to hear the voices of individuals from different genders and different backgrounds can bring new ways of looking at things," says Fiona Farrell, CGIAR's Senior Advisor for Gender, Diversity and Inclusion (GDI).
"This diversity of thought can lead to more interesting and more informative discussions," she added. "It also ensures that our conclusions have greater legitimacy when we have heard different voices."
Fiona said that "diversity" implies the principle of respect. If a panel is discussion is focused on a particular country or group, then representatives from that country or group should also be present on the panel, she said.
KEYNOTE AND FIVE SENIOR STAFF
Keynote speaker, Caitlin Kraft-Buchman, CEO of Women at the Table and Co-founder of International Gender Champions, recounted her experiences with Panel Pledges over several years. As the concept took hold, some speakers had to make their point by walking out of sessions. Others picked women from the audience to join them on the panel.
 "What we have found most of the time, is that the people who are doing all male panels don't understand that they have done them," she said. "Once they do see that, they want to rectify it."
Five senior staff also spoke at the webinar, explaining their motivations for signing the pledge. Many shared personal anecdotes, and they all encouraged others to follow their lead and sign up for the Pledge. They were:
Details of CGIAR's Panel Pledge, including the opportunity to sign, can be found here.
If you missed the launch event, you can view it here.