CGIAR and Vietnam Ministry of Agriculture and Rural Development promote direct seeding to transform Mekong Delta
From

CGIAR Initiative on Excellence in Agronomy

Published on

12.04.23

Impact Area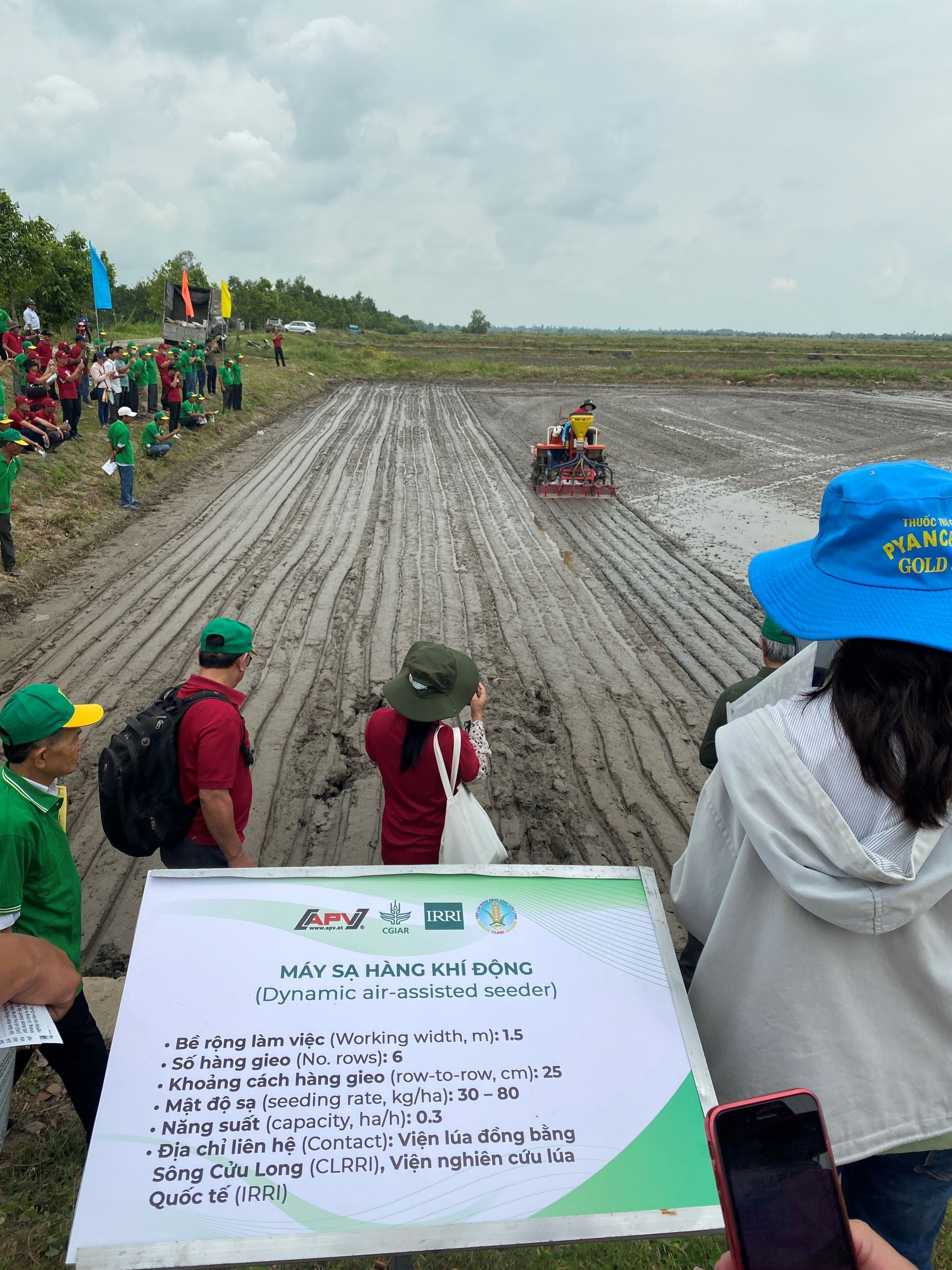 The CGIAR Initiatives on Excellence in Agronomy and Asian Mega-Deltas, in cooperation with the Department of Crop Production and Cuu Long Delta Rice Research Institute (CLRRI), conducted a field demonstration on mechanized direct-seeding in Can Tho City to promote new technology for increasing farming efficiency and reducing carbon footprint in rice production. More than 300 farmers from the Mekong River Delta attended the event to observe different agricultural types of machinery and technologies on direct-seeded rice. from local and international companies and institutions such as the International Rice Research Institute (IRRI), CLRRI, Binh Dien Fertilizer, APV, YANMAR, Tu Sang, Dong Nhan, and Saigon Kim Hong.
Also, present at the event were experts from IRRI and CLRRI, officials and representatives from the Ministry of Agriculture and Rural Development and its attached agencies, local government units, cooperatives, farmers groups, and other related stakeholders.
Nguyen Van Hung, leader for Postharvest and Mechanization at IRRI, provided basic information on dynamic air-assisted seeder, tractor-mounted dynamic air-assisted seeder, hill seeder, tractor-mounted hill seeder, self-propelled hill seeder combined fertilizer placement, and drone seeding.
Dr. Hung also showed and explained to the participants the differences between rice fields and farming practices applied mechanized and normal broadcast seeding. The participants can see and understand the advantages of the mechanized seeded rice compared to the rice planted using broadcast seeding 25 days after showing.
The farmers are the most important guests at the event according to Bas Bouman, research director and head of the Sustainable Impact Department at IRRI. Dr. Bouman stressed to the farmers that mechanization of seeding is a new way of producing and establishing rice. He shared that mechanized direct-seeding makes rice farming less labor intensive and enables crops to mature faster than the transplanted s.rice. Dr. Bouman also challenged participating private companies to continue testing and improving their machines and help in uplifting the lives of farmers.

CLRRI Director Tran Ngoc Thach acknowledged the support of international and local research partners including IRRI in developing machinery and models that farmers can apply in their fields. Dr. Thach called on policymakers attending the event to formulate strategies that will provide farmers with more access to agricultural machinery. He also expressed his support to the exhibitors for improving the efficiency and functionality of their farm machines.
A farmer participating in the event said "The new technology works very well, this would help reduce seed rate and other inputs, particularly reduce the hazardous labors."