CGIAR and national partners move toward stronger crop breeding partnerships to benefit Sub-Saharan African farmers
From

CGIAR Initiative on Accelerated Breeding

Published on

11.07.22

Impact Area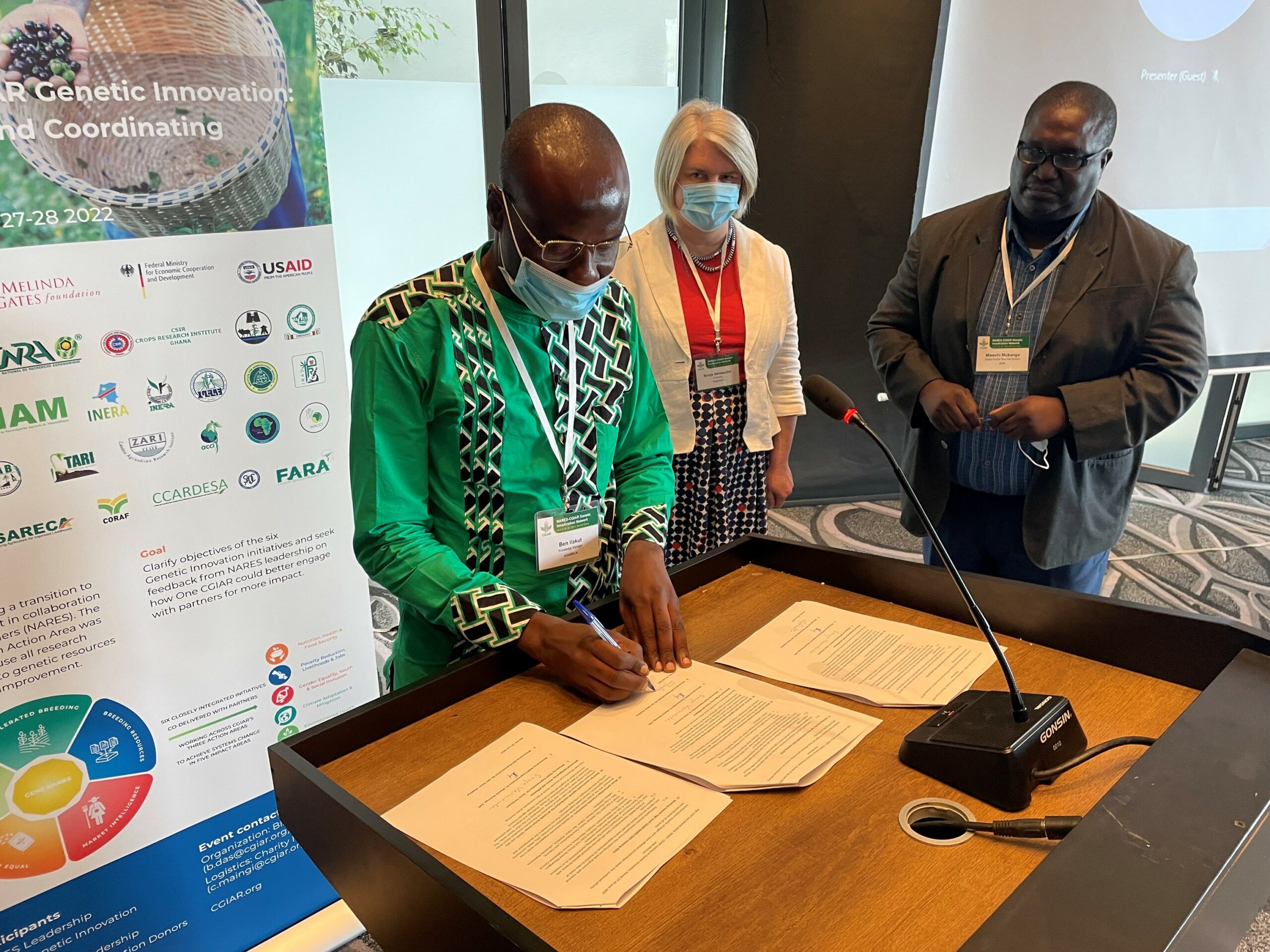 Africa's agricultural research institutes are on a clearer path to developing and delivering more and better nutrient-rich, climate-resilient crops through strengthened partnerships with CGIAR. Enhanced collaboration on crop breeding strategies and technologies is a major step towards developing varieties demanded by farmers and consumers.
On June 27–28, 2022, senior leaders from over a dozen National Agricultural Research and Extension Systems (NARES) and CGIAR mapped out collaboration principles on improving breeding programs and delivering new varieties faster to smallholders. Sub-regional organizations and development partners also contributed to the high level meeting, titled NARES–CGIAR Genetic Innovation: Strengthening and Coordinating Engagement.
The group agreed on 20 principles including pursuing the work as equal partners, sharing new technologies and services, jointly working toward national priorities and breeding targets, and supporting the development of a new generation of research scientists. The resulting "Aide Memoire" document will guide the partnerships going forward.
"As Africa struggles with climate impacts and challenging demographic shifts, the best scientists need to work together — from global to local," said Sonja Vermeulen, CGIAR's Global Director of Genetic Innovation. "This agreement is a huge step toward CGIAR and African institutions aligning to respond to food system threats."
The high-level discussions saw forthright and robust dialog on how CGIAR can best support African priorities as part of its transition to a unified 'One' CGIAR. The transition aims to unify and strengthen CGIAR so it can deliver more impacts for low- and medium- income countries in Africa, Asia and Latin America.
CGIAR and African breeding programs have brought large-scale benefits through products such as disease resistant rice in West Africa; biofortified sweet potatoes in Zimbabwe, and drought-tolerant maize in Uganda — to name only a few.
But Africa needs more high performing, climate resilient, nutritious crops right now. To get there, public breeding programs need to adopt the best technologies and practices quickly enough to produce the varieties needed. At this stage, there are still many smallholders that do not have access to more resilient, nutritious and productive crops. This has led to insecurity for smallholder farmers and the communities who rely on their harvests.

"With this agreement, Uganda and other countries across Africa take a step towards better breeding and developing the best crop varieties," said meeting Chair Godfrey Asea, Director of Uganda's National Crops Resources Research Institute (NaCRRI)-Namulonge. "Our long partnership with CGIAR has just grown stronger, which means better products and agricultural technologies for our farmers and food systems."
The event featured presentations and feedback sessions on CGIAR's new Genetic Innovation research portfolio, including sessions on Market Intelligence, Accelerated Breeding, Seed Equal, and Breeding Resources. These new Initiatives will be integrated within CGIAR-NARES breeding partnerships, supported over the years by CGIAR Excellence in Breeding's NARES engagement team, led by Bish Das.
"I'm hopeful this refreshed partnership, along with CGIAR's new portfolio, will help us adopt the best technologies and approaches," said Joyce Malinga, Director; Planning, Performance Management and  Quality Control; Kenya Agricultural and Livestock Research Organization (KALRO), who also represented the Director General. "Together, we can move forward as equal partners, and meet the needs of our farmers and populations."
The Aide Memoire builds on CGIAR's recent efforts aimed at building stronger alignment with partners in Africa and other key regions, and strengthening capacity in African institutions to respond to growing threats to food systems.  A joint NARES and CGIAR team will follow up on the actions toward building even stronger collaborations and reaching greater impacts.
Authored by Adam Hunt, Communications Lead, CGIAR Excellence in Breeding (EiB), with input from CGIAR, EiB and NARES colleagues. Contents reflect the information and views of the authors/quoted individuals only. We would like to thank all funders who support this research through their contributions to the CGIAR Trust Fund, with particular thanks to the Australian Centre for International Agricultural Research (ACIAR), Bill & Melinda Gates Foundation, Deutsche Gesellschaft für Internationale Zusammenarbeit (GIZ), United States Agency for International Development (USAID), and Crops to End Hunger (CtEH) initiative.
Header photo: Participants from NARES, CGIAR and regional bodies discuss collaboration strategies at the meeting. Photo by A. Hunt/EiB-CGIAR.