Can phone surveys help measure poverty? New IFPRI blog looks at the evidence
From

CGIAR Initiative on Sustainable Healthy Diets

Published on

25.10.23

Impact Area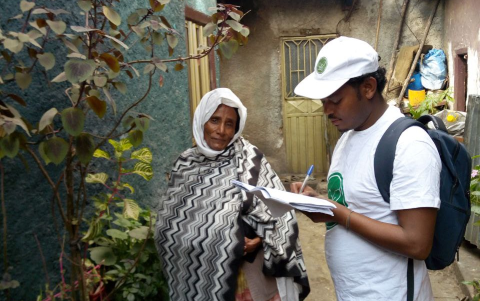 Surveys are a key way that social scientists gather data on living standards. Before the COVID-19 pandemic, surveys in low- and middle-income countries (LMICs) were usually done in person. But in many places, the pandemic prevented travel and in-person work, forcing researchers to use phone surveys to monitor living standards instead.
During the pandemic, these phone surveys helped researchers, practitioners, and policymakers understand how COVID-19 affected people's lives, but they could not replace in-person surveys for some types of data collection that require complex measurements or detailed questionnaires. To fill these gaps, researchers relied on simple and subjective measures or economic simulation models. In a few cases, researchers attempted to collect more complex consumption data over the phone, but their results differed from the subjective measures.
To answer this question, researchers Alan de Brauw and Kalle Hirvonen from the CGIAR Initiative on Sustainable Healthy Diets through Food Systems Transformation (SHiFT), along with colleagues, returned to a sample of households in Addis Ababa once in-person data collection became possible again. In a recent IFPRI blog post, the authors present the highlights of their recently published paper in the Journal of Development Economics, describing how they assessed the quality of phone survey data to determine whether the survey method could have introduced bias into consumption estimates and thus poverty incidence.
In the study, the authors randomized the sample into two groups, which then participated in identical surveys—one conducted by phone and the other in person. The findings showed a substantial negative bias to the phone survey measure, meaning that these surveys are apparently not appropriate for measuring consumption expenditures and standard measures of poverty incidence. However, the authors found that they can provide information about changes to other diet quality indicators, which validates much of the phone survey work done during the pandemic.
Even though phone surveys cannot measure poverty in standard ways, they have many advantages— they are cheap and can be done with high frequency from almost anywhere, especially as cell phone ownership continues to rise. More research is needed on alternative, low-bias approaches that could help produce reliable measures of how shocks affect poverty. To learn more about the study, read the open-access article or check out the highlights in the authors' blog post.
The International Food Policy Research Institute and the Alliance of Bioversity International and CIAT lead SHiFT in close collaboration with Wageningen University and Research and with contributions from the International Potato Center. SHiFT combines high-quality nutritional and social science research capacity with development partnerships to generate innovative, robust solutions that contribute to healthier, more sustainable dietary choices and consumption of sustainable healthy diets. It builds on CGIAR's unparalleled track record of agricultural research for development, including ten years of work on food systems and nutrition under the CGIAR Research Program on Agriculture for Nutrition and Health.
Header image: An enumerator interviews a woman in Addis Ababa, Ethiopia, for a household survey. Photo by IFPRI.