Cambodian farmers participate in cross-site visits to learn about Integrated Pest Management practices
From
Published on

22.11.17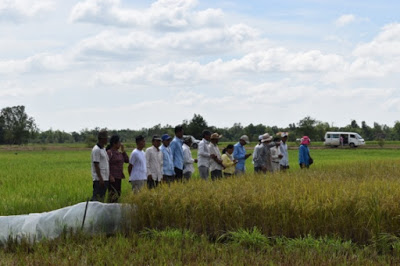 Farmers check the trichoderma x variety trial in
Por Lors Station, Prey Veng
Farmers adapt new technologies by integrating new knowledge to existing practices based on their present conditions. The Ecologically-based Participatory Integrated Pest Management for rice in Cambodia (EPIC) Project, through its Learning Alliance platform, facilitated cross-site visits among farmers that enabled them to share their knowledge and experiences on Integrated Pest Management (IPM) technologies. The farmers from Prey Veng and Takeo Provinces had been involved in adaptive research trials for two seasons and this activity will enhance learning that will lead to its local adaptation in Cambodian provinces.
On October 24, 25 farmers and extension staff from Prey Veng visited the villages of Ro Vieng and Kandaul in Takeo to observe rodent management trials and interact with 'host farmers' who implemented them.
In Ro Vieng, the participants learned from farmers who tried the Community Trap Barrier System (CTBS) with various types of traps, and community rat hunting. In Kandaul, they met with farmers who have tried the Linear Trap Barrier System, which they say is useful for trapping rats but would prefer to have a longer barrier. The farmers also learned about community action and limited but well-timed use of Bromadiolone in controlling rodents. They found out that even if the LTBS was not as long as they would want, there was reduction in rodent damage. Researchers shared the findings from data collected from farmers. Damage caused by rats is 28% lower, and yield increased by 23% with LTBS vs. control plots (farmer's practice).
In exchange, 27 farmers and extension staff from Takeo visited the adaptive research trials in Sdao and Thom villages, and the Por Lors station in Prey Veng, on October 25. Topics such as entomopathogenic fungi (biological control agent that eats pest insects), differences in herbicide programs for integrated weed management, Trichoderma (biological control against diseases such as rice blast) and pest-resistant varieties like CAR14, were covered during the field visit and discussions.
At the end of the visits, farmers in their village groups reflected on and shared what they have observed. The 'host farmers' shared their experiences in coordination, sourcing of materials, and implementation of IPM considering local conditions. They remarked on the effectiveness of the technologies and discussed future plans for the 2018 rice-crop season.
This project is funded by the USAID through the IPM Innovation Lab.
Learn more about IRRI (www.irri.org) or follow us on social media and networks (all links down the right column).