Bringing rice-fish systems back into favor in Myanmar
From

CGIAR Initiative on Aquatic Foods

Published on

02.10.23

Impact Area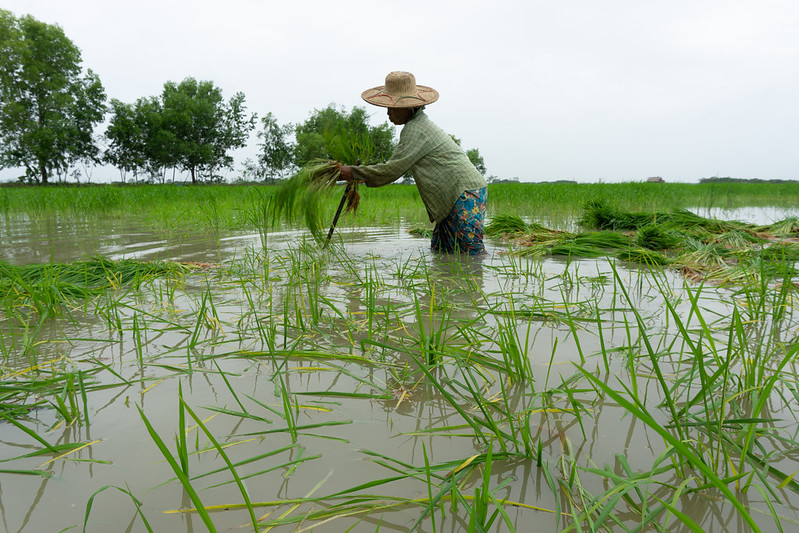 The farming of both rice and fish in paddy fields could soon become more widespread in Myanmar's Ayeyarwady region, thanks to work by the CGIAR Initiative on Aquatic Foods.
 The use of flooded paddies to coproduce fish and rice goes back centuries in Southeast Asia. The fish help control pests and weeds, and fish waste provides nutrients for the rice plants. This integrated approach can support diverse, nutrient-rich diets for local people, particularly important in Myanmar, which suffers from high levels of rural malnutrition. It has a range of other benefits too, from improved climate resilience to increased water productivity.
 But in recent decades the integrated rice-fish systems have fallen out of favour, with the country prioritizing rice – its most important food security crop. Given its dependence on domestically produced rice, there has been understandable hesitancy towards introducing changes to a rice production system that might compromise yields. In addition, where the rice-fish system is being used, research has shown that the harvested fish are often sent to markets in wealthier areas, compounding rural malnutrition.
 But trials of rice-fish systems in the country's Ayeyarwady region resulted in rice yields equivalent to or higher than those from rice production alone, and profits ranging from 9-41 percent higher. Modeling suggests that if 10 percent of potential area for rice-fish culture in Myanmar was used, an additional 100,000 metric tons of fish and USD 100 million could be generated for participating households.
 Recognising the contribution rice-fish systems could make to food and nutrition security, incomes and rural employment, Myanmar's 2019 Nay Pyi Taw Agreement permitted the conversion of up to 15 percent of smallholder rice paddies to incorporate either fish production or refuge (habitat provision).
 To support implementation, scientists from the International Water Management Institute (IWMI) – as part of the CGIAR Initiative on Aquatic Foods – are supporting the dissemination and use of a tool that can help identify the areas most likely to benefit from the introduction of rice-fish culture.
 Known as the rice-fish decision support system (DSS), it is a bundle of digital and analytical tools used to inform the planning and management of rice-fish systems. Suitability maps derived from the DSS have shown the potential for the transformation of 15,700 km2 across the Ayeyarwady region, supporting improved local food security, nutritional security, incomes, and employment. As well as helping identify areas most suitable to the introduction of rice-fish polyculture, the tools help ensure that the needs of stakeholders are taken into consideration.
Under the Aquatic Foods Initiative, IWMI held a series of training workshops in Myanmar at the end of 2022 to build capacity of those working the dissemination and uptake of the tool. These "Training of Trainers" events included representatives from the country's Land Use Division of the Department of Agriculture, the Department of Planning, and the Department of Fisheries, under the Ministry of Agriculture, Livestock and Irrigation. Participants have gone on to train around 60 colleagues in the Ayeyarwady region on how to use the DSS, at least half of whom are women.
 "Rice-fish systems have enormous potential for tackling endemic problems in Myanmar, from food insecurity and malnutrition to low levels of rural employment," said Phay Ko U of IWMI, who is coordinating the project in Myanmar. "Through this work, we expect to be able to home in on areas of the Ayeyarwady region where the system is most suitable. It's exciting because it has the potential for rapid and significant impact on local livelihoods."