Breeding Resources Initiative lays out plans and progress: video & FAQs
From
Published on

22.11.22

Impact Area
Funders

Australia, Bill and Melinda Gates Foundation, Germany, United Kingdom, United States of America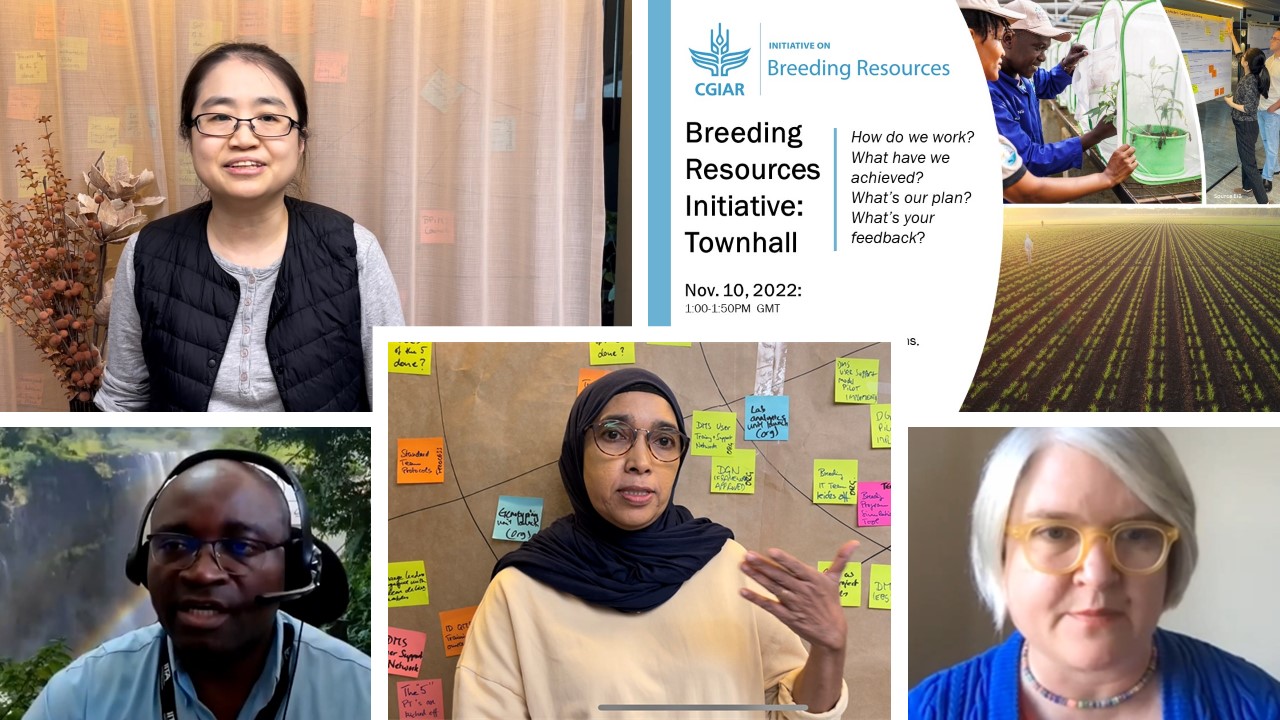 As part of CGIAR's new Genetic Innovation research portfolio, Breeding Resources Initiative (BRI) is already supporting breeders, operations teams, informatics and data experts and others to help CGIAR/NARES breeding networks reach operational excellence.
At a recent BRI Town Hall the BRI team laid out its structure, plans, what the team is already delivering, and responded to partner questions and feedback.  Nearly 200 breeders, leaders, donors and other experts attended. 
BRI builds off on the CGIAR Excellence in Breeding Platform's progress since 2017. While EiB still supports breeding modernization through support from the Bill and Melinda Gates Foundation, its teams have been slowly transitioning to work through Initiatives, particularly Breeding Resources, Accelerated Breeding and Market Intelligence. The Initiatives are also closely linked with the other two Genetic Innovation Initiatives Seed Equal and Gene Banks.
Breeding Resources has added extra elements and firepower to the EiB model, along with much closer integration with breeding programs.  
The following Town Hall video of the session covers a range of topics covering BRI's advancements in 2022, including:
The Town Hall also took a range of questions on transition, structure and future plans. Below is a summary, with some responses from the event, and some developed by the team post-event. For more details on some responses, please watch the event video. And if you have other questions, please send them to a.hunt@cgiar.org, and we will make sure they are answered in a future event, video or written forum.
Questions & Answers about Breeding Resources Initiative
INITIATIVE DESIGN 
Q: What is the rationale for maintaining ABI as a distinct entity from BRI?
A: ABI and BRI have very different functions. A separation avoids conflict of interest, maximizes efficiency and allows breeders to focus on the breeding within a specific team and framework. Of course, they need to work together, and ABI and BRI are very closely aligned with meetings and other mechanisms to ensure regular information sharing and collaboration.
Q: One of the most serious deficiencies of CGIAR breeding is the level of mechanization of field phenotyping (plot planting, harvesting etc.).  How much of a priority is this for BRI?
CGIAR is considering this as we are reviewing the Crops to End Hunger proposals, and the BRI team is consolidating the needs for mechanization and also infrastructure need. The idea is to have this consolidated and managed by a team within the operation enhancement section.  We also want to standardize the type of mechanization that is being done and harmonize it so we can coordinate the maintenance, the repairs, and other needs so that it's very cost effective.
Q: Does smarter use of data include biometrics and statistics? 
A: They are included in BRI, but as part of Work Package 2 – as a service.
FUNCTIONS & FUNDING 
Q: What is the approach to derive more and better varieties from the breeders' work?
A: Data-driven, modernized breeding tools and technologies such as genomic selection, quantitative genetics, high throughput phenotyping, bioinformatics, can accelerate and advance improvement in varieties. Developing these varieties and getting them to the farmers and consumers who demand them is the core goal of BRI and Genetic Innovation work.
Q: Due to the changes in the funding for BRI, what will happen to those mapped to the Initiative as well as operational funding in the transition period?
A:  CGIAR will be continuing the functions of Breeding Resources but very much focusing on the delivery of those tools and services within the initiative, rather than any kind of additional or duplicative or competing sets of capacities and services. Thus those staff who are delivering on the initiative will continue to be supported.  Some staff who have been funded through that Initiative should really have been funded through Accelerated Breeding., but due to its underfunding, some centers have mapped their staff onto BRI. By increasing the funding to ABI this year, we are hopingt o get a more appropriate mapping of staff to the correct Initiative.
BRI & OTHER INITIATIVES
Q: What efforts are being made to avoid the initiatives working as silos?
A: There are many collaboration mechanisms built into the Initiative management processes, including regular meetings across BRI and ABI teams, and some staff working across more than one Initiative. These will be assessed and expanded as needed. Avoiding silos is a priority, and will need constant attention.
Q; What is Genebank's role in phenotyping and genotyping of germplasm to work together with Breeding?
A: We are working with Genebank to provide similar services to them as needed. BRI will also be coordinating all Genetic Innovation capacity building.
Q: Some teams mapped to Resilient Agri-Food Systems are very interested in some of these capabilities and resources. How will they be kept involved?
A: CGIAR is in the process of setting up a website/subsites for Initiatives where anyone interested can follow our news and contact us to avail these services. For now, the EiB website is promoting related Initiative material and information. the Initiative leadership will be continually reaching out across the CGIAR in meetings, town halls and through written material. For information, feedback or collaboration please contact Sharifah at s.syedalwee@irri.org.
Q: Do the breeders reach out to BRI (and ABI and Seed Equal?) asking support on their challenges, or do the BRI team go to all breeders, their locations and operations, analyze these and propose solutions to the breeders?
A: Both. We are now officially reaching out to center leaderships and crop leads but if we have not reach your centers/crops, please reach out to us.
EIB TRANSITION 
Q: What happens to the EiB Platform in 2023?
A: EiB continues to exist through Bill & Melinda Gates funding, but the work is gradually transitioning into the new Initiatives. Staff are now engaging with partners as Initiatives, rather than EiB, and contact points for partners mostly remain the same. There will be a period where work is acknowledged as both EiB and Initiative-led. Now that John Derera (Breeding and pre-breeding) and Sharifah (Integrated breeding and research services) are starting their new leadership positions, a more formal EiB transition plan will be developed, with clearer guidance on how EiB will transition.
Q: What happens to the EiB team?
A: EiB staff have similar roles as within Initiatives as we transition into the new structure. Most have been mapped to Initiative roles already, however more clarity and some adjustments will come. Michael Quinn continues as Director of EiB, and also leads Accelerated Breeding. Other staff continue in similar roles within their related Initiatives. CGIAR is working on a plan to split admin/finance across BRI and ABI, which should provide more clarity on responsibilities and roles.
Q: Will some EiB responsibilities (market segment analysis and prioritization) also be taken up by Market Intelligence Initiative?
A: Yes, Market Intelligence Initiative focuses on forward-looking analyses of market opportunities and the feasibility of producing and scaling crop varieties in given contexts, as well as drilling down into what influences farmer adoption. The MI team works closely with BRI, and Accelerated Breeding Initiative's Work Package 1 (ReFOCUS). Much of EiB's Module (Product Design and Management) is now within MI, but the Module's lead Peter Coaldrake leads ABI's ReFOCUS, ensuring breeding programs respond to market intelligence.
Q: As EiB transitions, has there been any discussion on how sister programs or collaborative initiatives will continue to interact to benefit all breeders? E.g. USAID Innovation Lab For Crop Improvement and Breeding Insight.
A: Yes, absolutely. We are open to work with any sister program to achieve the ambition and goals of Genetic Innovation, generally, and Breeding Resources, specifically.
More questions? Please email Adam Hunt: a.hunt@cgiar.org 
—–
We would like to thank all funders who support this research through their contributions to the CGIAR Trust Fund. And thank you to the supporters  and partners of CGIAR Excellence in Breeding, particularly the funding from Bill and Melinda Gates Foundation.