Asian-Mega Deltas Initiative showcases research results in Cambodia through national consultation workshops
From

CGIAR Initiative on Asian Mega-Deltas

Published on

06.11.23

Impact Area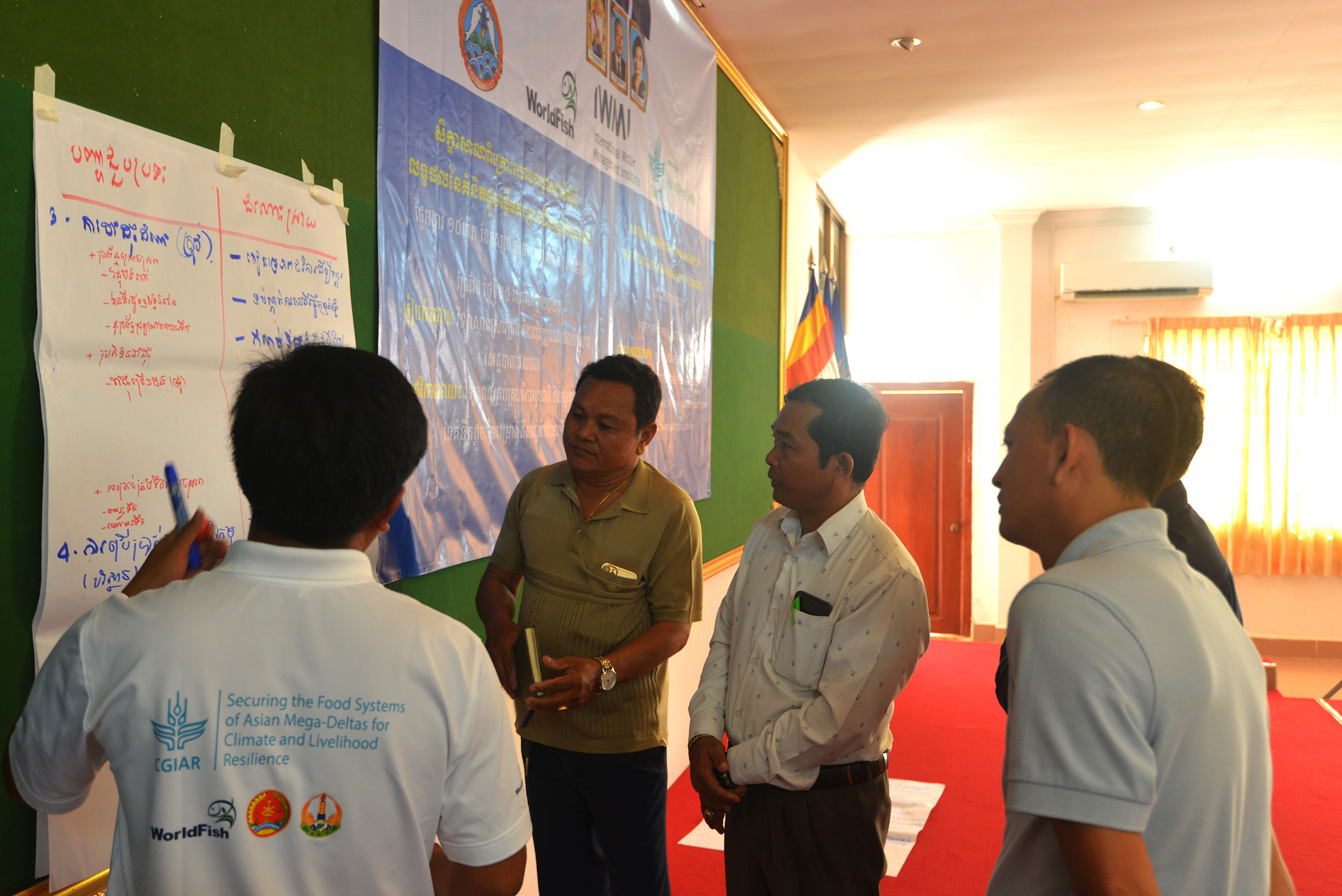 A series of provincial consultation workshops on the results of the CGIAR Initiative on Asian-Mega Deltas (AMD) were recently held in the provinces of Kompong Thom, Takeo, and Prey Veng in Cambodia. Organized by WorldFish and the International Institute of Water Management, in cooperation with the Inland Fisheries Research and Development Institute (IFReDI), Fisheries Administration (FiA), the workshops aimed to present research findings in the respective provinces and identify key interventions and solutions to support resilient, diverse, and equitable food systems in the Mekong Delta in Cambodia.
The workshop brought together various stakeholders involved in the research at the sub-national level, including the Provincial Department of Water Resource and Meteorology, Provincial Department of Agriculture, Forestry and Fisheries (PDAFF), Provincial Department of Environment (PDE), district administration, local authorities, community committees like the Community Fish Refuge (CFR), Community Fisheries (CFi) and Farmer Water User Community (FWUC), research or development partners, and other relevant stakeholders in the country.

In the presentation by WP1 on Adapting Deltaic Production Systems, promising options in deltaic farming were discussed. Field trials on rice fish farming and diversified systems like rice-watermelon, rice-sweet potato, and rice-fish were being implemented. The team also emphasized the importance of suitability maps to identify suitable practices in the different priority sites. In the coming seasons, adjustments to farming practices will be made to adapt to the conditions in communities, with a focus on assessing profitability.
The presentation by WP2 on Nutrition Sensitive Deltaic Agri-food Systems highlighted the importance of food and nutrition-sensitive approaches. The team conducted assessments on ecosystem and food production to contribute to the formulation of policies on nutrition. The AMD researchers also noted differences in food consumption patterns between urban and rural households, emphasizing the need to address these disparities for a more equitable food system.
WP3 focused on De-risking Delta-oriented Value Chains. Their activities involved assessing vulnerability and demand for climate services, implementing climate services in four delta provinces in Cambodia, and identifying digital tools and private sector service providers to provide climate services. The team emphasized the integration of information on climate-smart technologies with climate services, aiming to create resilient value chains.

WP4's presentation centered on Facilitating Inclusive Deltaic Food-Systems Governance. Their primary goal is to enhance water governance to improve food production systems and foster collaboration among fisheries communities, irrigation stakeholders, and rice farming communities. The team also stressed the importance of capacity building and developing strategies to work with various government agencies.
Lastly, WP5 presented Evidence-based Delta Development Planning through Climate-Smart Mapping and Adaptation Planning (CS-MAP). CS-MAP is a participatory approach that integrates local knowledge and science-based research to develop climate-related risk maps and adaptation plans for crop production, tailored to specific locations. The mapping includes considerations of drought and flood risks for rice cultivation in the delta provinces. The AMD researchers highlighted the usefulness of CS-MAP and suitability mapping in guiding decisions on when and where to best implement adaptation actions.
Additionally, government partners, such as Fisheries Administration and Ministry of Water Resources and Meteorology, and representatives from International Rice Research Institute, International Institute of Rural Reconstruction, Royal University of Phnom Penh and Cambodia Development Resource Institute also presented their findings on irrigation system management, fisheries management and nutrition sensitive in Food production system.

For the workshop activity, the participants were divided into four groups to discuss and provide feedback on improving the connectivity between CFR, CFi, the irrigation system, rice farming, and fisheries as an integrated food production system through improving water governance. This discussion aimed to reflect on the implications for food production systems in the provinces and identify priority actions for the AMD Initiative to support government and community stakeholders in securing more integrated, resilient, and equitable food production systems.