As crises hit, staying the course for sustainable palm oil
From
Published on

27.09.22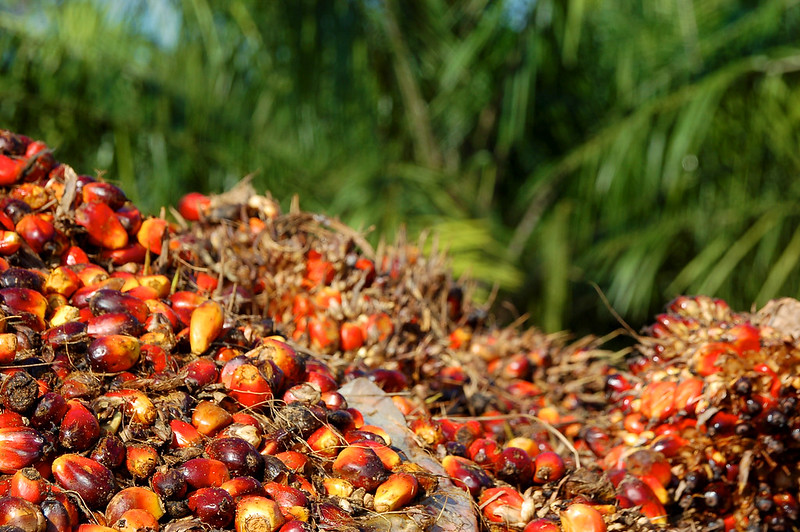 Climate, food, and energy challenges for 'greening' the critical commodity
Most global consumers have heard of palm oil – and if not, they've probably tasted it. The versatile commodity is used in almost half of the packaged products found in supermarkets, from chocolate to deodorant or lipstick, as well as for animal feed and biofuel.
"Oil palm is one of the world's most prominent and effective vegetable oils globally, and is contributing 40% of global trade volume in vegetable oils," said Beatriz Fernandez, who manages the UN Environment Programme (UNEP)'s partnership in the the GCRF Trade, Development and the Environment Hub (TRADE Hub). She made the remarks at a high-level dialogue held on 30 August 2022, in Jakarta and online, to discuss issues and potential solutions for sustainable palm oil trade in Indonesia in light of current crises.
Why is palm oil so popular? Well, it's relatively cheap, odorless and tasteless, and highly productive: per hectare, oil palm produces around four times the yield of sunflower or rapeseed, and 10-15 times that of coconut. Indonesia is the world's biggest palm oil producer, accounting for about 60% of global trade, and the sector contributes significantly to the country's national and economic development. But there are key sustainability concerns associated with oil palm cultivation, including deforestation, peatland degradation and loss, and forest and land fires: all of which are particularly significant for a nation with some of the largest remaining areas of natural forests and the highest biodiversity values of any country on Earth.
However, it's not palm oil per se that's the problem. "So long as there is a demand for cooking oil, palm oil is a reasonably logical answer to that demand," said Centre for International Forestry Research (CIFOR) Director General Robert Nasi. "Substituting that demand with less-productive crops would take up more land, and thus likely cause more deforestation. And demand is set to grow, from 199.1 million metric tons in 2020, to 258.4 metric tons by 2026, according to Musdhalifah Machmud, Deputy Director of Food and Agribusiness at Indonesia's Coordinating Ministry of Economic Affairs, Indonesia.