Art underlines the precious value of poultry genetic research
From
Published on

08.05.18

Impact Area
Funders

Bill and Melinda Gates Foundation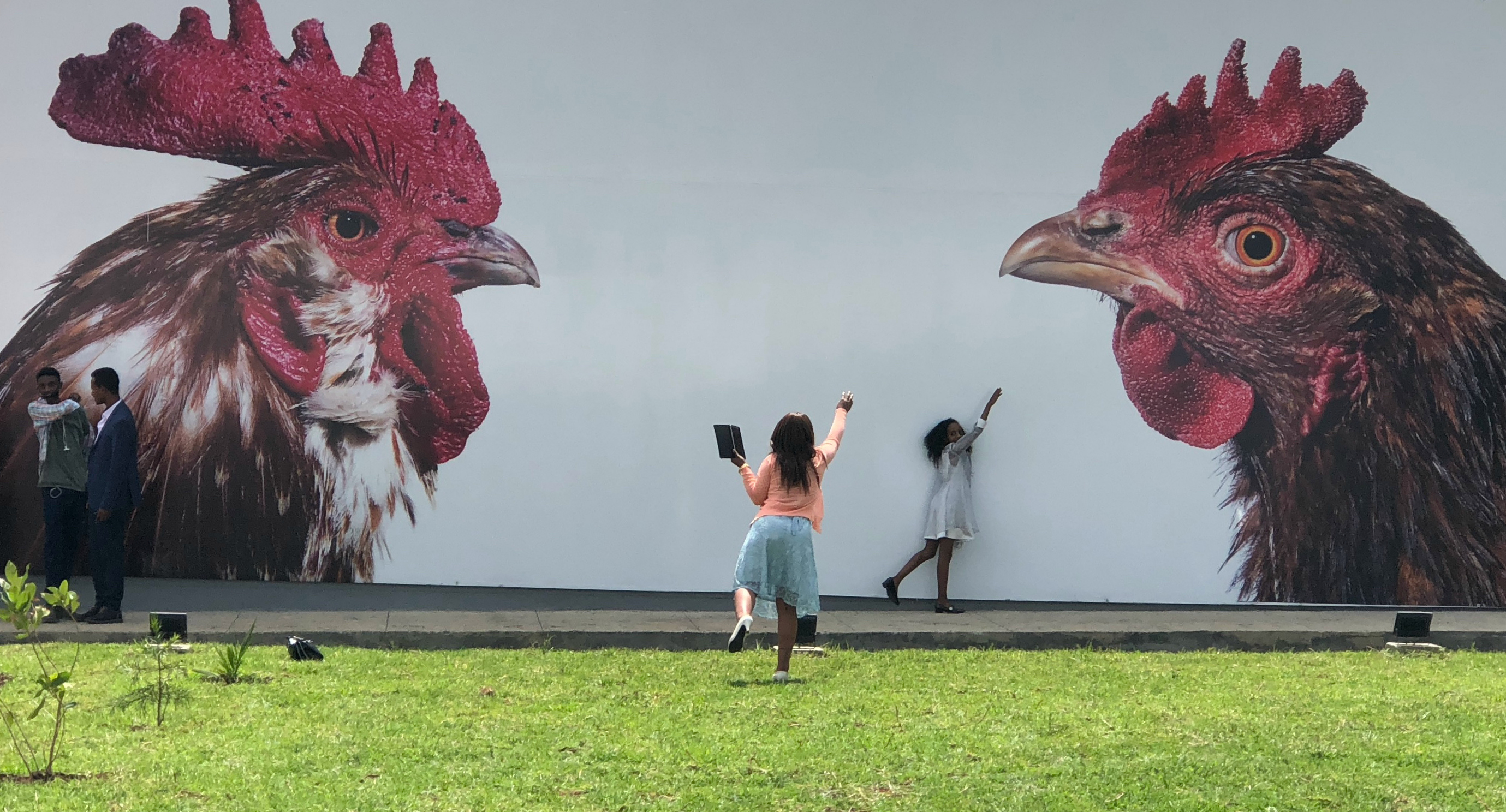 Art combines with science to bring the message of the capacity of the new Incubated Worlds poultry facility to deliver prosperity to Ethiopia's poultry smallholder farmers (photo credit: ILRI/Gail Amare).
Scientists and government officials in Ethiopia are taking advantage of the rapidly rising demand for poultry across Africa with the opening of an unusual kind of poultry research centre, referred to as Incubated Worlds. It is one in which art and science combine to improve nutrition and incomes in East Africa with disease-resistant, climate-resilient poultry.
Incubated Worlds is first and foremost an advanced poultry research facility that emerged from the International Livestock Research Institute (ILRI)-led project, African Chicken Genetic Gains (ACGG), an initiative that is tapping the rich genetic diversity found in poultry to provide more opportunities for rural poultry producers—the majority of whom are women—to earn a decent living and raise healthy, well-nourished families.
Adding a new dimension to the initiative is Belgian artist Koen Vanmechelen. His 20-year-long artistic odyssey has involved creating some 20 generations of chickens that combine traits from breeds from around the world. Vanmechelen's artistic crossbreeding project has culminated in an exceptional bird he calls the Cosmopolitan Chicken.
'For nearly 20 years, I have crossbred iconic chickens of different breeds around the world to create a living work of art. My Cosmopolitan Chicken Project is a quest to increase diversity and to highlight the need for a balance between the local and the global. Today, Incubated Worlds celebrates the next stage in the development of the Cosmopolitan Chicken Project', Vanmechelen said.
'The Incubated Worlds art exhibition clearly communicates the importance of poultry production, genetic diversity and the interdependence of communities worldwide. The facility will be not only a place of research but also a place of learning and innovation for farmers, poultry businesses, associations, cooperatives and communities', said Siboniso Moyo, the ILRI director general's representative in Ethiopia.
'Our facility will help scientists in Ethiopia and elsewhere monitor, understand and apply genetic technologies to improve chicken breeds quickly. The research done here will complement our existing capacity to undertake genetic sequencing with a capacity to compare the performance and adaptability of chicken breeds in controlled environments and help develop ways for local farmers to overcome their production challenges', added Moyo.
State minister at the Ethiopian Ministry of Agriculture and Livestock, Gebregziabher Gebreyohannes, speaking at the launch, described the initiative as a positive development that will help the government achieve its targets for increased poultry production over the next five years.
'Ethiopia has one of the largest livestock populations in Africa, contributing 40% to agricultural gross domestic product. We have more than 55 million chickens and this figure is growing fast. Small-scale chicken production is an integral component of the livelihoods of most rural households in Ethiopia. Expanding the production of poultry is easier than that for other livestock; poultry businesses require little start-up capital and chickens grow more quickly than most other farm animals'.
'And a more productive and dynamic poultry sector could be a source of economic growth and prosperity, particularly for women who are the principal owners of these businesses. More nutritious and affordable poultry meat and eggs will also help our children improve their physical growth, micronutrient status and cognitive performance. We have made huge progress in reducing malnutrition in recent years and increased chicken and egg consumption could play a crucial role in eliminating it altogether.'
Incubated Worlds is a poultry research facility and art installation in Ethiopia funded by the Biotechnology and Biological Sciences Research Council (BBSRC); the Roslin Institute, part of the Royal (Dick) School of Veterinary Studies of the University of Edinburgh; and the MOUTH Foundation, which seeks to harness diversity to promote new types of unity and harmony. Work at the ILRI poultry facility will be closely connected to the poultry genomics program jointly administered by ILRI, Scotland's Rural College and the University of Edinburgh in their collaborative Centre for Tropical Livestock Genetics and Health. The launch was sponsored by the Embassy of Belgium and Brasseries et Glaciers Internationals in Ethiopia, and the chickens were donated by Ethiochicken and the Ethiopian Institute of Agricultural Research.
Artist Koen Vanmechelen & the MOUTH Foundation
Belgian artist Koen Vanmechelen (b. 1965) is an internationally acclaimed conceptual artist. His work explores the importance of biocultural diversity, identity and community. His wide-ranging creative practice marries exceptional artistry, technological experimentation and scientific research. He is best known for his ongoing Cosmopolitan Chicken Project (CCP), which he first launched in 1999 to explore cultural and biological diversity. A crossbreeding program—through which the artist breeds chickens from around the world—CCP fosters a dialogue on national identity and the interdependence of different cultures, species and the environment. koenvanmechelen.com, mouth.be
For the full speeches, click below: