AOAD & CGIAR: From Malabo to Sharm El-Sheikh
From
Published on

09.11.22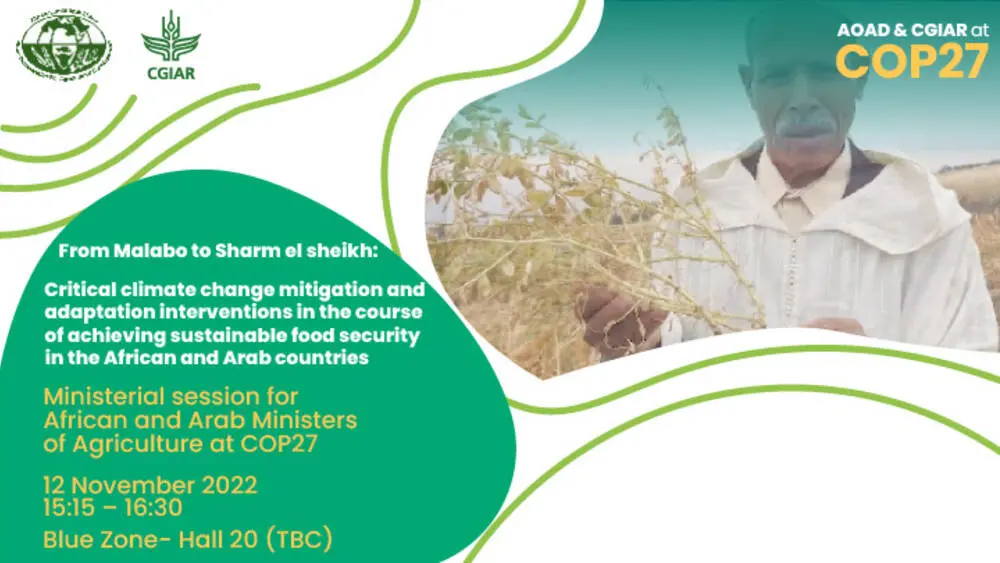 Convened by the Arab Organization for Agricultural Development (AOAD) and CGIAR, under the patronage of the Ministry of Agriculture and Land Reclamation in Egypt, this high-level session will reflect on leveraging science and innovation to guide concurrent efforts of achieving food security while maintaining and restoring the environment with emphasis on adaptation and mitigation in agriculture in African and Arab countries.
Participants include high-level decision-makers at international organizations, regional platforms, development banks, and national governments. African and Arab ministries of agriculture, food security, and the environment will also attend this session and engage in discussions to mainstream the concept, related documents, and subsequent engagement measures.
The session will build on contemporary issues and steps taken by countries of the region to promote food security, namely the projects and programs defined by heads of state and captured in the Malabo Declaration in 2016, where the leaders of African and Arab countries committed to coordinate African-Arab efforts on agriculture and food security and commended the outcomes of COP22. In addition to an AOAD initiative, the Arab Program for the Sustainability of Food Security, endorsed by the League of Arab States in response to the impending food insecurity crisis following the Russian-Ukrainian conflict, COVID-19 pandemic, and climate-change calamities, with comprehensive conceptualization and packaging of interventions, programs, and projects.